Bristol Channel weather & tides
I had an e-mail from a fisherman the other day who wanted to know where he could get the latest sea temperatures for the Bristol Channel.

The sea temperature at Porthcawl can be found via the 'Scarweather Banks' wave buoy supplied by Cefas.
It's currently reading 8.35 degrees Celsius. It's a little warmer off Pembrokeshire currently at around 9 degrees Celsius thanks to the Gulf Stream current.

The Bristol Channel has the second highest tidal range in the world. This huge body of water is 28 miles wide in the west but narrows to less than 6 miles by the time it reaches Clevedon.
It's influence however is more than just tidal - It is what makes the weather in this part of the world unique.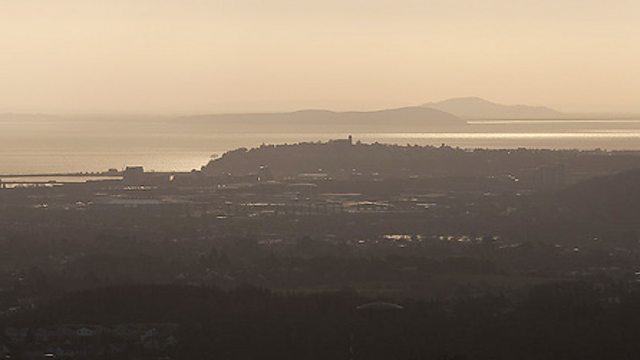 Views over Cardiff, Penarth and the Bristol Channel by Nick Russill
Air moves faster over the sea than over the land because there is less friction. The wind is also funnelled between Exmoor on one side, and the Welsh Mountains on the other.
When the winds are blowing from the south west it can be very windy and that's why there are wind barriers in place on the Second Severn Crossing.

The Bristol Channel is a pretty big source of moisture, so south-westerly winds can often bring low cloud, mist and drizzle.
Sometimes it can be cool and damp on the coast with tropical maritime air but as that air moves inland and passes over the hills it dries out leaving some inland areas warm and sunny.

In the summer, head to the coast if you don't like the heat because sea breezes will keep things cooler and clear while inland, if conditions are right, cloud can develop as temperatures rise with a risk of showers and thunderstorms.

The higher specific heat of sea water means it is slow to heat up, but equally reluctant to cool down. If you've ever swum in the sea at Barry Island or Porthcawl you probably think it is chilly most of the time.

In winter, water temperatures can be as low as 5 degrees Celsius but gradually warm up through the summer. The best time to go for a swim is at the end of summer when sea temperatures are around 16 Celsius.
The water in the Bristol Channel is actually a degree or two warmer in summer than off the Pembrokeshire coast, but cooler during the winter months.
Derek Brockway