Weekend weather: staying cold
We enjoyed a taste of spring earlier this week with some lovely sunshine and temperatures in Ceredigion rising to a high of 13 Celsius (55 Fahrenheit). But since Wednesday temperatures have taken a tumble, with cold air reaching Wales from Finland and Russia: a reminder that February is very much a winter month. In fact last night at RAF Mona on Anglesey, the temperature dropped to minus 5 Celsius!
Over the weekend, it is going to stay cold with a north-easterly breeze bringing plenty of cloud. The cloud on Saturday will be thick enough for light snow flurries, while Sunday should be largely dry. The best chance of seeing the sun will be in the southwest and on the west coast.
Daytime temperatures will be in the range 0 to 5 Celsius, coldest on high ground. Overnight temperatures will drop to between -1 and -5 Celsius with widespread frosts.
The weather in the Mediterranean is much more unsettled than here and with low pressure over Italy tomorrow that means a high chance of rain in Rome for the Six Nations rugby match. There is a risk of thunder as well.
It will be milder than here though, with a high of 12 Celsius and becoming breezy with a southerly wind.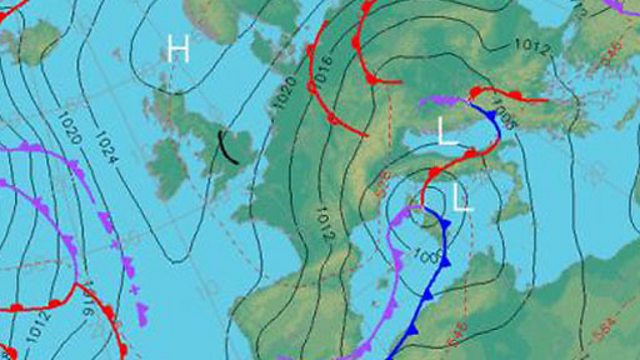 Saturday's pressure chart
If you're travelling to Wembley to watch Swansea take on Bradford in the Capital One Cup Final on Sunday afternoon, take plenty of warm clothes. It will be cloudy and dry with a small chance, about 20%, of light snow.
The temperature will be around 3 Celsius but it will feel more like -4 Celsius in a noticeable north-easterly wind.
Next week, little change is expected. High pressure will move over the country keeping it mostly dry and settled.
The wind will fall light which increases the risk of mist and fog patches where the cloud clears. Daytime temperatures will recover to nearer normal but it will still be cold enough for some overnight frost.