Kyffin Williams art works fetch thousands at auction
Three oil paintings by the late Welsh artist Sir Kyffin Williams all exceeded their guide price estimates at an auction at Christie's in South Kensington, London, last week.
As we reported previously, three oil paintings plus three pencil and watercolour pieces were all going under the hammer, with sales expected to reach around £90,000 for all six of the works. The actual sales total reached over £130,000.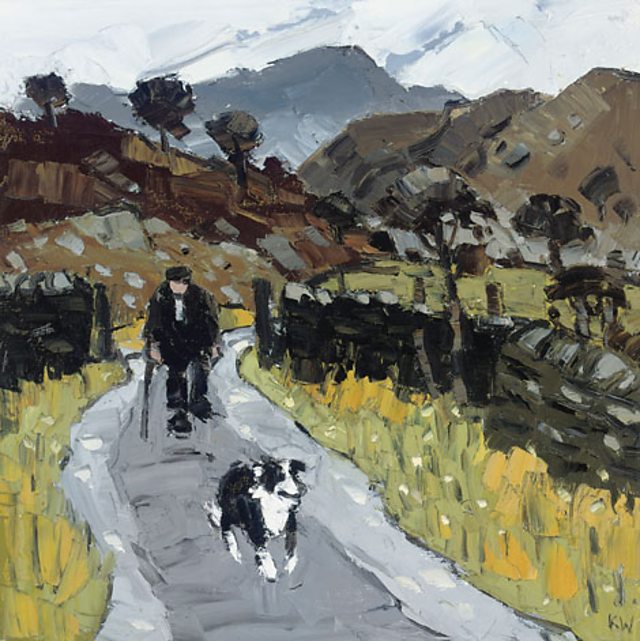 Farmer, Blaen Nantmor by Kyffin Williams, which sold at auction for £52,850
Fetching double its estimate, Farmer, Blaen Nantmor sold for £52,850 at the auction, while Morfa Conwy fetched £32,450, exceeding the estimate price of between £15,000 and £20,000. The third painting that went under the hammer, Man And Horse, also surpassed its top estimate by nearly £5,000, fetching £34,850.
Williams' three pencil and watercolour sketches sold for over £13,000, as Farmer with Stick III reached nearly double its top estimate at £5,625.

Works by other Welsh artists in the 20th Century British Art auction also sold well. Gwen John's Girl Standing In A Church reached the top guide price, selling at £5,000, while a pencil and watercolour by Josef Herman entitled Seated Peasant sold for £1,125.
Feel free to comment! If you want to have your say, on this or any other BBC blog, you will need to sign in to your BBC iD account. If you don't have a BBC iD account, you can register here - it'll allow you to contribute to a range of BBC sites and services using a single login.
Need some assistance? Read about BBC iD, or get some help with registering.