This day last November saw the beginning of a very cold spell of weather with Arctic winds bringing severe frosts, ice and snow.
In fact by the end of November it was colder in Wales than Greenland with plunging temperatures and frozen pipes!
But it's a totally different story this year. This weekend will be positively mild in comparison and windy too.
In fact The Met Office has issued a yellow warning for strong to gale force winds in north Wales.
The reason for the windy weather is low pressure between Scotland and Iceland which will bring some rain and drizzle. However, most of the rain will come during the early hours of Sunday.
Tomorrow a few bright or sunny intervals are likely, for example in Flintshire, but generally it will be cloudy.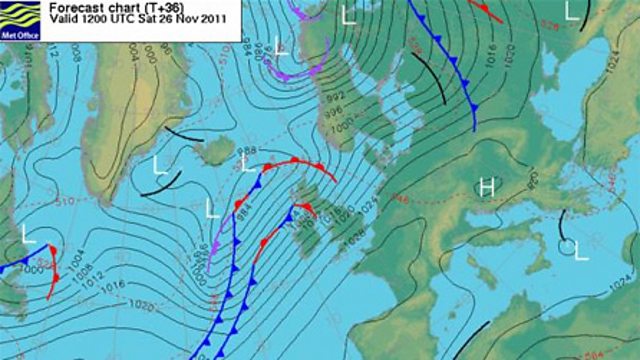 Met Office weather chart for Saturday, 26 November.
There will be a little light rain and drizzle at times, especially on higher ground, the Cambrian Mountains and in Snowdonia, but otherwise it should be dry.
Temperatures higher than today, 10 to 13 Celsius but windy. The south-westerly wind will be fresh to strong with gales on exposed coasts and hills in the north and gusts of 50 - 60mph.
So if you're going walking, it would be best to keep off the hills and mountains and stick to the lower ground.
Tomorrow night will be very windy with some drizzle, then rain after midnight.
On Sunday, the weather will improve becoming dry and much brighter with some sunshine to look forward to.
The west to north westerly wind will slowly ease and it will feel colder with top temperatures between 10 and 12 Celsius.
Sunday night into Monday will be dry and cold with a touch of frost. Monday will start dry for the Royal Welsh Winter Fair in Llanelwedd but it won't last because there's more wet and windy weather on the way.
There's no sign yet of another big freeze like we had last year but cold snaps are expected in December.
I've already been asked if it will be a white Christmas but it's far too early to tell so I will let you know nearer the time!
Derek