Remembering Hugh Griffith, 100 years on
Today, 30 May, marks what would have been the 100th birthday of one of Wales' Oscar-winning actors, Hugh Griffith.
Griffith scooped the gong in 1960 for best actor in a supporting role, as he played Sheik Ilderim in Ben-Hur alongside Charlton Heston.
He beat fellow actors Arthur O'Connell and George C Scott, both nominated for Anatomy Of A Murder, Robert Vaughn (The Young Philadelphians) and Ed Wynn, for his role in The Diary Of Anne Frank, to take the award.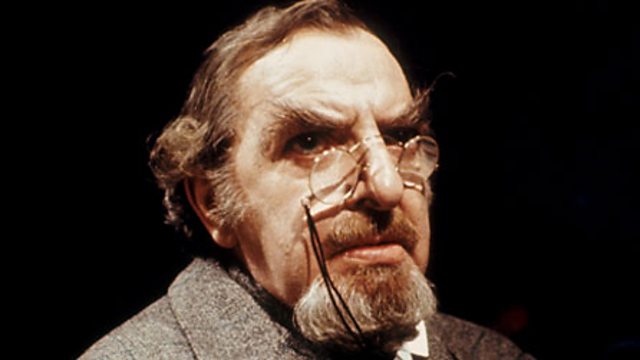 Hugh Griffith in costume for the BBC Playhouse production of The Joke in 1974
Born in Marianglas in Anglesey in 1912, Griffith was awarded a scholarship to RADA and left his career in banking to enter the acting profession.
However, he had to put his career on hold as with the outbreak of World War Two he enlisted in the British army and served in India and Burma.
Griffith's film career took off in the late 1940s. He broke into the Hollywood film industry in the 1950s and went on to star with some of the biggest names in the business.
He appeared with Laurence Olivier in The Beggar's Opera (1953), Dirk Bogarde in The Sleeping Tiger (1954) plus Marlon Brando and Richard Harris in Mutiny On The Bounty (1962) .
Griffith received another Oscar nomination in the category of best supporting actor for 1963 blockbuster Tom Jones as well as a Bafta nomination for best British actor and a Golden Globe nomination for best supporting actor. All three awards sadly proved elusive.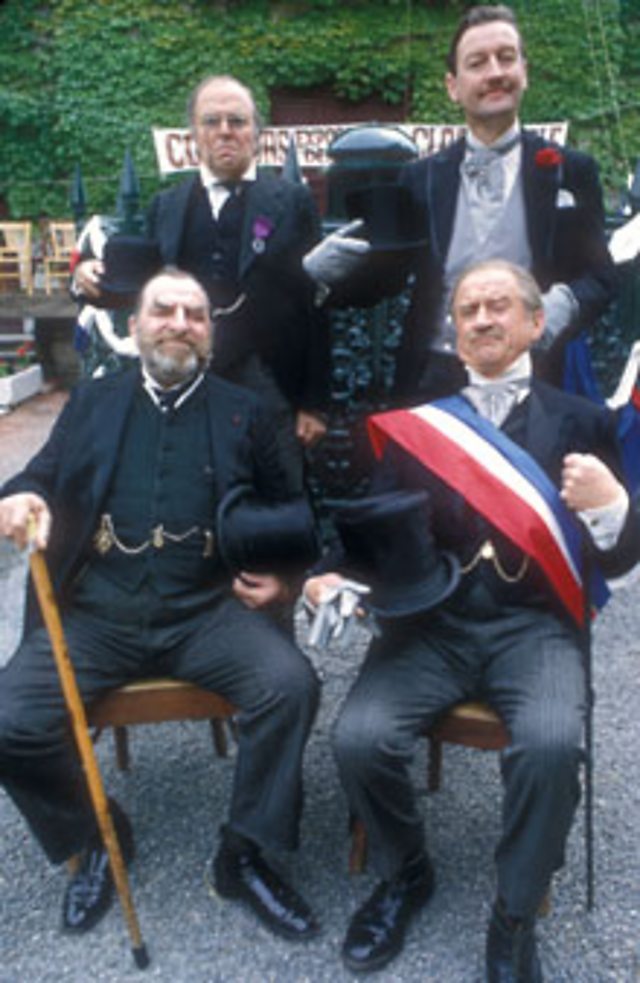 Kenneth Griffith, Aubrey Woods, Hugh Griffith and Cyril Cusack in the 1971 BBC drama Clochemerle
The late film critic and historian Dave Berry said of Griffith:
Griffith had long been a stage and TV favourite, since at least 1951 when in Mario Zampi's comedy Laughter in Paradise he played a dying eccentric who, for one last jape, forces relatives into acts alien to their natures to secure a share of his legacy.

Never has a bedridden incipient corpse rolled his eyes more to convey sheer devilry, and rarely has so little screen time been put to such use by a class performer.

The Welsh actor was always in his roistering element in comedies bursting with life, and many enjoyed the burlesque relish of his Oscar-nominated supporting role as the eccentric Squire Western in Tony Richardson's ebullient Tom Jones (1963), from Henry Fielding's classic.

Griffith conveys superbly the cant, hypocrisy and devil-may-care qualities of a man delighting in getting his own way, but gives Tom Jones (Albert Finney) unforgettably uncomfortable moments in the hero's sexual odyssey.
Further success in the 1960s followed with notable roles in How To Steal A Million (1966) with Audrey Hepburn and Peter O'Toole and the musical adaptation of Oliver! (1968) starring Oliver Reed and Harry Secombe.
Aside from Ben-Hur, Griffith is perhaps most associated with the film comedy Grand Slam. It follows a group of Paris-bound Welsh rugby fans making the trip across the Channel to watch the climactic match in the Five Nations championship in the late 1970s.
He played the undertaker Caradog Lloyd-Evans alongside Windsor Davies and Dewi Morris. It was a huge hit, and is still popular with Welsh rugby fans today.
Griffith died of a heart attack in 1980, aged 67.
Related links