Hinterland: Nia Roberts - from Patagonia to Borth
Nia Roberts plays the part of Gwen Thomas in the final episode of Hinterland.
I was thrilled to be offered the part of Gwen in the fourth episode of Hinterland. My husband Marc had already directed the first one and from the few bits I had read and caught a glimpse of, it was clear that this was a very exciting production.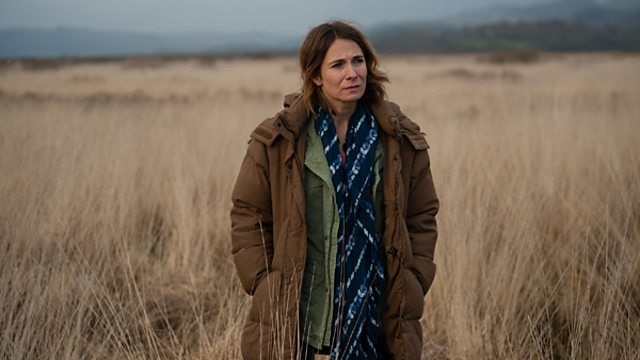 Nia Roberts as Gwen Thomas in Hinterland.
As a Welsh speaker I've always hankered to be part of Welsh language/back-to-back productions that reach out to a wider European audience. That was our ambition when we made the film 'Patagonia' in 2009 - to make a film that was able to be part of a European art-house market presenting Welsh alongside Spanish.
While watching The Killing and The Bridge two years ago I often wondered if we in Wales could pull off something of that quality in our own language and in the same genre. Thanks to those involved in Hinterland, I honestly think they have. It's fantastic to have friends in London calling to say they are catching up with episodes on iPlayer and are loving it. They say it reminds them of all the Scandi-noir TV they've been watching, so job done, really!
It's always a bit strange going into a series to do a single episode. One, because you are entering a tight-knit group of people who have been working day-in, day-out together for many weeks. And two, with so many characters being presented in 90 minutes, your character has quite a limited journey in the screen time given to you.
I needn't have worried on the first count as I was working with old friends, Ed Thomas, Richard Harrington and Mali Harries and many of the crew. Most of my scenes were with Richard who seemed to have morphed into Mathias completely by the time I came on board. This made my job super easy.
There's something wonderful about working with directors and actors you have worked with many times over the years as there is a short-hand between you. When time is tight on set (as it often is) or when technical problems arise, the familiarity helps to block out the flurry of panic going on around you. Richard is also always good value during takes as his endless story and joke telling help keep up morale even in the most compromised situations.
In terms of playing the part of Gwen I can't say too much about that without giving away the story. The challenge in a crime drama like Hinterland is always to portray a well-rounded person whose reactions and motives are justifiable within the timeframe you have to work with. I had sat down with Ed (Thomas) several weeks before filming to discuss who exactly Gwen was, but also to pinpoint her 'energy'. He had a very specific idea about what emanated from her which was a great place for me to start and refer back to during some of the more emotionally challenging scenes.
Whilst episodes one to three were shot during weather conditions of biblical severity I was fortunate enough to be filming after the long, hard winter had come to an end and the sun was out in all its glory. The scenery in Hinterland is the star of the show and seeing it go through the seasons from episode to episode really adds to it, I think.
Borth is a new part of the world for me and it was a pleasure to be there during that beautiful spring. The house used for my character was on stilts and looks over the estuary. What a fantastic location that was. There was no escaping the sun here, however, and we were slathered in factor 50 on a daily basis. This was the only product that came near my face as this must be the first time I have never worn a scrap of make-up on screen. Very exposing, but incredibly liberating at the same time.
Same goes for costume - I only had one costume for the whole production. The rawness and simplicity of this design really help the characters seem part of this hinterland and give the programme its edge. I suffer from vanity at times, like many in my profession, but as an audience member there's nothing worse than seeing actors on screen who look like they have been sat in a make-up chair for two hours.
Having worked on a back-to-back production before (in both cases where every scene is shot once in English and once in Welsh) the first question on people's lips is what was that like? How confusing is it? Strangely enough, it's the aspect you remember least about the whole experience. It can catch you out at times because Welsh is never a direct translation of English, or vice versa. You have to know both scripts really well to avoid doing your own ropey translations in your head after shooting the first version. But in bilingual Wales people are always jumping from English to Welsh.
Living in Wales, I never get through a day where I haven't used both languages so it's such a rare treat to see this being represented on screen. Maybe all the Scandi-noir series on prime time TV have made us more confident about using subtitles. Nothing evokes the spirit of a place more than its language and way of speaking, and the appropriately named Hinterland does just that.
Hinterland
is next on Monday 27 January at 21:00, BBC One Wales. You can catch up with the series so far on
iPlayer
.