Steve Humphries, producer and director of Wales in the Sixties: My Generation, talks about some of the people he met in the making of the programme and their stories.
What changed most of all in Wales in the 1960s? That was the big question we asked ourselves and the men and women who lived through that momentous decade when we began our research. In what ways did the social and sexual revolution of those years touch Wales and transform people's lives? What were the battles that were fought most fiercely by the new generation of teenagers who came of age?
To find out, we have spent a year speaking to hundreds of people all over the country. Many revealed intimate, emotional and heartfelt stories. And our filming days were full of surprises.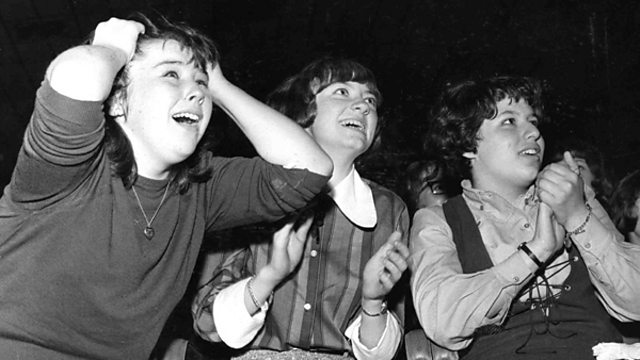 Audience watching Manfred Mann at Sophia Gardens, Cardiff, 24 September 1964
One day in May we arrived at the beautifully preserved home in Swansea where Dylan Thomas grew up, which we were using as a location to film some interviews. We met Annie Haden, then the owner and an extraordinary larger than life character.
We had no plans to film Annie but when she told me she'd been a teenager in the '60s I knew she would have a strong story, whatever it was. I persuaded Annie to sit down and tell it to me on camera and changed our filming plans for the day.
For the next two hours I was incredibly moved as Annie told me her '60s story of rebellion at grammar school, teenage pregnancy and a shotgun wedding at the age of 18. She was so ignorant about the facts of life that it was six months before she realised she was pregnant.
She still looks back with anger at the shame she had to endure. "We were the new generation, we didn't need marriage but our parents forced us. Those parents failed us because they hadn't taught us about sex education."
Another surprise came when we filmed Clive Sweet from Llandudno, who as a young black teenager was a Jimi Hendrix lookalike. We were intending to film Clive talking about his story of growing up as a Barnado's boy in north Wales and the harsh regime he endured. But as it turned out Clive had an even more extraordinary story.
He was influenced by the Black Power movement of the '60s and one night he went to a fancy dress party at a club in Llandudno dressed up as a Black and White Minstrel. "I wanted to change people's views on what it meant to be a black person. But I was refused entry. They said, 'we're not letting your type in here, you black people are always causing trouble'."
The incident was reported in the local press, then it was taken up by Conway MP Ednyfed Hudson Davies. This, together with other cases of racial discrimination brought before parliament, led to the Race Relations Act 1968.
But perhaps the biggest surprise of all was when we filmed Joy King on her memories of growing up in Morriston. We'd found Joy through a writers database that first took us to her husband. But once Joy started talking we realised we'd unexpectedly struck gold and that she was a remarkable storyteller with great humour and perception.
Often the best storytellers are those with little formal education and Joy is no exception. She deliberately failed her 11-plus not wanting to go to a 'posh' grammar school. Despite this, Joy regaled us with a superb three-hour monologue on her childhood and youth.
It began with her account of the traditional Welsh Sunday dominated by chapel and church attendence and how boring and oppressive it could feel to a young girl. "The minister, when you thought that he'd finished his sermon, shut his bible and you'd think, 'thank God, he's finished'. But he was only getting a second wind, he was just getting into his stride really and he'd start up again. And as a child, I actually thought that God was Mr Evans the chapel minister."
Wales in the Sixties: My Generation is on Tuesday 12 November at 10.35pm, BBC One Wales.