Pre-Cool Cymru: the pioneering bands
My university days were a heady time for Welsh music. It was the middle of the 1990s and the Welsh music scene was in an ascendancy unlike anything we'd seen before.
The bands have defied the throwaway pop culture and are still around wowing crowds around the world. It was an explosive time of musical variety, named by the world's press as 'Cool Cymru'. But what was the climate that bred such interesting, long-lasting and valued musicians - did they land out of the blue?
Dave Owens from Media Wales joined me recently on the radio with a dusty pile of cassettes to run through some of the bands that came before Cerys, Manics, Stereophonics and the Super Furries changed the face of Welsh music.
Dave Owens with his own fanzine Taffbeat
Here's his rundown of the key bands and their influence on Welsh music - welcome to a taste of pre-Cool-Cymru!
The Pocket Devils
Blasting out of Merthyr in the early 90s this band - together from 91-98 - featured the vocal talents of Jonathan Owen.
Jonny is now a successful film actor and the creator of music industry spoof Svengali - a cult online series soon to be released as a movie this autumn.
A Britpop band before Britpop, The Pocket Devils' spiky indie pop tunes and a singer with the sort of swagger that pre-dated Liam Gallagher was an attractive confection that look set to propel them to the global stage.
They released one single - Walking On Water - in 1996 but despite plenty of record company interest it never happened.
However, it may now be time to revisit the band as they were managed by Paul Dixon, the larger than life character on which Dixie - Jonny Owen's character in Svengali - is based.
The Blood Brothers
One of the unsung heroes of Welsh music, Newport musician Richard Parfitt is best known as the frontman of mid-90s Britpop punks 60ft Dolls. However, he started out as a teenage stylist in local mod band The Colours in the early 80s.
Approached by fellow mod pop outfit The Truth, and with the promise of a regular wage with a band signed to major label, he jumped ship to play bass in the group which had by then already scored two top 40 hits.
His next move was the group The Blood Brothers. Starting out as an anthemic rock outfit who released one album, Honey & Blood, in 1988, they quickly mutated into a band in thrall of the prevailing Madchester sound of the late 80s, turning out some sparkling baggy-influenced tunes before disbanding.
Parfitt went on to form 60ft Dolls and guitarist Jeff Rose joined Newport noiseniks Dub War, featuring the considerable vocal talents of Benji Webbe, now frontman with Skindred.
U Thant
The only band I know of named after a former UN secretary general, this playful Welsh language punk pop outfit from Cardiff was something of a breeding ground for musicians.
Fronted by Rhys Boore - a man who delighted audiences by occasionally donning pink lurex jumpsuits - U Thant also included drummer Frog (also in an embryonic version of Catatonia), guitarist Iwan Pryce and his brother Guto Pryce (also an early Catatonian and latterly bass player in Super Furry Animals), Huw 'Bunf' Bunford (Super Furry Animals' guitarist) and Owen Powell (guitarist with Y Crumblowers and later in Catatonia).
They released a number of memorable albums and were regulars on S4C's pioneering music programme Fideo 9. Their gigs were also the stuff of legend.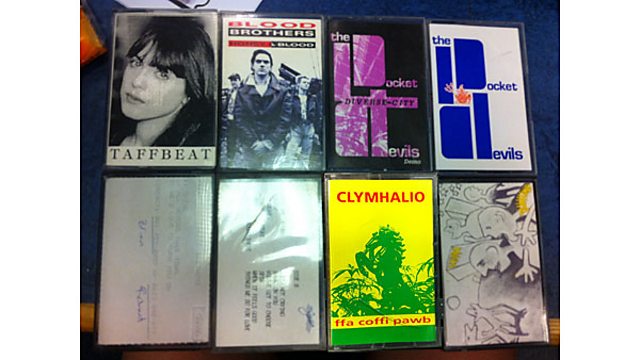 Pre-Cool Cymru cassettes
Ffa Coffi Pawb
Putting the controversy over their name aside for one minute, Ffa Coffi Pawb are commonly acknowledged to be the prototype of Super Furry Animals. They were fronted by Gruff Rhys and also the Furries' drummer Dafydd Ieuan amongst their number.
Signed to Welsh label Ankst and active between 1986 and 1992 they released three studio albums - Dalec Peilon (1988), Clymhalio (1991) and Hei Vidal! (1992).
Their line-up also included Rhodri Puw, later a member of Gorky's Zygotic Mynci, and Dewi Emlyn, who went on to become a tour manager for GZM and SFA. In 2004, a compilation of the band's best tracks was released under the title Am Byth (Forever) on the Placid Casual label.
Spirit Of Ecstasy
In another time and dimension Spirit Of Ecstasy could have been playing reunion shows at Hyde Park, clutched to our hearts as national treasures.
The Cardiff outfit fronted by full-throttle frontman Richard Jones, formerly of local goth punkers Witch and the Wardrobe, mixed punk, funk, rock and injected it with a shot of the all-pervading baggy flavour to marvellous effect.
Causing a record company chase that forced London-based A&R types to get out their maps and work out exactly where Wales was, they were offered a two-single deal with Food Records. For reasons that they still can't fathom all these years later they turned it down and the record label offered the deal to a young band from London called Blur.
Spirit of Ecstasy kept on keeping on. Now managed by former Eddie & The Hot Rods and Damned bass player Paul Gray, their perseverance was rewarded with another deal proffered up with Phonogram, but that fell through and spelled the demise of a band that were the ultimate nearly men.
The Darling Buds
Formed in Caerleon in 1986 by the then 19-year-old Andrea Lewis, The Darling Buds' debut single, If I Said, was released on February 1987, and received radio play on John Peel's BBC Radio 1 show.
Signing to Sony in 1988, several singles preceded their critically acclaimed 1989 debut LP, Pop Said.
The band were at the forefront of 'blonde' - a spurious tag dreamt up by the Melody Maker at a time when the music press loved lumping bands into particular movements. The Darling Buds, The Primitives and Transvision Vamp were the main players, chiefly because the frontwomen all had blonde hair. But more broadly they all arose out of the C86 era of noisy buzzsaw indie pop bands like The Shop Assistants, The Flatmates and The Soup Dragons.
Influenced by the catchy simple sound of the early Beatles, the band created melodic, hook-driven, three minute singles. Two albums followed their debut with the group disbanding in 1993.
You can read more of Dave's writing on Welsh pop here http://www.walesonline.co.uk/authors/david-owens/ and personal blog here http://asoundreaction.walesonline.co.uk/