A daughter's plea to find the owners of her father's grave
Earlier this year I received a plea for help that I defy anyone to resist responding to and becoming emotionally involved in.
"Can you please help me find the owners of the grave that my late father is buried in?"
The plea came from Sandra Tibble and she went on to explain: "My father died in December 1958 when I was two years old and my sister Debra was three weeks old. I have spent the last three years trying to find the owner of the grave as it is subsiding and the London Borough of Brent will not give my sister and I ownership."
Sandra finished her email with these powerful words: "The grave is all we have as a memory to a dad we never knew and my sister and I are desperate to become the legal owners of the grave, so it can be kept in good order during our lifetime and beyond."
What sort of person would I be if I did not offer to help Sandra?
I always like to get the facts in order and start from the beginning with every search.
George Ernest Coomber died on 10 December 1958 aged just 27 from a brain haemorrhage after heading a leather football during a match for Crescent United in the Harlseden Sunday Football League.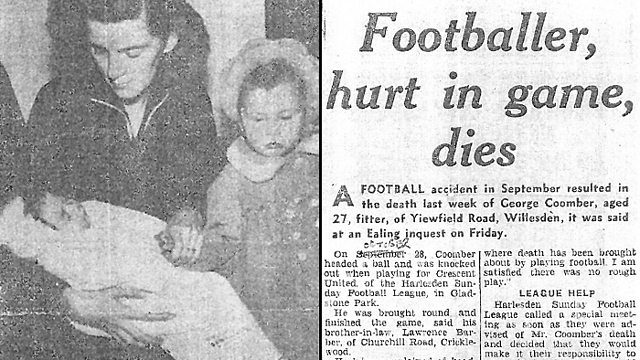 Extracts from a newspaper report from 1958 on the death of George Coomber. Image courtesy of the Willesden Chronicle and Herald (now the Brent & Kilburn Times)
At the time of George's sudden death Sandra was just two years old and her sister was a newborn baby. Understandably their mother Marie was unable to cope so their grandmother Barbara Coomber (nee Orchard) took over the funeral arrangements.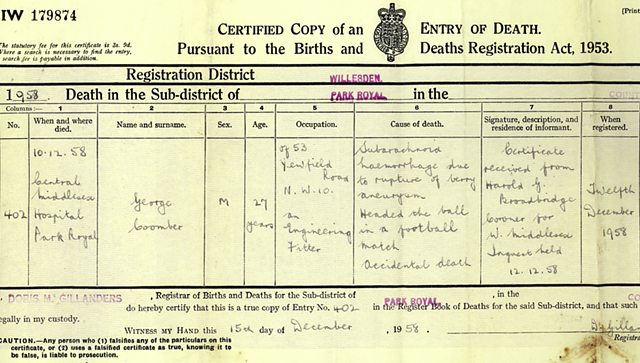 The cause of George Coomber's accidental death is shown clearly on his death certificate. Image courtesy of Sandra Tibble and family
Barbara was born in 1894. Her father Walter Orchard died in 1895 and so her mother Amelia (George's grandmother and Sandra's great-grandmother) remarried in 1898 to Frederick Wensley.
Frederick and Amelia had a daughter called Florence Amelia Gertrude Wensley born in 1900. Therefore, Florence was George's aunt or Sandra's great-aunt (of the half blood).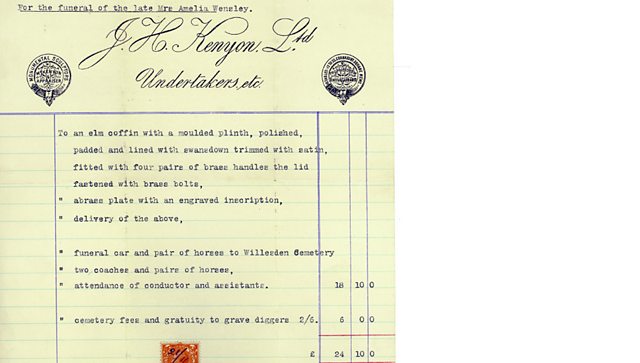 The original undertaker's invoice totalling £24 10s which included two coaches and pairs of horses for Amelia Wensley's funeral. Image courtesy of Sandra Tibble and family
When Barbara and Florence's mother Amelia died in 1926 she was buried in a grave in Willesden New Cemetery and the deed of ownership for the grave was signed by Florence alone. There was no headstone for Amelia, perhaps because money was tight or perhaps because the family imagined that her husband Frederick would also be buried there.
But the grave was purchased and dug deep enough for three burials, so clearly it was meant to be a family grave.
When George died suddenly in 1958 it seemed logical for him to be buried in the same grave as his grandmother Amelia. By this time Florence had married twice and drifted away from her half-sister Barbara and they eventually lost touch. There is a simple headstone for George on the grave, as well as a vase with seven sad words inscribed which reads "To Darling Daddy from Sandra and Debra".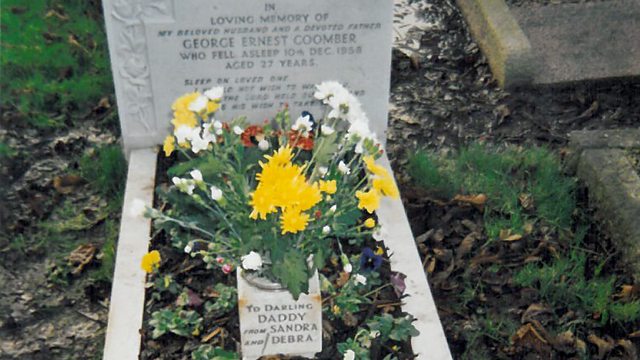 The grave of Ernest George Coomber, 1931-1958. Image courtesy of Sandra Tibble and family
It wasn't until three years ago when, having tended the grave of their father for many years, Sandra and Debra asked if they could complete some maintenance on the headstone and grave. They were told that they could not do this because they were not the owners of the grave.
Incredibly despite having several original documents relating to the grave in their possession Sandra and Debra were informed that these were not acceptable!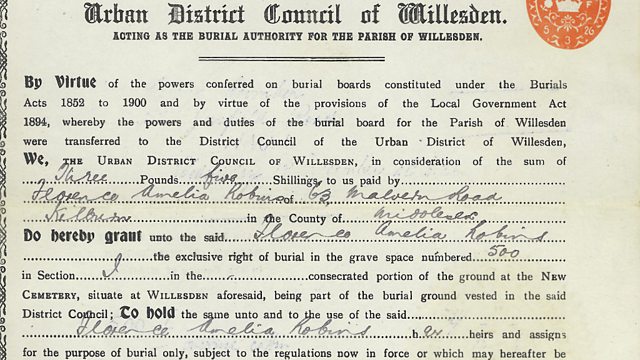 The original deed of ownership for the grave of Amelia Wensley. Image courtesy of Sandra Tibble and family
To take over the ownership Sandra and Debra were told by Brent local authority that they must find the descendants of Florence and ask them to complete a document relinquishing their ownership of the grave. 
I realised that ordering a copy of Florence's death certificate from 1969 would provide the name and address of an informant and then I could search to see if Florence left a will, which might in turn provide details of further beneficiaries... and ultimately help me find a living person to whom I could write.
After waiting a few days and crossing various digits I was very pleased indeed when I learned that Florence and her second husband Walter Thomas Chapman had had two children; Ronald in 1932 and Patricia Anne Chapman in 1938. And even more pleased to learn that Ronald had two sons, Stephen and Michael, and that Patricia (or Anne as she is known to her family) was alive and well. 
Crucially Anne was more than happy to complete the London Borough of Brent's paperwork and so sign over the ownership of her grandmother's grave to Sandra and her sister Debra so that they can care for it forever more.