The death of Dylan Thomas
Most people are aware of Dylan Thomas, the boozy "enfant terrible" of the 1940s and 50s literary scene. Like a blazing meteor the Welsh poet, story writer and broadcaster burned briefly and then left the stage, leaving only memories and a body of about ninety poems as his memorial.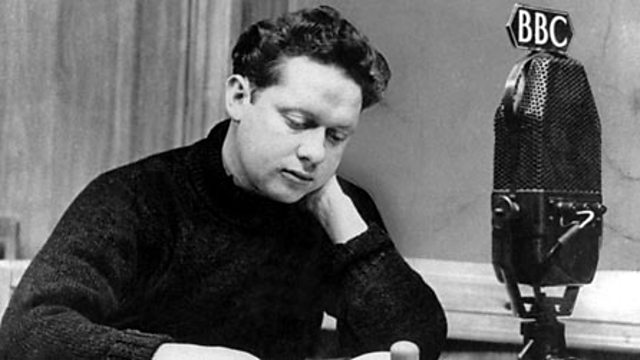 Dylan Thomas at the BBC in November 1948
The incidents of his life are too well known to recount again, at least in any great detail, but his death in a New York hospital on 9 November 1953 has always been clouded in mystery. It is almost 60 years since that death and opinions remain divided about what exactly caused it.
Dylan Marlais Thomas was born in Cwmdonkin Drive in Swansea on 27 October 1914, barely one month after the family had moved into their new house. His schooling at Swansea Grammar School, where his father was English master, was undistinguished and he left at the age of 16 to become a reporter on the South Wales Daily Post. This job he also left quickly, dedicating the rest of his life to poetry and to the simple act of becoming a poet.
There are those who say becoming a poet, acting the part so to speak, was more important to Dylan than writing poetry. However that may be when, in 1950, John Malcolm Brinnin invited him to give a series of talks, readings and lectures in America, Dylan jumped at the opportunity. America meant big money, superb hospitality - at a time when Britain was still suffering the effects of wartime austerity - and plenty of idolisation from college students, usually girls.
Over the next three years, Dylan Thomas made four trips to the USA, arriving for his final tour - and the first readings of his verse play "Under Milk Wood" - on 19 October 1953.
Dylan was, by this time, already ill but the cause of that illness remains unclear. Yes, he drank but, despite popular opinion he did not drink excessively. When a post mortem was carried out after his death it showed little damage to the liver or signs of cirrhosis - something you would expect to find with a heavy drinker.
Already the victim of blackouts or fainting spells, when he arrived in New York to take part in a performance of "Under Milk Wood" he was forced to use an inhaler to help him with his breathing. The air pollution that year was particularly bad and by the end of the month over 200 New Yorkers had died from the effects of the smog. Dylan, with his congenitally weak constitution and chest, was an obvious victim to that smog.
What happened next is all part of the Dylan Thomas legend. And what a legend it was! Attending one of his readings was, to the Americans, as much a matter of expectation as it was listening to the great man's voice. Would he swear or fall off the stage in a drunken stupor? Would he collapse or maybe even die in front of their eyes? It was all part of the experience.
Coming back into what is now JFK airport after some time out of New York, Dylan was met by Liz Reitell, Brinnin's assistant and Dylan's lover. And, to her, it was instantly clear he was seriously unwell. The following day, on 29th October he decided to stay in bed, remaining all day in his room at the Chelsea Hotel. It required two injections from the mercurial Dr Feltenstein, brought in by his supporters, before he announced that he felt better.
On 3 November Dylan was again confined to bed for the day but he did rouse himself to venture out that night. When he returned to the hotel room he supposedly told Liz Reitell his famous line - "I've had eighteen straight whiskeys, I think that's the record." It's highly unlikely that he consumed anything close to this quantity. If Dylan had drunk eighteen straight whiskeys, American measures, it would probably have killed him then and there.
On 5 November, Dr Feltenstein was again called in and administered more injections - seemingly his main course of treatment. Just after midnight, however, Dylan experienced serious breathing difficulties. His face turned blue and Reitell, now seriously concerned, called for an ambulance. Dylan Thomas, already in a coma, was admitted to St Vincent's Hospital.
He never recovered consciousness, dying at noon on 9 November. The American writer John Berryman was in the room as the Welsh poet breathed his last and Dylan's wife Caitlin - who had arrived, apparently, shouting "Is that bloody man dead yet?" - had to be restrained and admitted to a psychiatric hospital.
In the wake of his death all sorts of rumours and speculation began to spread - Dylan had died from a drinks or drugs overdose, he had been mugged, he had diabetes. And so on. The official prognosis was that he died from a swelling of the brain caused by pneumonia and poor oxygen supply. The part played by Dr Feltenstein and his "winking needle" was not mentioned.
Dylan's body was brought back to Wales and he was buried in the churchyard at Laugharne on 29 November 1953. The day of the funeral was one of hysteria and heavy drinking, as Thomas would probably have wanted.
The final message from the day, however, is one of dark humour that Dylan would certainly have appreciated. The funeral directors had dressed up his body, even down to equipping him with a gaudy bow tie. As one of Dylan's friends remarked "Dylan wouldn't have been seen dead in that tie."
Read more on the remarkable life of Dylan Thomas on the BBC Wales Arts website and explore their Dylan Thomas random poem generator.