My grandad always looked forward to today - the winter solstice, the shortest day of the year in the northern hemisphere, because he knew that after today, the days would slowly get longer as the sun moved north again.
There was also a lunar eclipse this morning - the first in three years and few places in the UK remained cloud free, long enough for people to see it.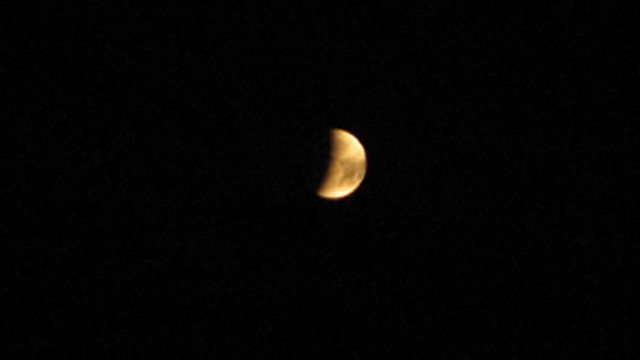 Hatti Woakes captured this image of the eclipse over Fishguard today.
You may be fed up with all the snow but at least everything looks brighter when covered under a blanket of snow and as Roy Noble said "It's the only time you don't have to worry about the state of your garden"
There is more snow to come tonight and tomorrow morning - most of it in the north and east of Wales, Powys and also Pembrokeshire with a risk of further significant falls.
5 to 10 cm is possible in places (2 to 4 inches) which could lead to further disruption so keep an eye on the forecast.
Wednesday afternoon should become generally drier and brighter with some sunshine and after that, we should have the seen worst of the snow for a while although it will remain very cold.
Christmas Eve will probably be dry and bright with just a few wintry showers on some Irish sea coasts.

If you put money on a white Christmas this year, I'm afraid it looks like you'll end up out of pocket because it's going to be dry, but there will definitely be snow lying on the ground.

Christmas Day will also be bright with some sunshine and light winds so ideal for a walk after your Christmas lunch but take care as it will be very icy and freezing fog patches will be slow to clear.

Expect a widespread, hard frost overnight with some extremely low temperatures possibly -15 to -20 Celsius inland.

Boxing Day should start dry and bright but there is a risk of heavy snow and strong winds spreading from the west later in the afternoon and evening, with blizzards and drifting snow. As always there is some uncertainty in the forecast so stayed tuned to the BBC for updates.

Thereafter it should turn less cold with a thaw and some rain in the run up to the New Year but I wouldn't be at all surprised if the cold air has another swipe at us.

Derek