The long hot days of summer have almost gone but I've enjoyed every moment and made the most of the weather by getting out and about and as far away from my computer as possible.
On one of my days out I stumbled across an auction in Ross-on-Wye. Among the various objects that caught my eye was an old family Bible printed in 1878.
Not a small pocket sized version that you might have received at Sunday school but a whopping great big heavy Bible with leather covers, brass clasps and with beautiful illustrations.
The front cover needed some attention but it was over 130 years old and had obviously been much loved and used, which made its appeal even more special.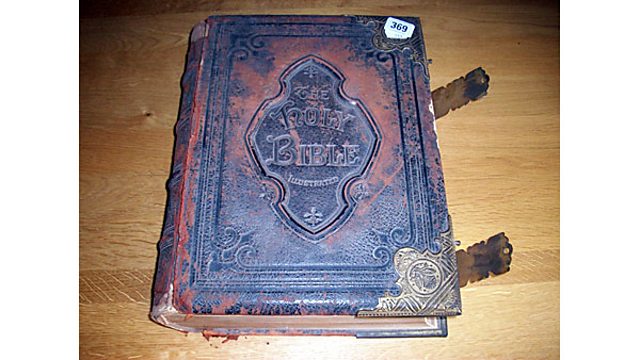 The Bible with its auction lot number
And so for the paltry sum of just £10 I became the new owner of this old relic, but the plan was that my ownership would be only temporary.
At the auction I discovered that inside the front cover was a simple inscription which read: "Presented to Emma Davies by her mother Sept 6th 1879".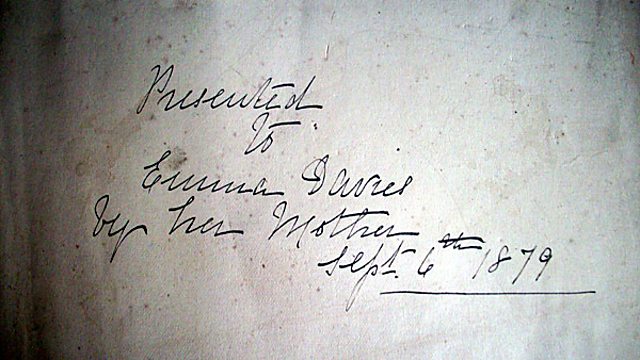 Inscription in Emma Davies' Bible
My plan was simple: to find Emma's family and return the Bible to them.
To my amazement, further inside the book were several neatly completed pages of vital family information - details of Emma's parents as well as their marriage on 6 October at St Mary's Church on Bute Road in Cardiff.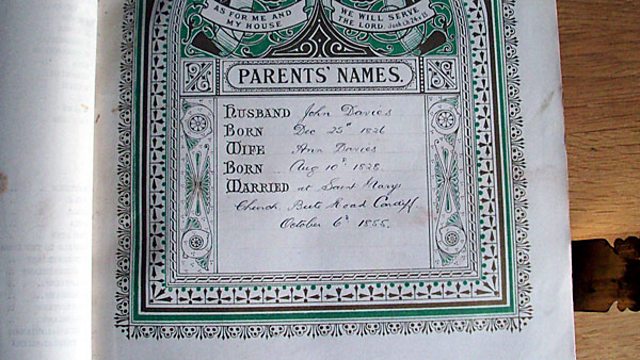 Emma Davies' parents' names written in her Bible
Then on the next page a full list of all nine of Emma's siblings and their dates of birth. This is the kind of information that makes my heart skip and makes up for any possible problems that I would usually anticipate when researching a surname like Davies in Wales.
The details confirmed that Emma was born on 15 April 1859 and that she was the third daughter born to John Davies and his wife Ann. Her two older sisters were Harriet, born in 1856, and Maria, born in 1857, and there was another sister Alice, born in 1865.
Within minutes of getting home I checked the census records for 1861 and found the Davies family living in Llanwonno.
Emma's father John, who was born on Christmas Day in 1826, is listed as a railway inspector, which explains why during the next four census returns the family moves regularly around south Wales. John must have died before 1901 because at this stage 42-year-old Emma is living alone in Whitchurch in Cardiff with her mother, who is listed as a widow.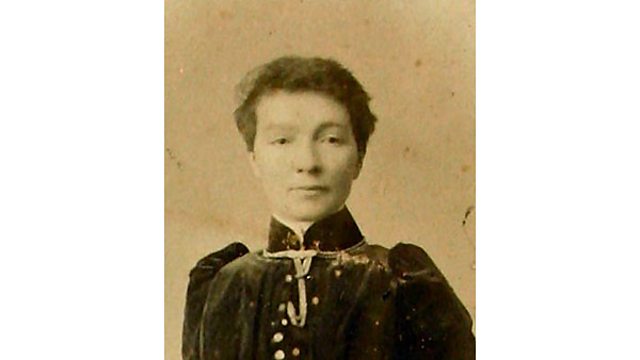 Emma Davies
Emma did not stay single forever though and later that year she married William David, who was also a railway inspector. At the time of the 1911 census, when Emma was 52, it confirms that she had no children and therefore no direct descendants who could inherit her Bible.
But the story does not end there.
I am used to dead ends and quickly regrouped my thought processes and started a search for Davies family trees that had been posted on the internet. Several possible matches raised my spirits but one entry in particular raised my eyebrows.
Bob Jones had posted the complete Davies family tree, which was very good news indeed. But what was absolutely incredible was that he had also posted beautiful old photographs of Emma Davies and her parents and various of her siblings.
Bob is indirectly related to Alice Davies but obviously has a great love of all things to do with family history. His research led him to meet one of Alice's granddaughters who declared that she had an old family photograph album hidden in her bathroom cabinet.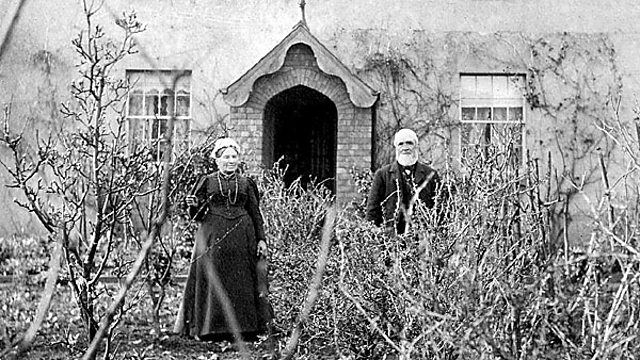 Emma Davies' parents John and Ann Davies in their garden
Bob has kindly agreed to come and join me live on BBC Radio Wales today to receive the Bible on behalf of his distant cousins.
He doesn't know yet what he is coming to collect and I can't wait to see his face.