Milder air and settled weather for a few days
Yesterday Hawarden in Flintshire was the warmest place in Wales with a high of 13.1℃, 5 degrees above the December average and today Milford Haven nearly reached 12℃.
The reason for the winter warmth is down to the wind direction with southerly winds carrying mild air northwards from Spain and Morocco.
As the air crosses the land mass of Europe it tends to cool down during the winter months and if the sky is clear overnight it can turn quite cold with temperatures falling low enough for frost and fog to form.
Our weather at the moment is being dominated by high pressure on the near continent but this will gradually give way over the next few days allowing fronts to move in from the Atlantic.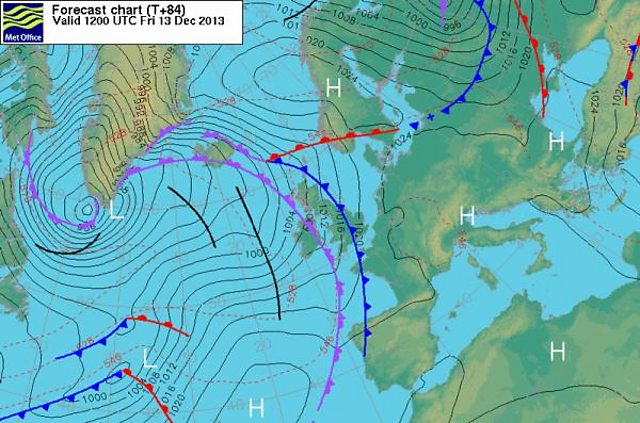 Weather chart for 13 December 2013 showing an area of deep low pressure to the west.
The weather over the weekend will be up and down. Saturday will improve, becoming dry and brighter with some sunshine.
By Sunday, more fronts will move east bringing another spell of rain and stronger winds.
The changeable, sometimes unsettled weather looks to set to continue next week with a big low pressure anchored in the north west Atlantic.
Spells of rain and strong winds are likely interspersed with clearer weather and showers.
There is no sign of any significant cold weather on the horizon and although Christmas is still a fortnight away and things could change - I would say a white Christmas in Wales looks unlikely at this stage.
I will keep you posted but in the meantime - enjoy the sunshine and watch out for fog patches if you are travelling tomorrow.
Derek