Aberystwyth Storytelling Festival
Storytellers from across the globe are descending on Aberystwyth this weekend for the town's first ever such festival, which is being run by the arts centre, The Magic Illuminarium and the Crick Crack Club.
The long-established art form and its power to unite communities and span generations will be celebrated by a raft of performers from near and far.
Among the highlights are Voodoo stories from the Caribbean and Africa and Breton tales as well as stories from north Wales, live music and performance from local storytellers.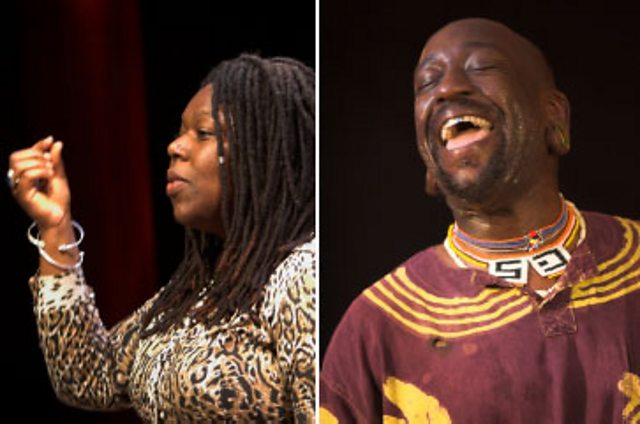 Jan Blake and TUUP, The Unorthodox, Unprecedented Preacher
Also appearing is Wales' very own official young storyteller of 2010, Bronwen Hughes, who will engage youngsters in the art.
Saturday night sees the folklore of the Caribbean and its fascination with zombies, vampires, "duppies", "jumbies", and "loogaroo" take centre stage. Storyteller Jan Blake hopes to bring the tradition alive with the help of Tuup (The Unorthodox, Unprecedented Preacher), also known as the professional storyteller Godfrey Duncan, at the Spook Tales event.
The duo will be back to share atmospheric tales from Africa with children in a Sunday afternoon session.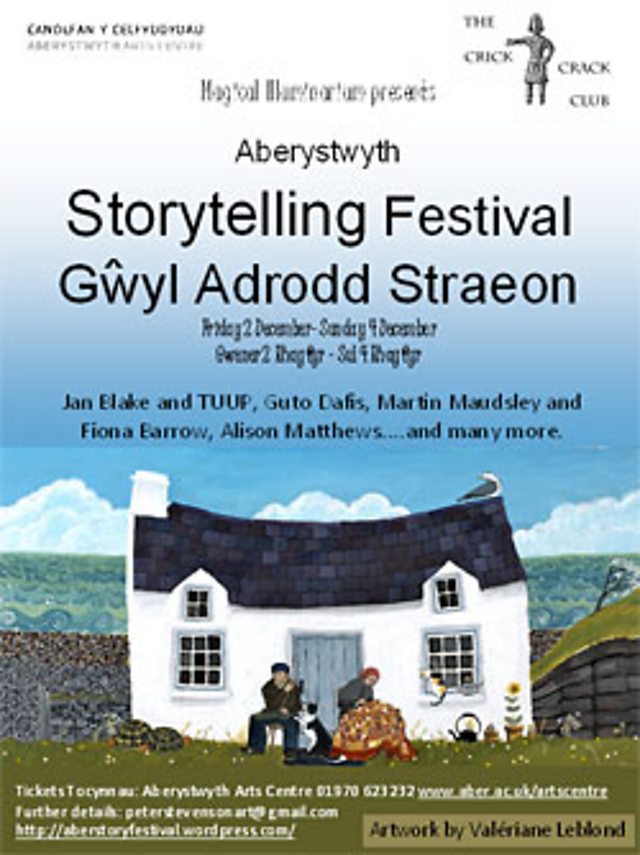 Aberystwyth Storytelling Festival poster
Festival organiser Peter Stevenson says the idea for the festival was born out of a storytelling group he helped start at the arts centre.
"I had the dream of turning it into a festival to bring great storytellers to Aber and to show them what brilliant storytellers we have here.
"Stories and illustration and music have been my life, and I love the way stories bring people together. We all need the frivolity and fantasy of stories in these dark times."
He says the art of storytelling has resonance through history.
"Storytelling, whether tales told simply around an open fire beneath a crescent moon, or performed in theatres under the glare of arc lights, or stories made up as children drift into dreamworld, is as important in our lives as it has ever been.
"They connect us to our roots, our communities and in an age of uncertainty allow us to give thought to our futures"
Martin Maudsley from Bristol will also be telling tales of his storyteller grandfather, American Ali Matthews will be retelling Eve in the Garden of Eden and Guto Dafis will share Breton stories in Welsh. There will also be a raft of workshops, along with music and song from local musicians, and the puppetry of Alexandra Shiva Melis.
The whole weekend will end on Sunday evening with a Grand Fest Noz, a Breton dance with Kantref in the Foyer Bar.
Festival passes cost £15, or the evening events can be booked separately at £6 (£4) or £8 (£6), and most of the daytime events are free. Further details are on the festival website, aberstoryfestival.wordpress.com.