Recently I've been trying my best to attract a few more birds to BBC Wales HQ here in Llandaff. When I say birds, I mean small, interesting ones rather than the feral pigeons and herring gulls that line the rooftops here every single day of the year.
It's not to say that we live in a wildlife wilderness though. We have plenty of grey squirrels - no black ones yet! And there's a resident sparrowhawk nearby that takes out the odd pigeon from time to time.
We also have a green woodpecker in the top Ty Oldfield car park that regularly waddles around a small, grassy area in search of worms and a fairly tame raven that croaks occasionally.
I heard some tawny owls calling at night a few weeks ago in the woods beyond the car park and they're quite active at this time of year - defending their territories in preparation for an early breeding season.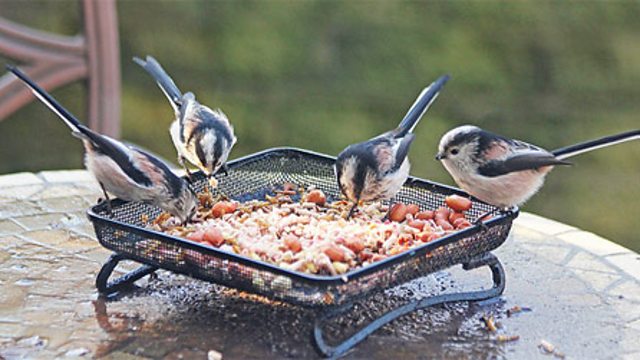 The complete opposite of my empty bird feeder at work. This one is feeding a family of long-tailed tits. Image by Eiona Roberts.
But that's about it - there's not a tit or finch in sight.
I've put a basic feeder up on a tree opposite our office and it's now been there for a week. The only visitors - two large magpies that take it in turns, hanging off it like bad gymnasts, but at least it's getting used.
I'm now toying with the idea of making a small wooden bird table to fix to one of the fence posts, in the hope of alerting passing birds to their new feeding station. I found a nice simple plan to follow on the RSPB website with illustrations, if you fancy making one for your garden.
With so many birds beginning to search out nesting sites, it's not a bad idea to think about nest boxes too, as we could be in for an early season this year. And even if they don't nest, they will still come in handy as roosting boxes, if the weather remains cold.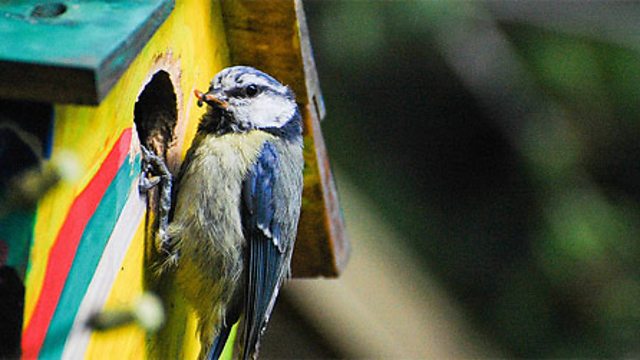 A blue tit bringing food back to a nest box. Image by Arwyn Harris.
According to RSPB, 'Over 60 species are known to have used nestboxes and regular residents include blue, great and coal tits, nuthatches, house and tree sparrows, starlings, spotted and pied flycatchers, robins, house martins, kestrels and tawny owls. '
'Much depends on the type of the box, where it is located, and on its surroundings.'
They are also fairly simple to make providing you can cut in a straight line and use a ruler or tape measure!
There's an easy to follow plan on how to build one on the RSPB website or on BBC Breathing Places if you've got some free time on your hands.
It will also save you a fair bit of money too as they can be quite expensive to buy, ranging from £7 up to £45 plus, depending on what they're made from, which species of bird they're designed for and the technology contained inside.
Here are 20 of the best bird boxes from 2009 (so a little out of date) but it gives you a good idea of what is available and the wide selection of designs that you can now purchase - from designer ceramic 'tit balls' to high tech boxes with built in webcams so you can recreate Springwatch from the comfort of your lounge.