Series of events aims to get beneath the skin and open up the human body to the public eye
Anatomy may on the face of it seem like something best left to doctors, particularly as the grisly process of carving up cadavers is a rite of passage in their training.
But a new series of events taking place at the Wales Millennium Centre later this month will utilise the arts to explore the structure of the body, what literally makes us tick and the relationship between performance and the human form.
In 16th century Italy, anatomy theatres with demonstrations often attracted huge crowds of spectators, while the controversial Bodyworlds exhibition by Gunther von Hagens, which featured corpses and various body parts, has been viewed by more than 37 million people worldwide.
The Anatomy Season is presented by the WMC in conjunction with performance company Clod Ensemble and will explore this long-lasting fascination with what happens beneath our skin. It will see artists, anatomists, medics and performers offer a plethora of perspectives on the inner workings of the body and the representations of bodies in medical culture.
"The Anatomy Season is all about what's going on under the surface: in this case the surface is the skin," said Professor Judith Hall, who will be presenting a workshop on voice and breathing apparatus alongside anatomist Dr Tracey Wilkinson and WNO Soprano Ros Evans, in the Simulation Centre at the University Hospital of Wales.
She added: "The season looks inside the body to help us understand, and maybe also to value, its inner workings. It's a great, varied way to learn about and understand our bodies."
Audiences can look forward to four performances of Clod Ensemble's An Anatomie in Four Quarters, which premiered at the Sadler's Wells Theatre in 2011 and celebrates the physical structure of the body in a promenade performance they describe as a visual poem. This production is being put on in with live strings from Sinfonia Cymru, and will take audiences to four different viewing positions within the Donald Gordon Theatre.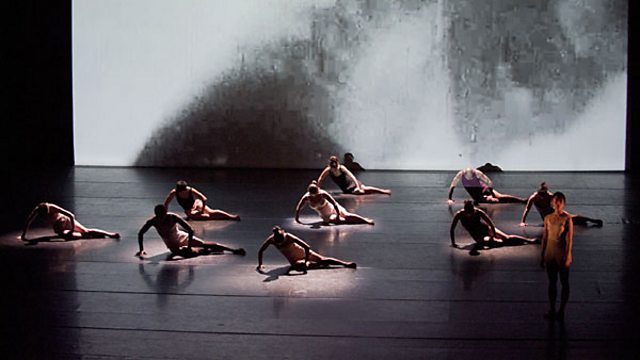 An Anatomie in Four Quarters. Photo: Hugo Glendinning
Clod Ensemble's co-artistic director Suzy Willson writes on the blog that accompanies the season: "Many dancers and performers have a pretty good working knowledge of anatomy but have gathered that knowledge though an experience of their own bodies rather than in the ways that students learn anatomy, for example through dissection looking at diagrams or through examining patients.
"It's great to share different ways of thinking and seeing human anatomy in a different context, beyond the usual professional environments in which these things are discussed - the rehearsal room or the anatomy theatre.
"When I began this work I felt that the ways in which medical institutions looked at people's bodies were sometimes brutally reductive and I was interested in offering medical students some other ways of thinking about human bodies and sharing some practical skills to help them use their own bodies more sensitively and skilfully when working with patients and colleagues.
"I hope that the Anatomy Season will bring people together and audiences will enjoy the multiple perspectives on offer."
Alongside the theatrical spectacle will be a series of workshops where people can explore various subjects, including the anatomy of the voice and how to treat patients with breathing problems, anatomical drawing and wax sculpting sessions as well as performances by dancers who will explore anatomy through movement.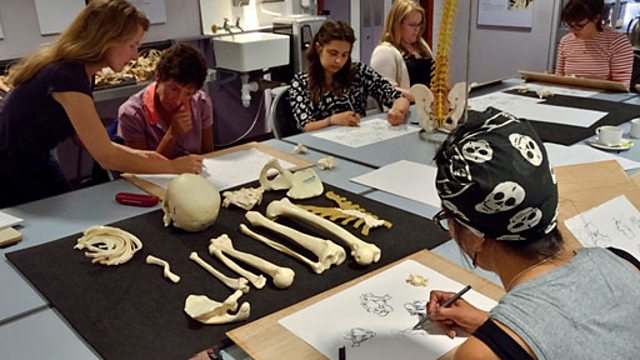 Anatomical drawing class. Photo: Ewa Herzog
Roger Kneebone, Professor of Surgical Education at Imperial College London, experienced performer and teacher Brian Lobel and Anglia Ruskin University's Principal Lecturer in Drama Gianna Bouchard will also lead a debate about the relationship between performance and anatomy, and professional artists will discuss the ways in which their work is influenced by anatomy.
Head of programming at Wales Millennium Centre, Louise Miles-Crust, said: "As an innovative and reflective cultural venue, we have a responsibility to challenge our audiences and stimulate questions.
"Our Performing Medicine: The Anatomy Season provides audiences with a rare and varied opportunity to question how much we know about what's going on inside us, and how much we really want to find out."
The Anatomy Season takes place from 26 November until 7 December. You can read more about it here: anatomycardiff.blogspot.co.uk.
For further information and to book tickets, visit wmc.org.uk or call 029 2063 6464.