Pembrokeshire Tudor trader's house to open at St Fagans Museum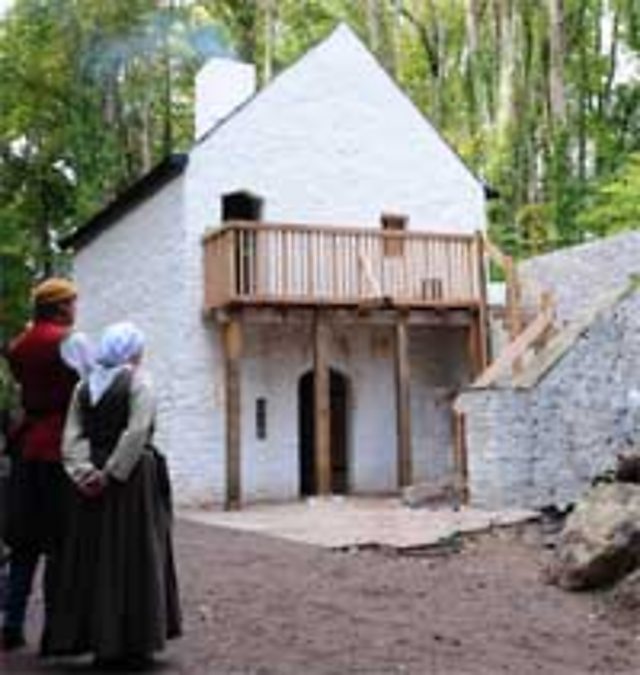 The house will be officially opened to the public on Monday 2 July at 2pm. Visitors will be welcomed into the house, as re-enactors use traditional skills to cook the first meal on the hearth.
Replica items have been used to show how it may have looked in around 1580, when goods were being traded to and from Bristol and the west country as well as along the Welsh coast, Brittany, Ireland, France, Spain, Portugal and North America.
The late-medieval house was originally built against a steep wooded bank behind Quay Street in Haverfordwest. Its proximity to the old quayside suggests that it may have been the home of a trader.
The owner probably bought and sold goods which were traded in the busy port town of Haverfordwest. The occupants lived upstairs where there was a single room, with an open fireplace at one end.
A small croglofft (half-loft) provided sleeping accommodation and next to the fireplace was a garderobe (toilet). The vaulted ground floor was used a store, where valuable goods such as corn, wool, hides, salt, fish, soap, cheese or casks of wine were kept before being sold.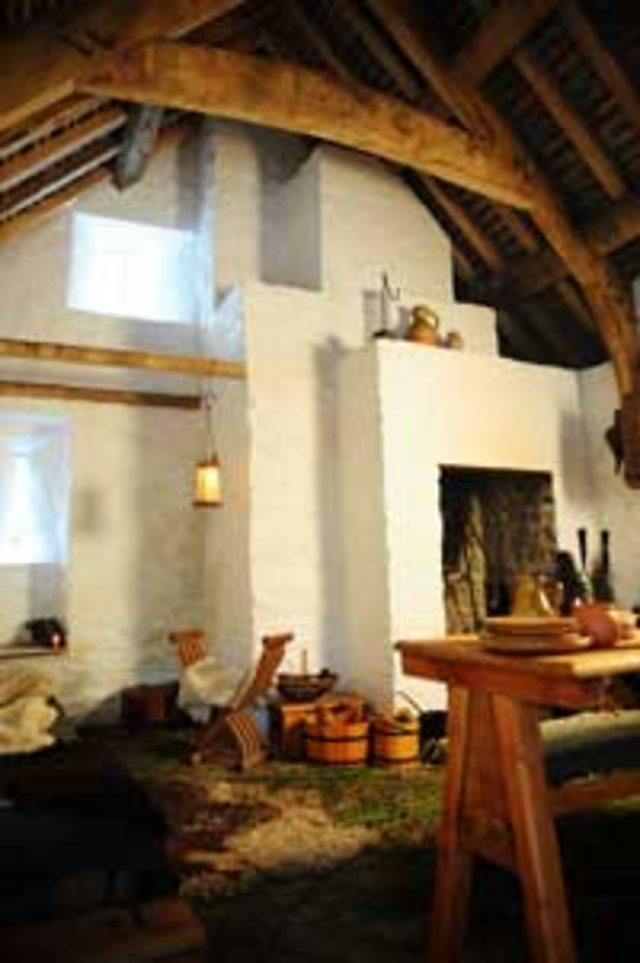 During the Elizabethan period, Haverfordwest was a bustling cosmopolitan settlement which historian George Owen said in 1603 was the second most important trading centre in Wales.
This is only the second building from Pembrokeshire to have been rebuilt at the museum. In 2011 the clogmaker's workshop from Ysgeifiog near Solva was opened.
Gerallt Nash, senior curator at St Fagans: National History Museum, said:
"The mysterious medieval building near the quayside at Haverfordwest was dismantled 30 years ago by a team of young apprentices and those same men have reconstructed the house here at St Fagans.
"It is a wonderful addition to the original buildings from different historical periods which have been re-erected here at the museum. Visitors can learn more about the historical context of this wonderful building and see how the Tudors managed to navigate the oceans and bring new goods and ideas into Wales from Europe and beyond."
Amgueddfa Cymru - National Museum Wales operates seven national museums across Wales.
Details of exhibitions and visitor events taking place at each of location can be found here:
Admission to Amgueddfa Cymru - National Museum Wales buildings is free.