New book showcases Cardiff Before Cardiff photography
A new book tells the story of an intriguing discovery of photography of Cardiff from the late 1970s and early 1980s, which has ultimately led to the reuniting of a father and daughter.
If you live in the capital city you may have heard of Cardiff Before Cardiff. The project behind the book started as far back as 2010 and there was an exhibition at the Wales Millennium Centre earlier this year.
For those unfamiliar with it, in autumn 2010 Cardiff-based photographer Jon Pountney happened upon what he guessed to be "hundreds of prints and perhaps thousands of negatives" while he was renovating a building in the Heath area of Cardiff.
This body of documentary photography, taken largely in the Adamsdown, Splott and Butetown areas, was the work of Keith S Robertson. Unknown to Pountney at the time, he began to share the photos online to gain more information about them and the many anonymous faces in the striking images.
Inspired by the photos he'd found, Pountney also began taking his own images in the same communities – and of the same faces nearly 30 years on. You can see a photo gallery of now and then pictures on BBC Wales News online.
Now, a selection of pictures taken by both photographers has been chosen for the Cardiff Before Cardiff book, published by Y Lolfa, with author Alun Hibbard helping to narrate the stories behind the images. I spoke to both Pountney and Robertson earlier this week ahead of the book's release.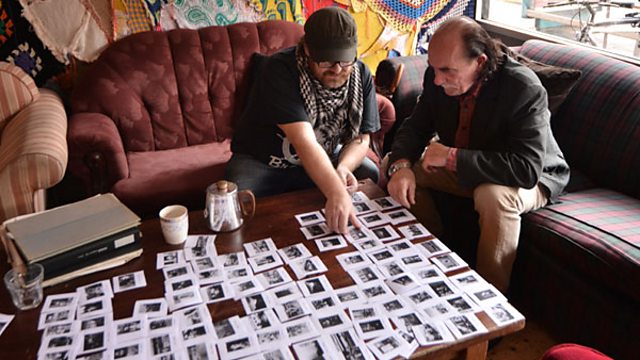 Jon Pountney and Keith S Robertson pore over their photographs
The last time I spoke to Pountney was at the time of the exhibition, which he called "a bit overwhelming". He said: "I wasn't really prepared for so many people to turn out. I think the WMC said they had over 400 people in on the opening night. One guy had even organised a bus trip!"
The exhibition also gave him the chance to meet family members of some of the people in Robertson's original photographs.
He said: "In the book we mention one family called the Makinson family. Their family members are in the photo of the paint shop on Carlisle Street, so they were able to show their granddaughter the picture of her grandfather that she'd never seen before - both the people in the picture have passed away now, so that was really moving. Three generations were reunited through a photo."
Robertson told me that he'd "written off" all hope of seeing his work again, having been told that all of his work had been burnt when he was kicked out of his studio. He said: "What Jon has done was quite devastating at first, because I'd written it off and never expected to see it again."
Robertson was born in Splott. He said that wandering the streets of Cardiff and taking the photographs "was fun" and that he didn't encounter any bad reactions or suspicion from anybody he met.
I asked Pountney how they had met for the first time. "One night I was leaving the studio and Keith was stood outside with his daughter Leigh, just about to knock on the door. I was thunderstruck, as at that point I'd never spoken to Keith.
"Keith came in, we had a chat and I showed him the blog. I was very nervous at that point, thinking 'I've no idea what Keith is going to say about what I've done with his work.' All I'd done up to then was to put Keith's photos online, and very few of mine.
"The original meeting was an amazing stroke of luck."
Pountney describes the way the Cardiff Before Cardiff book came about as "another strange coincidence". As a result of the blog he was contacted by the National Library in Aberystwyth, who were holding a talk on street photography in November 2011 as part of the Lens Festival.
Golwg, the Welsh language magazine, wanted to run a feature on the festival and so Pountney was contacted by writer Alun Gibbard.
"Alun rang me and we had a chat and got on really well. His grandparents lived on Carlisle Street, which was where Keith had lived. He really liked the idea but hadn't seen any of the pictures at that point."
Once Gibbard had seen the photos he was so impressed that he ran a double page spread in the magazine and, already a published author himself, contacted his publishers Y Lolfa about the idea of a photo book.
I asked Pountney how he had selected the images for the book, out of the vast quantity he had to choose from.
"Due to time constraints, what I had digitised of mine and Keith's work was effectively what we had to choose from.
"The rule I'd set myself was that I'd only use stuff from Keith's prints, not negatives, because I only wanted to show Keith's photos how he had wanted to show them.
"The selection really was what went in the exhibition, but Keith asked to add a few - like the butcher with the pigs heads."
There are several 'exclusive' photos in the book that people won't have seen before though, as Pountney explained: "There are a few extra ones of mine taken last summer and there are several of Keith's which weren't in the exhibition and I don't think have been online. I thought it was prudent to put more in; I didn't want it to just look like a brochure of the exhibition."
One photo, of a baby in an incubator, sparked the reunion of Robertson with his daughter, Nicola.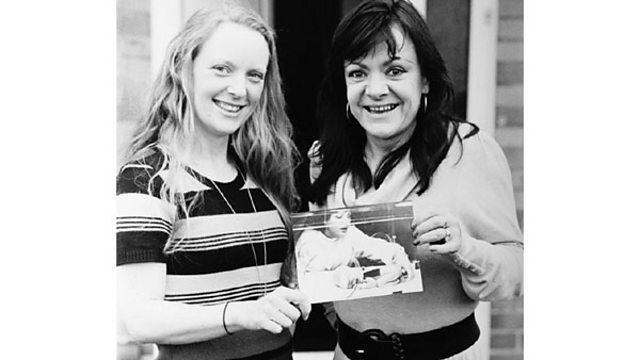 Nicola and Jackie Horne. Nicola, the baby in the incubator, is Keith's daughter
Pountney said: "I saw that picture right at the start, and I thought if I can find who is in that incubator and take a picture of them now, that would be the most amazing turnaround.
"So I digitised the picture, put it online and had an email from somebody called Nicola Horne. It read something like, 'Hi Jon, love the pictures, lovely photo of the baby in the incubator. The funny thing is, that's me, and Keith is my dad.'"
Nicola had lost touch with her father, but through the project and other members of the family getting in touch, the two are now back in contact.
I asked Robertson how he felt about being reunited with his daughter. He said: "Overwhelmed. I find it very difficult to come to terms with it really."
Pountney added: "I probably wouldn't believe this story unless I'd lived it. There are so many coincidences and so many amazing parts to it. I'm just so pleased that Keith has got everything back that he lost, which is what he deserves.
"I would love at some point to sit down with Keith and do something that is extensive, and probably just of Keith's work. I think Keith really deserves exposure for the amazing pictures that he took and his work alone is certainly strong enough to have a book of its own."
I made the mistake of asking Robertson if he still dabbled in photography, to which I was playfully rebuked with "one doesn't dabble in photography". Due to recovering from a stroke he's unable to take photographs at the moment but the two plan to work together in the future, with the idea of a possible documentary in the pipeline.
Pountney said: "I wouldn't want to think the book would be the end of the story, I'd be really sad if it was. But I'll be happy to see the book in the flesh – to have a book come out for Christmas isn't something that happens every year."