Famous textile artist to exhibit in Wales for first time
The vibrant beauty of Kaffe Fassett's colourful quilts is something that until this year I had no experience of.
But ever since my daughter arrived last March, my mother has been furiously making quilts and cushion covers for her bedroom from his fabrics.
His dynamic patterns and usual riot of colour are truly works of art and mean no room which they adorn can ever be described as dull.
Fassett is so popular in quilting circles that he has a huge following wherever he goes and has toured the world inspiring other artists to embrace all shades of the colour spectrum.
Next month he comes to exhibit his work in Wales for the very first time, with a much-anticipated exhibition at the Welsh Quilt Centre in Lampeter, Ceredigion.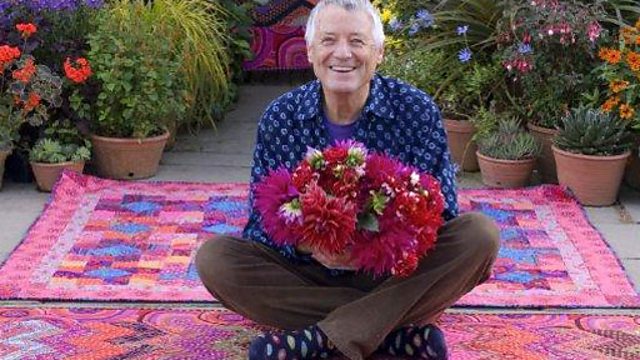 Textile designer Kaffe Fassett. Photo courtesy of the artist
He will also be hosting a lecture and workshop for which tickets are being snapped up fast.
The centre is housed in Lampeter's former town hall, which also once acted as a court-room. It was bought by Jen Jones, a collector of antique Welsh quilts, and transformed into its new incarnation in 2009.
I spoke to Jen ahead of the exhibition, which opens on 9 March.
She said: "Kaffe's quilts offer amazing colours and wonderful stitching and they will be shown alongside some beautifully crafted antique Welsh quilts from my collection.
"Kaffe has never done a major exhibition in Wales before so we are absolutely delighted to have him.
"Last year we did our first comparative exhibition, A Quilted Bridge, about the Amish-Welsh connection, and this year we thought it was only right we bring in a more modern and cosmopolitan artist.
"I think the flamboyant nature of his quilts works wonderfully alongside some of the more muted, solid colour antique quilts."
Although the exhibition opens on 9 March, it runs until November 2 and Kaffe Fassett will officially open it on Friday 29 March. His workshop takes place on Saturday 30 March and his lecture on Monday 1 April at Lampeter University.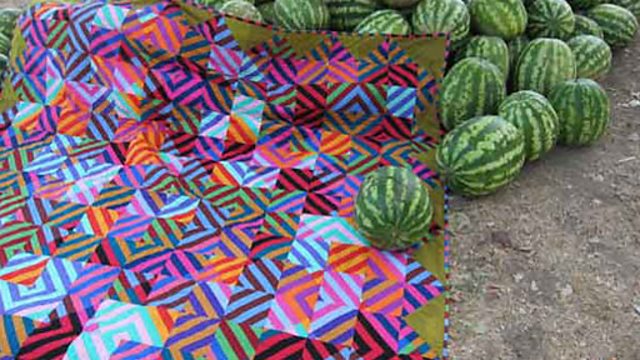 Work by textile designer Kaffe Fassett. Photo courtesy of the artist
His presentation will include examples of work from his latest patchwork quilt, fabric and needlepoint, mosaic, painting and knitting designs.
The thrust of the lecture will be encouraging the audience to trust their instincts when it comes to colour and to develop their "mind's eye".
The lecture will be following by a question and answer session and Kaffe will sign copies of his new autobiography Dreaming in Colour.
Jen said she has already had to change the venue once due to interest and is pleased that he is so highly thought of in the area.
The centre is open Tuesday to Saturday 11.30am-4.30pm