Amy Wadge: my role in Ed Sheeran's success
Next Tuesday's Brit Awards, the annual celebration of the UK's music industry, will have more than a passing interest for a Welsh singer and songwriter by the name of Amy Wadge. She has written with and mentored triple Brits nominee Ed Sheeran since he was 17.
We invited Amy to write a piece for us about her time with Ed: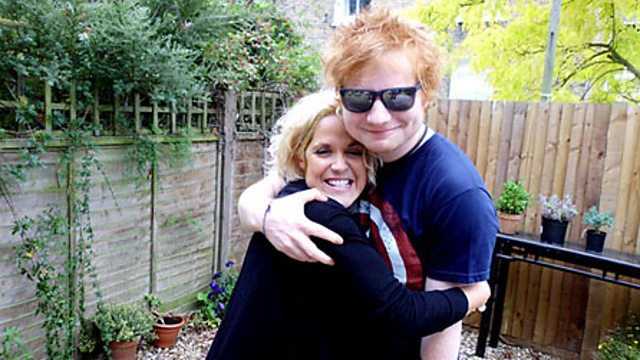 Amy Wadge and Ed Sheeran
For the first time in my career as a singer/songwriter, which I am slightly astonished to admit now spans some 20 years, I will be watching The Brits knowing in some tiny way I am part of things. It's been a long time coming but thanks to a 21-year-old ginger-haired guy from Suffolk called Ed Sheeran my life has completely changed in the last year.

Four years ago, as I was about to have my first child, I realised that the endless touring that I had done for my own career was about to come, in some part, to an end. Although I still intended, and have continued, to work as a singer/songwriter in my own right, gone are the days of chasing a deal and hoping for mega stardom.

I had co-written a fair amount and always felt that as a lyricist and top line writer I had something to offer. Luckily Sarah Liversedge at BDI Music Publishing thought the same and signed me.

Working with Sarah changed everything as suddenly I was being hooked up with new unsigned artists from all over the UK.

The very first person I was sent was Ed.

I distinctly remember picking up this young lad at Trefforest station with a 'back packer' guitar thinking 'What the hell is going to happen here?' But then we drove back to my house, sat in my kitchen and he sang to me.

I can't imagine there will be many times in my life that I will meet someone so incredibly gifted and to be honest I spent much of the next few days running in from my studio in the garden to tell my husband how sure I was that he was "going to make me a millionaire".

In a normal writing session I would hope to get one or two songs, but with Ed we wrote nine in two days. It was just one of those crazy things that is very rare - we clicked and what happened was amazing.

Another few sessions followed and then Ed asked me to do backing vocals on an EP he was doing at the time. I was heavily pregnant with my second child so couldn't travel. Ed carried on without me and the EP was released, and to my surprise he'd called it Songs I Wrote With Amy.

Last February, as Ed was about to be signed to Atlantic, he called and asked to come down to write again. This time when I picked him up from the station people were recognising him and it suddenly became clear that things were about to change. And boy, they changed.

The various EPs he'd done, including Songs I Wrote With Amy, started selling by the bucket load and charting. I then got the call to say that one of the songs we'd written on his last trip down had made the Deluxe Edition of +, his new album.

The day it went to number one I went up to London and we all had + tattoos to mark the occasion. Since then it's been incredible to watch things get bigger and bigger. I played Cardiff with Ed and for the first time in my life heard 3,000 people singing a song I had written back at me. The album has just crossed the million sales mark and he's about to head Stateside.

A track from Songs I Wrote With Amy was recently featured on an episode of Cougar Town and is the b-side to the American release of The A-Team, so I will now be watching the American Billboard chart to see what happens.

All of a sudden all the doors that were so tightly shut before have flown open and I am writing with some incredible new artists. It's the most exciting time in my career and I can do it all from the comfort of my own home.

And Ed? He hasn't changed one little bit; he's still the most laid-back person you will ever meet. But I did go to see him play in Wolverhampton a few weeks ago and for the first time realised that this guy who I think of as my little brother is now a huge star. Live, Ed is a force to be reckoned with but there is still so much more to come.

He was 17 when we wrote a song called She and he came up with these words:

Strange as it seems
She is endless to me
She's just like paperwork
But harder to read

I knew right then he was incredibly special.
Join Amy Wadge with Roy Noble on BBC Radio Wales this Wednesday (22 February) at 4pm.
Feel free to comment! If you want to have your say, on this or any other BBC blog, you will need to sign in to your BBC iD account. If you don't have a BBC iD account, you can register here - it'll allow you to contribute to a range of BBC sites and services using a single login.
Need some assistance? Read about BBC iD, or get some help with registering.