Bethan Elfyn and James Dean Bradfield
Bethan Elfyn's show on Radio Wales is always an interesting mix of old and new, good interviews and ephemera, but on Saturday 14 August at 6pm it's shaping up to be a superb two hours of Welsh music, and I've been given a sneak preview of what has to be one of this year's Welsh radio highlights.
Manic Street Preachers' James Dean Bradfield spent an hour with Beth last week, pre-recording an amazing interview which covered many topics from their early days in the band, his formative musical experiences, Richey Edwards' lyrics and the new album, Postcards From A Young Man.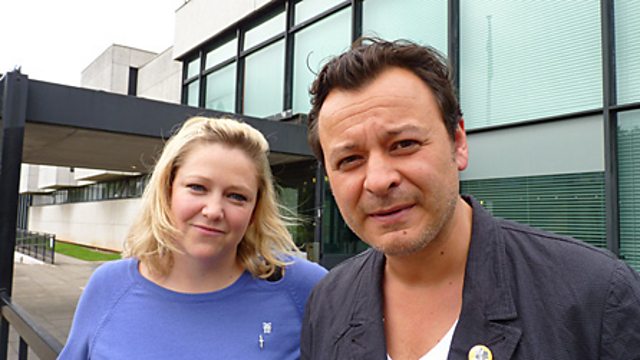 It's a fascinating listen. The show's producer, Darren Broome says, "This one for the fans... It's probably his most revealing interview to date; he explains why the Manics still believe in albums as art, his choirboy past, why record shops matter and why getting his heroes on the new record really made his day."
Those heroes include John Cale, Echo And The Bunnymen's Ian McCulloch and Guns N' Roses' Duff McKagan. James talks incredibly fondly of McKagan and being able to play Gn'R's It's So Easy at Hammersmith Odeon with him.
James also takes Bethan through his Personal Playlist, which is an eclectic and fascinating listen.
This week on the show (Saturday 7 August, 6-8pm, BBC Radio Wales) The Blackout play an acoustic session and the band's Gavin Butler also performs solo. The band are interviewed too, and we'll be blogging about that next week, so look out for that.
Feel free to comment! If you want to have your say, on this or any other BBC blog, you will need to sign in to your BBC iD account. If you don't have a BBC iD account, you can register here - it'll allow you to contribute to a range of BBC sites and services using a single login.
Need some assistance? Read about BBC iD, or get some help with registering.