Tom Pryce: Wales' fastest man
Thirty-five years ago today: the British Grand Prix at Silverstone. A dashing young chap from north Wales sits in his Formula One car at the front of the grid. A Welsh speaker on pole position, a Welsh flag emblazoned on his crash helmet.
Thomas Maldwyn Pryce may not be a household name, but he was faster than most; and was one of Wales' greatest sportsmen you never heard of.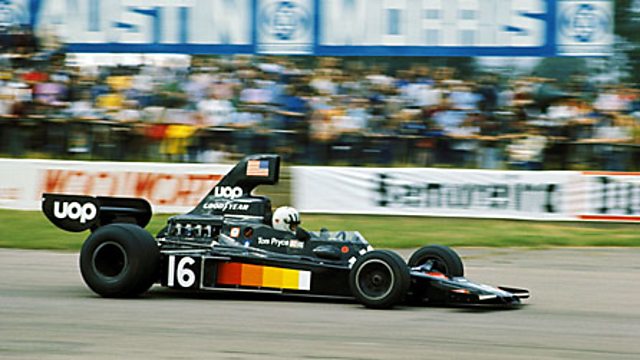 On this July day in 1975 amidst the girls, the celebrities, Ferrari, McLaren, Lotus, the historic tapestry of James Hunt, Stirling Moss, death-defying speed and derring-do, Tom Pryce, from Nantglyn, near Ruthin in Denbighshire became the only Welshman ever to start from pole position in a Formula One Grand Prix.
The unassuming Pryce had previously graduated quickly from being a tractor mechanic in rural Wales to the pinnacle of motor racing. Cutting his teeth in lower formulae he astounded experts and fans the world over with his sideways car control and gentle demeanour out of the car.
By 1974 he had graduated to Formula One with the unfancied Token team and, following a brief demotion to Formula Three, a spellbinding performance on the streets of Monte Carlo caught the attention of all the major Formula One teams of the day. He was rewarded with a seat in the Shadow Formula One team, run by fellow Welshman Alan Rees.
In his first full season, in 1975, Pryce had already become the only Welshman to win a Formula One race. That it was the non-championship Race of Champions was academic. In his black Shadow, starting from pole position, he slithered on the damp and cold Brands Hatch circuit, the famous, undulating stripe of Kentish tarmac, and beat some of the greatest names in the history of motor racing. This included the likes of Emerson Fittipaldi, Jacky Ickx and Ronnie Peterson.
This BBC Wales News video from 1975 catches a rare interview with the shy, introverted Pryce as his star burned brightest. Here he reflects in a typically understated way about his victory at Brands Hatch. The clip also includes some high praise from none other than three-time champion Jackie Stewart.
Rival, friend and five-time Grand Prix winner John Watson confirms Tom's reticence towards the jet-setting world of Formula One. "Tom was possessed of a huge talent," remembered Watson, "We spent a bit of time together because we both did Formula Two in 1974 and traveled around a bit together. I remember one time having dinner in Italy, and what Tom wanted was chicken and chips. And there in Italy you had the choice of the most incredible food - but that was all he wanted."
With the Ford-powered Shadow, Pryce's potential came to the fore throughout 1975. Despite the odd crash and his car's dubious reliability his pole position achievement on that Saturday in July was something few men have achieved.
"He did it with a malfunctioning clutch, and a hitherto unseen smoothness in place of his trademark oversteering style," says journalist David Tremayne, author of The Lost Generation, a thrilling, forensic account of Pryce's career.
"The race marked another milestone for Tom: the only time a Welsh driver led a Grand Prix. He ran in the top three initially, as Ferrari's Clay Regazzoni led from Pace, but overtook the Brazilian on the 17th lap and went into the lead on the 19th when Regazzoni slid into the wall at Club Corner.
"He stayed there on lap 20, too. But on lap 21 he was the first to encounter an unexpected pool of rain at Becketts. This was deeply ironic, for he had a reputation as a genuine rainmaster. The Shadow twitched and slithered off into the catchfencing, and he was momentarily stunned as a pole struck his helmet. It was a sad end to a wonderful drive.
Pryce was one of many to crash that day as the heavens opened, but in the races that followed his stock rose with a podium place in Austria, a fourth in Germany and the following year in 1976, he claimed a third place in Brazil and some promising drives. Things were looking good for 1977, until tragedy struck.
Pryce was killed aged just 27 in baffling and tragic circumstances in the 1977 South African Grand Prix, detailed in this BBC News video and elsewhere. As Grand Prix racing is now a safer and affluent world, it will forever be poorer for the absence of one of Wales' greatest and unassuming sportsmen many tipped as a future world champion.
Feel free to comment! If you want to have your say, on this or any other BBC blog, you will need to sign in to your BBC iD account. If you don't have a BBC iD account, you can register here - it'll allow you to contribute to a range of BBC sites and services using a single login.
Need some assistance? Read about BBC iD, or get some help with registering.