Transhumance exhibition at National Wool Museum
A new exhibition, Transhumance by Romanian photographer Dragos Lumpan, opens this week at the National Wool Museum in Llandysul, Carmarthenshire.
Transhumance is a traditional farming method of moving livestock animals to different gazing areas depending on the different seasons - such as moving flocks onto mountain pastures during the summertime.
The exhibition aims to explore the farming practice, which is rapidly disappearing and almost extinct in some areas of Europe, and to document it from an artistic and ethnological perspective.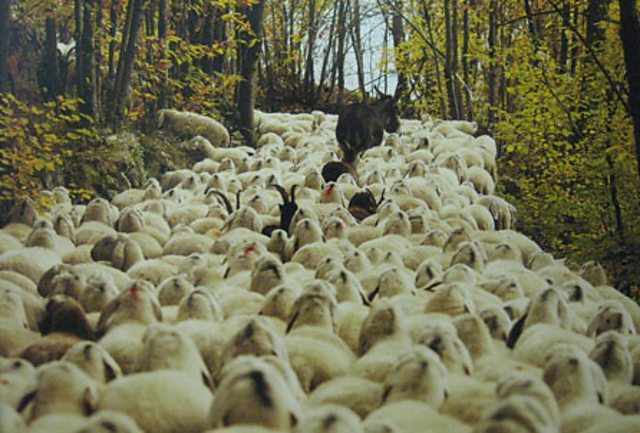 Photograph by Dragos Lumpan showing Transhumance in Italy. Image courtesy of the artist
The photographs in this exhibition focus on the last families following this ancient tradition in Wales, in the Elan Valley and Cambrian Mountains, plus areas in other European countries. These include Italy's southern regions of Abbrazzo, Campania, Molise and Sardinia; the Çajuo mountains, near Girokaster in Albania; Turkey's Giresun area and Konya province, and Perivoli in Greece.
The ancient tradition of transhumance, with Hafod being the upland summer pasture and Hendre the lowland winter pasture, had more or less died out in its traditional form in Wales by the late 19th century.
Lumpan has visited the Elan Valley and Cambrian Mountains on two occasions over the summer and the winter and two of the pictures taken on these tours are part of this exhibition. It is one of the most important areas in the UK where a variant of the tradition is still practiced.
The exhibition launches this Friday, 9 December, at 2pm and will remain on display at the museum until 31 January 2012.
There will also be the chance to hear a short talk by Dr Eurwyn Wiliam at the launch. Dr Wiliam is currently the Chair of the Royal Commission on the Ancient and Historical Monuments of Wales. An expert on historical buildings and folk life, he was previously the curator and then director of St Fagans: Natural History Museum in Cardiff.
The National Wool Museum is open every day except Sundays and Mondays during the winter from 10am until 5pm.
For more on the National Wool Museum or any of the other six National Museum Wales museums, visit www.museumwales.ac.uk.