Derek, the crew and I were recently up in north Wales filming for the new series of Weatherman Walking.
These were the first two walks we've done so far - one on Holyhead and the other at Penmaen Mawr near Conwy.
The weather although windy at times was perfect for filming with blue skies and sunshine for much of it and only wet for our final morning of filming on Friday.
On Holyhead we teamed up with local coastal path officer - Rosie Frankland, who took us on a circular walk which began at the Breakwater Country Park, taking in North Stack, Holy Head Mountain and South Stack.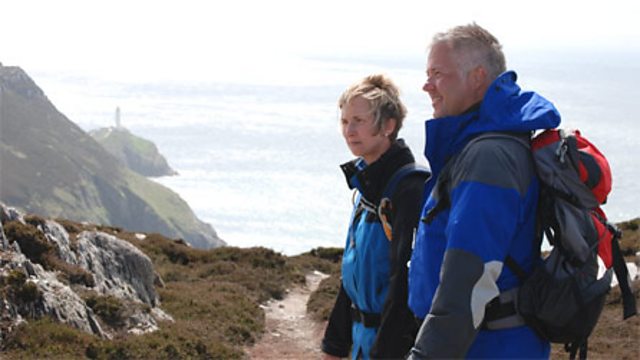 Rosie and Derek en route to Holyhead Mountain with South Stack in the background.
Between 1850-1856 there were 11 quarrying sites at the Breakwater Quarries and stone from here (7 million tonnes to be precise) was used to build the famous Holyhead Breakwater here in 1875 - the largest in Europe, so one to remember for your pub quiz.
We left the quarry and followed a rough, uneven stone track which hugs the coast here, moving in and out of the wind with every turn. I was constantly taking my jumper on and off as I was either too hot or too cold depending on where we stopped to film.
Derek kept accidentally referring to Holyhead as 'Hollywood' during one filming scene which had us all in stitches and is definitely worthy of an appearance on 'Aunties Bloomers' at some point.
After a scramble around the coast we caught our first glimpse of North Stack in the distance with it's strange tidal currents and rugged backdrop.
The views from North stack were absolutely staggering, surrounded by steep sea cliffs and waves with seals and porpoises below, sea birds above and rock climbers somewhere in between!
Local artist, Phillippa Jacobs lives and paints at the old Coastguard foghorn building situated right on top of North Stack and has a hair-raising 4x4 track to negotiate whenever she needs supplies from town.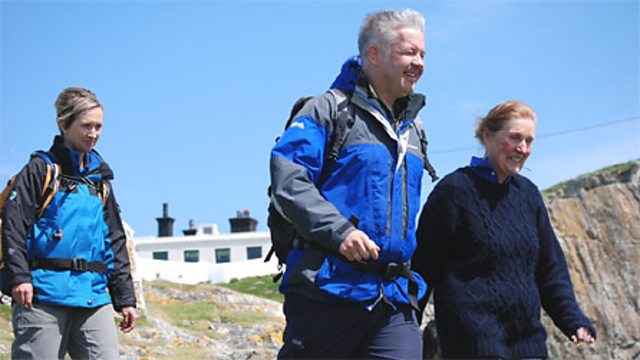 Rosie, Derek and Phillippa on a blustery North Stack.
Phillippa was also kind enough to invite us into her amazing house and laid on some much needed tea and cake and it was hard to leave and continue the walk after a slice of her Victoria sponge.
Sat in her lounge with views over nearby South Stack, you could see why an artist would want to live here as the views and light constantly change as each weather front passes through but I can only imagine the scene when a severe storm hits the stack.
A local resident, pops up to pose for some photos.
From North Stack, we made our way inland heading up a steep incline towards Holyhead Mountain and the Iron Age hillfort of Caer Y Twr, with 360 degree views over Holyhead and the Snowdonia mountain range in the distance.
Along the way we bumped into a local group of ladies from nearby RAF Valley and had a quick chat with one of them who'd just completed a charity walk but you'll hopefully see more of that in the programme.
The wind was gale force on the top but well worth the effort - at the top someone had inscribed into a rock the words - "You out of breath yet?" which made me laugh as we were all panting by that point, especially the crew lugging tripods and cameras up there.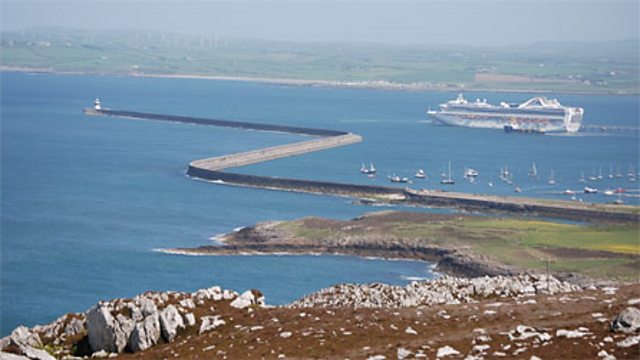 Views of Holyhead breakwater and the cruise ship.
From the summit we could see a giant cruise ship down below which had docked at the harbour to unload American tourists for the day.
It was a bizarre sight as it was the kind of giant cruise ship you normally associate with exotic, Caribbean islands rather than Holyhead but I expect local businesses were pleased.
From the top we wandered down through a rock strewn landscape (which reminded me of Crete or Greece) and made our way towards South Stack and its famous Ellin's Tower - a Victorian folly, built as a summer house by the Lord Lieutenant of Anglesey for his wife, Ellin Williams in 1868.
Along the way we picked up head RSPB warden, Dave Bateson who gave us an insight into the habitat, local wild flowers and sea birds found along this stretch of the coast.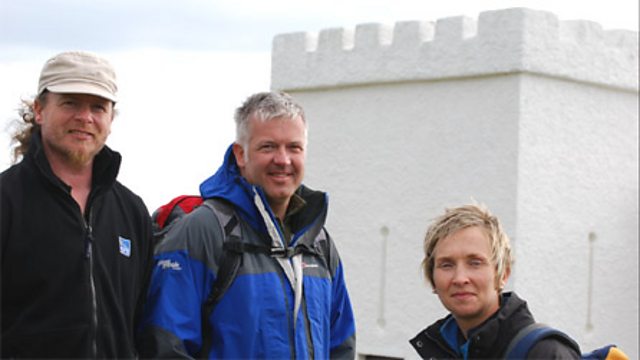 Dave, Derek and Rosie arrive at Ellin's Tower.
Ellin's Tower is so accessible that it's well worth a visit as you can literally park your car and only need to walk 100 yards to see guillemots, puffins, choughs, razorbills and more.
The staff on hand have scopes for you to use and a swanky remote controlled video camera to pin point those elusive puffins, so a big thank you to Kathy, Mark and everyone else who work the cameras there.
You can also get up close and personal to the chough nest tucked under the cliff - thanks to a video camera which streams live footage onto a giant plasma screen inside the tower.
The choughs also put in appearance whilst we filmed, so there could be some nice footage when the programme airs in 2012.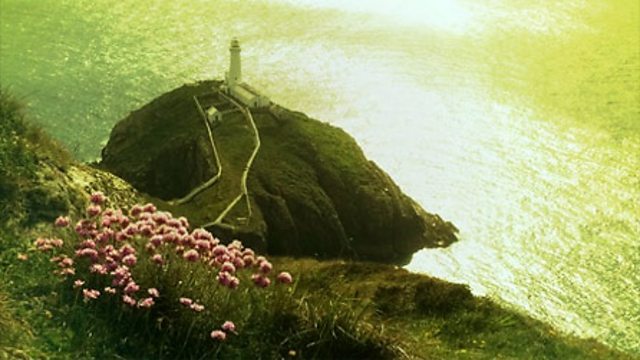 Late afternoon sunlight pouring through the clouds onto South Stack.
The sunlight was sensational as we descended down towards South Stack but time was against us and filming always takes longer than expected - particularly when there is so much to see in such a short space of time.
It was time to bid farewell to Rosie, our guide and head back to the hotel for a bite to eat before another early start and new location - Penmaen Mawr near Conwy for a linear walk to the village of Rowen.
Gull