Getting 50 years of BBC Wales television on-air
Matt Rosser, Daily Operations Manager for BBC Cymru Wales looks back on the changing face of TV presentation as part of the BBC Cymru Wales 50 anniversary.
'BBC Wales is looking for Continuity Announcers. Those people who, though never seen, reflect the style and personality of our two television networks'.
Those were the words in the Western Mail advertisement that tempted me to apply for a job at Broadcasting House in Llandaff. I imagined that the successful candidate would spend their time sitting in a luxurious studio, sipping tea and crafting witty scripts to introduce Sportfolio or Eldorado, waiting for a red light to indicate their cue to speak to the nation.
I soon found out that the continuity announcers had to do a lot more than deliver a short half-hourly speech. Once I'd mastered the BBC-issue kettle with its special BBC plug (seriously - it had the logo on it!) I was taught how to operate the vision and sound mixer, play the trails, speak clearly while three other voices spoke in my headphones and animate the BBC globe.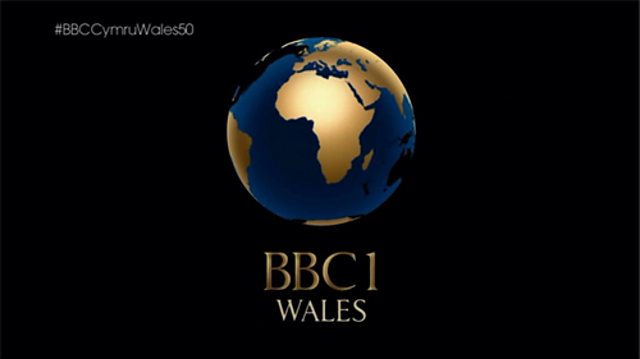 BBC One Wales COW
Officially known as the COW (The Computer Originated World) it was the latest in a long line of distinctive channel logos - or idents or 'symbols' to give them their BBC name. The corporation used these to 'reflect its style and personality'. I was never entirely sure what a blinged-up globe was meant to reflect, but it looked lovely.
Over the years there have been many such idents and graphics, each making best use of the available technology of the day. From hand-crafted text on sheets of black card, to the beautiful mechanical creations that brought us the first globe symbols, clocks and mildly psychedelic captions, to the blocky, juddery early computer animations to hot air balloons, dancing hippos and venus fly traps shaped like a '2'. Each one has dripped itself into our memories through constant repetition.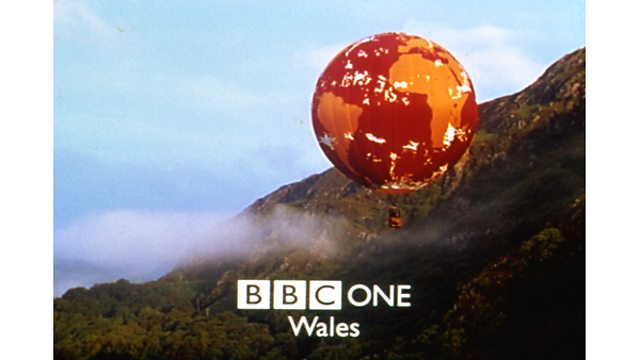 BBC One Wales ident, 1997.
While the idents evolved, the job of the television presentation team became more complicated. When I started, TV had mono sound, the pictures were square-ish and the only Electronic Programme Guide was Ceefax. Since then we've gone digital and widescreen and HD, launched new services and channels and found new and clever ways to tell you about our programmes and identify our channels. The technology has changed beyond all recognition but the job remains the same - to turn a pile of programmes, trails, animations and idents into TV channels and make sure everything arrives on your telly at the right time, in the right shape with the right information.
Of course, sometimes the best-laid plans go a bit wrong. Live programmes don't always run to time (naming no names!). And when that happens we're there to get things back on track and tell you where we've put the programmes.
Find out more about what it takes to get a programme on-air.
BBC Cymru Wales celebrated 50 years of Welsh TV in February 2014. Throughout the evening of 8 February on BBC Two Wales we showed a selection of programmes from the first five decades as well as the very funny 'Korkey's TV Gold: BBC Wales at 50'. In keeping with the tone of the evening we decided to re-create some classic TV Presentation.
A hunt through the BBC Wales archive unearthed a few gems including a spinning 'BBC Cymru Wales' perspex block precariously perched on a knitting needle, but recordings of some iconic symbols seem to have been lost. The orange rotating 'C' which I remember watching on my Aunty June's rented television in the early 70s proved impossible to track down. Fortunately for us, Rory Clark and Dave Jeffery were able to recreate the 'C' ident and the 'Colour/Lliw Diamondscope'. How the original diamondscope device worked is a long-lost secret, but the CGI recreation is a beauty.
Taking some frankly remarkable examples from the archive as our inspiration, we created historically accurate programme menu lists and 'slides' to promote the upcoming programmes. Back in the day these would have been glass-mounted 35mm colour slides, some a little scratched, loaded into a device that looked like a massive carousel projector. Our recreated versions had digitally-applied scratches and an authentic little judder as they went to air. Our Radio Wales pointer complete with jingle was a particular triumph.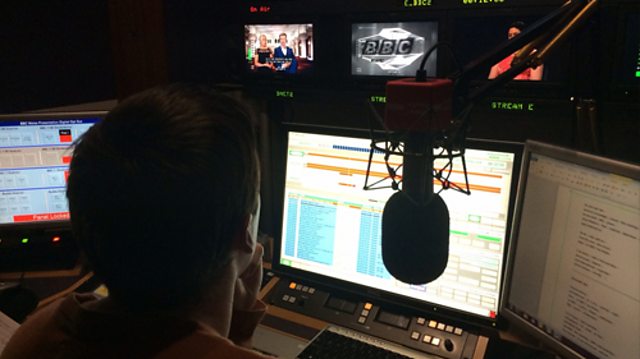 Channel Director Dyfan Tudur
The man charged with 'reflecting the style and personality' of BBC Two Wales as it marked 50 years of tv was duty Channel Director Dyfan Tudur. Despite being far too young to remember many of the symbols and graphics, Dyfan did a fantastic job recreating the measured, formal announcers' style of yesteryear.  We even gave 'my' first symbol - the COW - a couple of outings on BBC One Wales.
Archive idents used by BBC Cymru Wales presentation on 8 February 2014.
Yes, it was an opportunity for us to wallow in nostalgia but in a very modern way. During the evening we posted images and clips on Facebook and Twitter and saw immediately that the programmes and our 'retro-Pres' were being appreciated by people in Wales and beyond. A level of interaction and audience feedback that our predecessors could only dream of as they waited for the post to arrive or - heaven forbid - the typed A5 memo from HoP in the internal mail. HoP being the Head of Presentation. Everyone used initials in the old days.
Sadly, the BBC kettle has long gone, deemed unsafe for a transmission area. But the BBC plug lives on. It has an important job: