Stephen West: Draw Breath
A fascinating exhibition of recent work by the Montgomeryshire-based artist Stephen West is set to open at Oriel Mwldan in Cardigan.
Draw Breath features a fresh selection of Stephen's unique blend of drawings created in his studio in Llangadfan.
They include a series of larger works which record a year's cycle of ash trees growing near his home and have been created in response to news about the Chalara dieback of ash trees throughout Europe. The airborne spore causes leaf loss and crown dieback in affected trees and usually leads them to die. It's believed to have caused the loss of between 60 and 90 per cent of Denmark's ash trees.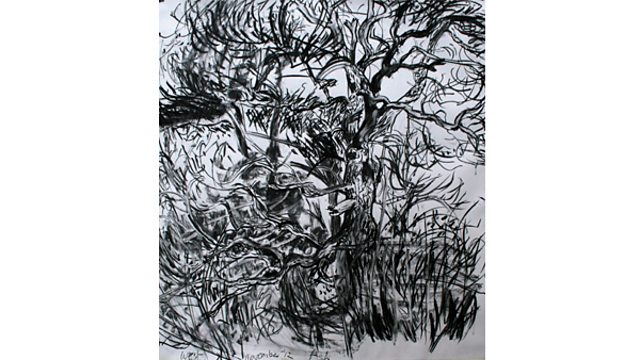 Ash IV by Stephen West, 2012. Copyright the artist
The 'breath' of the exhibition's title refers to the respiration of trees, how they inhale carbon dioxide and exhale oxygen into the atmosphere.
West, who is married to the artist Shani Rhys James, is well-known for his sculpture and drawings, with both genres depending on the energy and motion of the drawn line and rhythmic mark.
He describes himself as a 'drawyer', a term that relates to someone making work through the medium of drawing.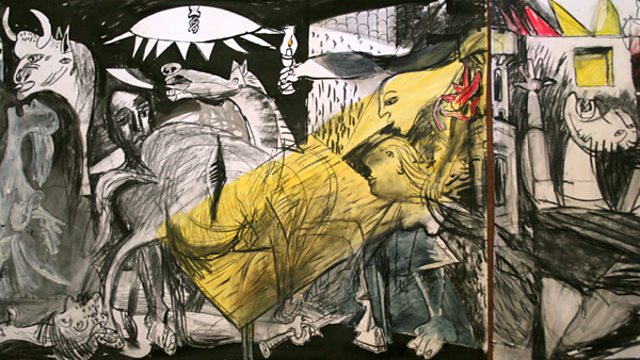 Conwy in Guernica by Stephen West, 2012. Copyright the artist
The exhibition will also feature a collection of satirical and surreal drawings of meetings, some referring to Picasso's great anti-war masterpiece Guernica, famed for its depiction of various symbols of the bull, the wounded horse and distressed people and architecture.
Other drawings include friends round a table, news reports from Europe and West's own version of Tom Rakewell's disgrace from Hogarth's A Rake's Progress.
The exhibition will be officially opened on 6 December by Alan Hewson, project director for Chapter Arts Centre's major redevelopment and former director of Aberystwyth Arts Centre.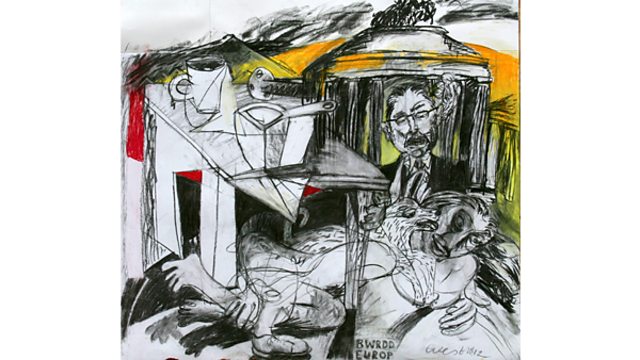 Bwrdd Europ by Stephen West. Copyright the artist
It runs at Oriel Mwldan at Theatr Mwldan, Cardigan from Saturday 7 December to Saturday 25 January 2014.
For more details visit: www.mwldan.co.uk.
You can read more about Stephen West's work here.