Strummer Of Love marks Clash man's life
The Clash frontman Joe Strummer, a huge factor in Newport's music scene of the 1970s, is to be commemorated this summer with a festival in Somerset. Strummer Of Love will feature a line-up of friends of the iconic singer, in a secret location only made known to ticket holders.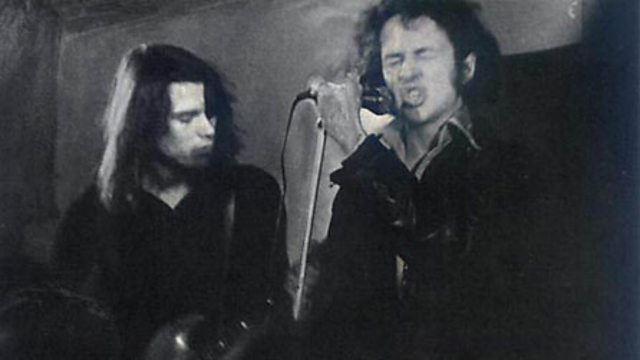 Joe Strummer playing with The Vultures
Strummer Of Love will take place on 17-19 August 2012, almost 10 years after the death in December 2002 of the highly instrumental musician, who brought together punk and world music.
Strummer has extensive Welsh history, dating from his pre-Clash days in Newport in the 1970s. His time in the city left a legacy, galvanising the local music scene.
Between 1973 and 1974, Strummer - then nicknamed Woody - spent a year hanging around Newport Art College, working as a gravedigger and performing with his band The Vultures. They had existed before his arrival, but his presence gave the band and the local music scene more direction.
Strummer would tell different stories about how he arrived in Newport. Some say that he followed a girlfriend to Cardiff after being thrown out of London's Central School of Art for dabbling in LSD, while others believe he simply hitch-hiked to the city.
Regardless of how Strummer ended up in Newport, he hooked up with mutual friends in Newport, fronting The Vultures in return for use of his drum kit. Local resident and college friend Richard Frame said: "The Vultures were avant-garde jazz, I suppose. Obviously in terms of technique he wasn't that proficient - hence his name - but I think people don't give Newport as much credit as they should when looking at The Clash's influences.
"I used to have this tape of Joe just playing on his own. The style is nothing like the one he developed with The Clash; it's kind of country and western. He also went through this period of being nicknamed Woody for a while, after Woody Guthrie."
In addition, a fellow resident of his student digs in Newport, Mick Foote - studying fine art at the time - went on to produce The Clash's self-titled first album.
As well as The Gay Dogs and The Vultures, another local band was Crazy Cavan And The Rhythm Rockers, formed in 1965. The Vultures would use their equipment occasionally at the Art College students' union and some years later, one of The Clash's first gigs was supporting Crazy Cavan.
More information on Strummer Of Love can be found on the festival's website.
Feel free to comment! If you want to have your say, on this or any other BBC blog, you will need to sign in to your BBC iD account. If you don't have a BBC iD account, you can register here - it'll allow you to contribute to a range of BBC sites and services using a single login.
Need some assistance? Read about BBC iD, or get some help with registering.