The date 10 November might not ring many bells in people's memories. But the name Richard Burton certainly will. He was born on 10 November 1925 in the tiny village of Pontrhydyfen to the north of Port Talbot.
Regarded by many as the finest actor ever to emerge from Wales, he is also often thought of as a man who squandered his talent, who sold his undoubted skill for the pot of gold that was waved at him by Hollywood producers and film makers. Richard Burton, in many respects the archetypal Welsh 'boyo', simply did not care.
He was born Richard Walter Jenkins, the 12th child in a family of 13. His father, also known as Richard, was a hard-living, hard-drinking miner who virtually abandoned his family after his wife died and the young Richard was taken in and raised by his sister Cecilia and her husband Elfed. By the time he was 12 he was, by his own admission, drinking and smoking on a regular basis.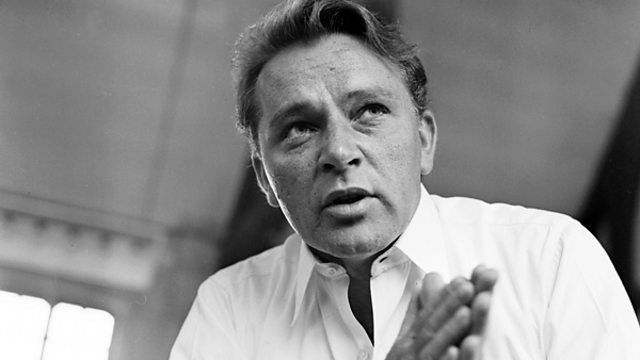 Richard Burton
Burton (Richard Jenkins as he was then) left school at the age of 16 to work in the local Co-op but when he joined the local Air Training Corps he came, once more, under the influence of his old drama teacher from school, Philip Burton.
He joined the local youth drama group where his magnificent voice and bearing caught everyone's eye. Adopted by Philip Burton, Richard took his name and in 1944 the young man was called up into the RAF. When he was discharged in 1947 it was obvious where his future lay.
Throughout the late 1940s and early 50s, Richard Burton worked regularly and effectively on the London and provincial stage. During the 1951 season at Stratford his role as Prince Hal (opposite Anthony Quayle as Falstaff) in Henry IV, Part I was critically acclaimed. Already there were people who were marking him down as the natural successor to the great Lawrence Olivier.
But Burton had other ideas. The stage was fine, it gave him artistic credibility and he had always enjoyed the acclaim that the audiences gave him. But by its very nature that acclaim was limited – only a certain number of people could ever hope to see his performances. And most of those who did were of the privileged classes. Cinema promised a much wider appeal where more people could see his ability and his charms.
Burton's first film was The Last Days of Dolwyn, during the filming of which he met his first wife, Sybil Williams. They were married in 1949 and had two children. Dolwyn was a minor success and was followed by other small parts on the silver screen.
These were British films but the lure of big money from across the Atlantic was great and already the Hollywood producers were casting eyes at Burton. It was something that was certainly reciprocated by the man himself.
In 1952 Burton signed a five-year deal with Alexander Korda, a deal that reputedly brought him well over £100 a week, an amazing sum in those days. Burton immediately fell in love with the Hollywood scene, forming lasting friendships with people like Humphrey Bogart and Deborah Kerr. His performance as the Roman centurion in the 1954 film The Robe brought an Oscar nomination and professional acceptance from the other Hollywood stars.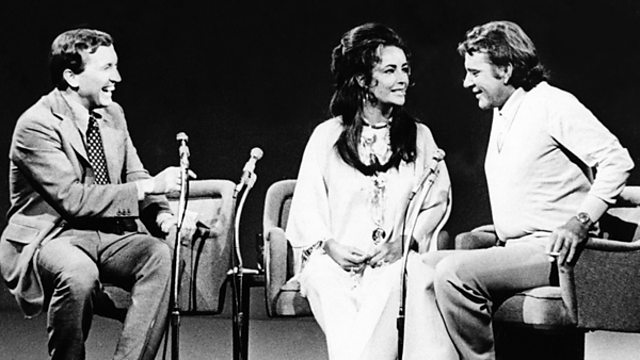 Elizabeth Taylor and Richard Burton on Frost Over America in 1970
More importantly, the cinema audiences loved him. He made many seriously good films over the years but there were also some howlers, too. It didn't matter. The cinema-going public adored his deep voice and slightly flawed physical appearance – his pock marked face only seemed to add to his undoubted charm.
In all, Burton was nominated seven times for an Oscar. He never won, many people believing that his outspoken criticism of the Hollywood system effectively 'blackballed' him in the eyes of the studio bosses.
Undoubtedly, several of his performances were worthy of the coveted statuette, most notably his role as the academic and drunken husband in Who's Afraid of Virginia Woolf?, where he appeared opposite his then wife Elizabeth Taylor. All four of the actors in the film – Burton, Taylor, Sandy Dennis and George Segal – were nominated but only the two women were successful.
Burton had already met Elizabeth Taylor when he replaced Stephen Boyd in the role as Mark Antony in Cleopatra. He was not, initially, that impressed but, then, neither was she. Nevertheless they fell in love and began one of the most tempestuous and well-publicised marriages of the 1960s.
The story of the relationship is too well-known to repeat here. Suffice to say that they married and divorced and that it was a role Burton played to the full.
Burton did not entirely abandon the stage for films and was tempted back on several occasions. In 1960 he won a Tony Award for his performance as King Arthur in Camelot on Broadway. It was a role he was to reprise, again on Broadway, in 1980.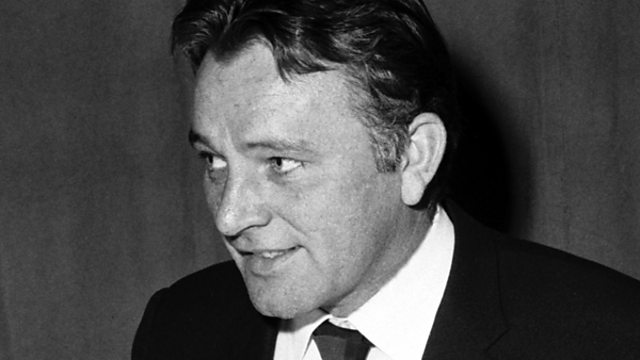 Richard Burton during the 1963 recording of Under Milk Wood
By the 1970s, however, the hard-drinking, hell-raising lifestyle had begun to catch up with Burton. He had become an alcoholic and in 1974 he nearly died from alcohol abuse. His health continued to decline but he showed little or no sign of wanting to change. He had set his course and would follow his star, right to the end.
Many of his later films were shot around his drunken episodes – or sober periods - and on 5 August 1984, at his home in Switzerland, he died from a brain haemorrhage.
Richard Burton was a proud Welshman to the last and once proclaimed that he would rather have had one rugby cap for Wales than play Hamlet at the Old Vic. He was buried with a copy of Dylan Thomas' poetry in the coffin with him. His radio recording as First Voice in Thomas' masterpiece, Under Milk Wood, remains one of his major achievements.
A wasted talent? Or a man who lived his life exactly as he wished? The jury is probably still out.