Filming episode three: family reunited
Tracy Harris has been filming the desperate plight of the homeless in her home town of Swansea with filmmaker Chris Rushton for Mentorn Cymru over for the last three years. This is Tracy's account of filming the final episode of Swansea: Return to the Streets.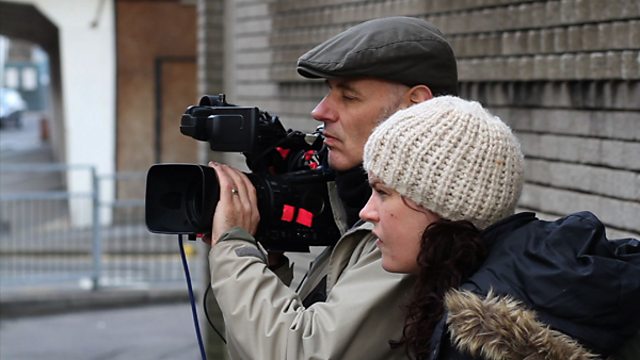 Chris Rushton and Tracy Harris filming Swansea: Return to the Streets.
Filming in the run-up to Christmas will be something I'll never forget. People in the city centre were rushing around buying presents and there was a buzz of excitement - yet we were with people who just desperately wanted a bed for the night. They were dreading the prospect of another Christmas alone and it was difficult to see these two worlds colliding.
To make matters worse, 2013 was the stormiest and wettest Christmas on record. It was terrible to see Tim, huddled up by the vents on Christmas Eve, watching everyone else going out and having a good time. But it amazed me how he always remained so positive and so very pleased to see us and share some Christmas cheer.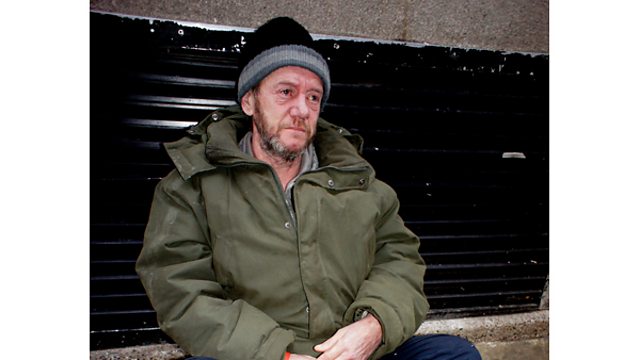 Tim, homeless at Christmas.
During this time we also followed Dan, who had been homeless for about a month. Dan was physically and mentally ill and was struggling to find a place to sleep before the agencies that help the homeless shut up shop for the festive holiday.  We followed him every day in his attempts to get a place indoors and when he finally got the emergency bed on Christmas Eve it was a huge relief. Knowing he was safe and warm was probably the best Christmas present we could have asked for.
The most overwhelming event from this series has to be when homeless drifter Paul was reconnected with his two sisters - after 25 years. Paul spent most of his life travelling around the UK. He revealed how he'd lost contact with his family and asked me to help him find them again. I was frightened by the prospect but knew I had to help him. Then just days before Christmas, sitting in a pub awaiting the arrival of his two sisters, we were almost as nervous as Paul.
It didn't feel real at the time. The emotions were overwhelming as his sisters walked through the door and they all held on to each other. It was such a relief to see them, together, reminiscing about their childhood stories and being able to open up to each other about the past. This was the start of a new chapter for Paul and it made all the other hard days worthwhile - that day will be one of the most emotional and memorable days of all our filming.
For me this was the end of a journey that began three years ago on the streets of Swansea, following the lives of homeless people. It has been an emotional journey of discovery, finding out how harsh life can be for those with nowhere to go.
It has astonished both Chris and I just how often the people we met on the streets had come from broken families and it's one of the main reasons for homelessness.  But those we met in such desperate circumstances have touched our hearts and changed the way we think. They remain a part of our lives even to this day - and will continue to do so in the future.
Swansea: Return to the Streets is on Monday, 24 February, at 22:35, BBC One Wales.