Eighty thousand gather for jubilee celebrations... at Hay
So here I am at the Hay Festival, pale, blinking and practically word-blind.
One of an estimated 80,000 people expected to hit this massive site (on the Brecon Road, just past the fire station, if you haven't been before) by Sunday night.
It's the 25th festival - yes, another jubilee - and I suppose I must've covered most of the others for BBC Wales. And every year I forget how much work is involved.
We don't just turn-up, you know - doorstep people with the microphone: 'So, Martin Amis... you've done a new novel. What's it about, then?'
I mean, how insulting is that? Most of the authors here have spent over a year on their books. The least you can do, pre-interview, is read them. Which is a lot of reading. Usually about three weeks' worth. And I've still got three more books to get through before weekend - Martin Amis, Tony Robinson and Julian Clary, if you must know.
Realistically, the most one man can handle is about 20 books, covering a mere fraction of the 500-plus events, but more than enough for the hour-long Haylights programme scheduled for BBC Radio Wales on Sunday.
How do we choose? We usually have a generally theme running through it. Like, one year both Archbishop Rowan Williams and evangelical atheist Richard Dawkins were here, so I went round asking all the celebs one question: God or Dawkins? As I recall, only David Miliband declined to answer, so I think we know where he stood.
This year, appropriately enough for a 25th anniversary, the theme looks like being Hay itself. On Saturday, we talked to the Mayor of London about his book Johnson's Life Of London, in which Boris discusses all the people who've made London what it is today - ie the most influential city in the world.
But what's the most influential town? Could it be Hay, the only place outside London to house a monarch? We're aiming to look at several other reasons why Hay could be the most important town in the world, through the eyes of writers, musicians and other People Who Count.
It's surprising how many of them have made their homes in this one-time obscure agricultural backwater. People like cult movie writer and director Bruce Robinson (Johnny Depp was round his place a while ago) and Britpop pioneer Alan McGee. Bestselling novelist Mark Haddon spends holidays in the Black Mountains, where his new one The Red House is set. It describes Hay's Cinema Bookshop as a Battersea Books' Home.
Of course, King Richard Booth is not seen around as much as he used to be, due to health problems, so the last week has seen him handing over most of his workload to the first Prince of Hay. Another secondhand bookseller, Derek Addyman, apparently is Richard's illegitimate son, following a short-lived relationship with a scullery maid at the castle.
In true Prince Charles tradition, Prince Derek has emerged in a blaze of controversy by attempting to get ebooks banned from Hay, which has recently lost nearly a fifth of its 30-plus bookshops as more readers pack their Kindles to go on holiday. A banner now flies in the town announcing that Kindles are banned from the Kingdom of Hay.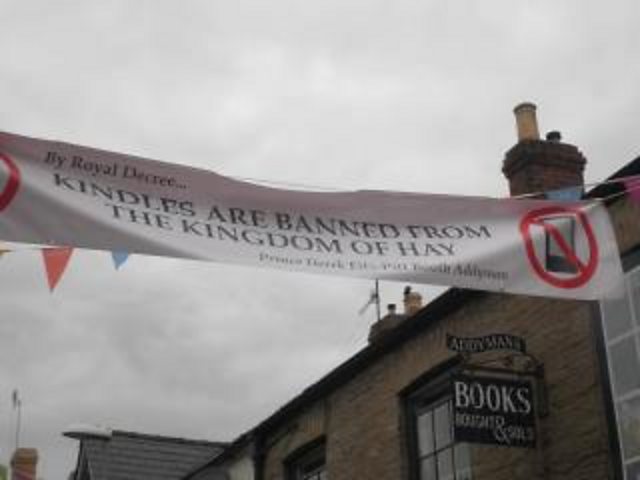 I've been looking round, and so far I haven't seen a single Kindle at the Hay Festival where, when they're not attending an event, people do tend to read - sitting in deckchairs, lying on the grass, waiting for lunch in one of the eateries.
It's like being in some pre-digital time-capsule.