March is upon us, and, while I am loath to even whisper the words for fear of a change, it would appear that spring has sprung. I've taken the plunge and removed the winter lining from my parka and have even ventured out to rehearsal sans socks.
The opening week of March was one of varied experiences and music-making for the orchestra. Starting off the week, composer Rob Lane was back with us for two recording sessions of music for a new BBC drama (more of this at a later date). This type of work is done to a click track, in order that the music line up very precisely with the on-screen visuals.
Our wind and brass colleagues got to leave before us string players (not because we were naughty, but there were a number of strings-only bits). They were a little too smug about their early finish - there was a lot of exaggerated tiptoeing from the studio and many sad faces, the expressiveness of which a mime artist would be jealous of.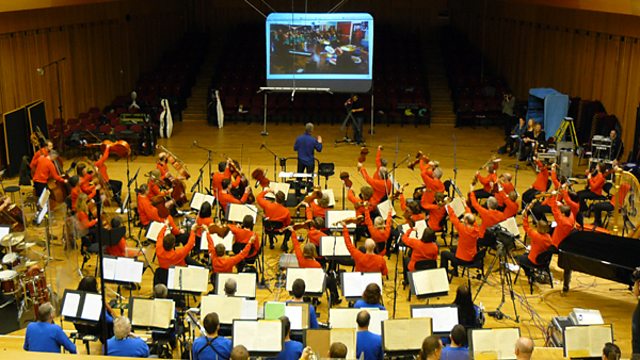 BBC National Orchestra of Wales performing via video link for Ysgol y Bont in Anglesey
The following day had been set aside to do new publicity photographs of the orchestra. This is never my favourite day of the year - I feel rather ill at ease in front of a lens, but my prayers to be struck down with a violent 24-hour vomiting bug went unanswered, so I found myself standing with very bright lights in my face and both of my arms feeling like someone else's limbs.
Many thanks must be given to the very lovely Benjamin and his team. They did their best to put even the most reluctant models at ease (I 100% missed the 'stand in front of the camera and look natural' module at college and needed a little coaxing). I am hopeful that he captured an image of me that doesn't involve triple chins, mad eyes, or a contorted frozen grin!
At the end of the week, as part of a new pilot project, we performed a concert via video link for Ysgol y Bont in Anglesey. Being able to present education concerts remotely opens up so many possibilities, in particular for schools catering for children and young people with additional needs or for those where travel to major concert venues is impractical.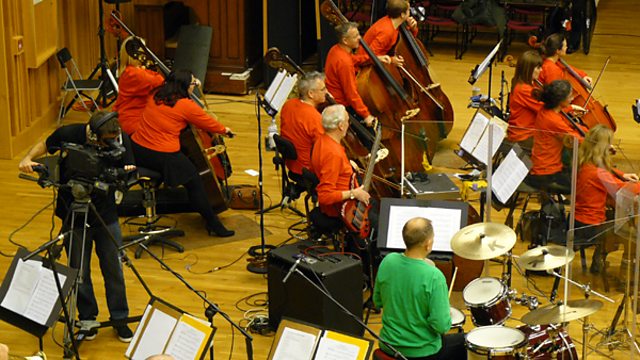 BBC National Orchestra of Wales performing during filming
The orchestra was conducted in Hoddinott Hall by Grant Llewellyn, while our long-time collaborator, Andy Pidcock, was at the school itself. A series of cameras and microphones in both locations enabled us to communicate and interact with the children quite easily, and while it felt a little strange performing to an audience that was not physically present in the hall, I feel that this resource really has a huge amount of potential.
So, the first week of March drew to a close. This week, we look forward to welcoming back conductor, Jurjen Hempel, and flautist, Emily Beynon, for another trip to Swansea's Grand Theatre, and we will also have further recording sessions with Rob Lane.
The orchestra returns to Swansea's Grand Theatre on Friday 14 March – for more information and tickets, call the orchestra's audience line on 0800 052 1812, or visit the orchestra's website