And Charity Halliwell, Methusalem Simlett and Poperinghe - what's in a name?
We might think that naming children after special events, famous people and memorable places such as Chardonnay, Britney and Brooklyn is a modern day phenomenon, but people have always taken inspiration from their surroundings and occurrences in their lives.
One of my favourite names is Methusalem Simlett Blight who was born near Bedwelty in 1889. I'd like to think he was named after his parents drank the relevant sized bottle of champagne but I suspect it is more likely that they named him after the oldest person in the Bible (according to the book of Genesis, Methuselah lived for 969 years). See what I mean about learning new facts all the time?
Spare a thought too for the incredibly named And Charity Halliwell, born in Halifax in 1877 after his older sisters Faith and Hope!
While we might think that celebrities hold the upper hand when issuing unusual monikers to their offspring it seems that this is certainly not the case.
After Janet Street Porter's great uncle Thomas Davies died in 1916, while serving with the Royal Welsh Fusiliers near Flanders, his sister named her next daughter Poperinghe after the battlefield where he fell. And in the early 1860s, shortly after the Battle of Balaclava, there are many entries of children born with the latter name.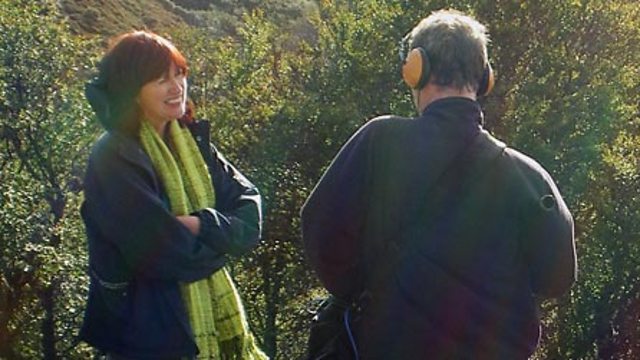 Janet Street Porter on Coming Home
Don't forget that when searching various websites for your ancestors, whether they were named Poperinghe, Methusalem or just plain William or Katherine, you can use a wild card. So if you are unsure about the spelling (or more likely they were unsure of the spelling of their name, or it was hard to translate from Welsh into English) then after the first 3 characters enter an asterisk and it will search for all possibilities. A search for Wil* brings up William, Will, Willie, Willey, Wilfred, Wilfrid, Willis, Wilmot, Wilkinson and even those entries where someone has abbreviated the name to Willm and the apostrophe has been lost in transcription.
This week in preparation for appearing live on BBC Radio Wales' Jamie and Louise programme I've been busy trying to track down elusive ancestors for listeners, such as Atkinson Charnley and Solomon George Kift. But despite using all the tricks and techniques known to me and calling upon local family history societies and county archives they remain at large.
I think that Atkinson was a cattle drover and as such he may simply have evaded having any of the key events in his life from being registered. I fear that Solomon is one of an unknown number of people born between 1837 and 1875 whose births were not registered since it was not compulsory to do so before 1875, despite civil registration being brought in 1837.
Be prepared also to discover things that you might wish you hadn't when researching your family history. In preparation for a BBC Radio Wales' Look Up Your Genes workshop in Colwyn Bay one woman scoured the house for her mother's birth certificate and instead found a receipt for a baby. This turned out to be for her mother who was born before 1927, the date when adoption was officially legalised.
On a final note, I have yet to find a child born on Shrove Tuesday called Pancake, but I live in hope.