Directing A Poet in New York
There is a book of photographs of Dylan taken in Laugharne during his last summer. These black and white photographs transport us back to that time in 1953. In some of the photographs Dylan is smiling. In others he is thoughtful, standing alone. There are some pictures where he sits with his family. Happy moments. In all of these pictures we see the landscape that influenced so much of Dylan's later work. St John's Hill, the estuary, the writing shed, the Boathouse and Fern Hill.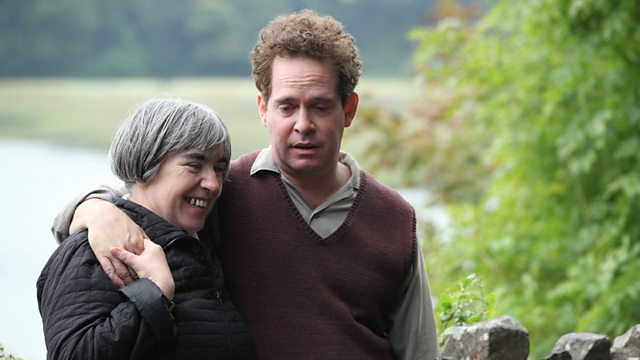 Aisling Walsh and Tom Hollander on the set of A Poet in New York.
The same photographer took photographs of Dylan rehearsing in New York that autumn with the cast of Under Milk Wood. This is a different Dylan. He looks older. Something in his face tells us he's struggling. He's smoking heavily. In these black and white images you get a real sense of Dylan as he must have been. The 39-year-old poet at the height of his fame. You can see how he interacted with people. How he walked. How he smiled. He's cheeky. Solemn. You can see how he's dressed. I showed these pictures to lead actor Tom Hollander on our first meeting and we agreed that we would try and get as close to that Dylan as we could.
We both listened to Dylan's recordings as he read his poetry and short stories and of course the famous first recording of Under Milk Wood. As we met over the weeks before filming Tom slowly started to inhabit the role. He put on weight. Grew his hair. He changed the way he walked. He wanted to transform himself utterly if he could. We had both agreed that the role required that.
Tom Hollander talks about revealing his 'Dylan Thomas voice' to director Aisling Walsh.
Not long before filming started we went to Laugharne together. I wanted Tom to see it. In the small sitting room in the Boathouse with no one else around, Tom quietly closed the door and spoke to me in Dylan for the first time. He wanted me to hear him. I sat and listened, amazed. Later as we walked back towards the village together I dropped behind and watched Tom, heavier now, as he walked reciting Fern Hill aloud. He really had transformed himself into our Dylan Thomas.
A Poet in New York is on BBC One Wales, Wednesday 30 April at 21:00.
To discover more about the life, work and legacy of Welsh poet and broadcaster Dylan Thomas go to bbc.co.uk/dylanthomas.