Rhod Gilbert's Work Experience: series three
A new series of Rhod Gilbert's Work Experience begins on Monday 7 May, with four new jobs for the Welsh comedian to get to grips with.
Previous series have seen Rhod try his hand at being a butler, tattoo artist and army recruit, but this time round he may have found something that he could seriously consider as a new career.
Though on paper his stint as a drag artist might sound closer to his current role as a stand up comedian - as Rhod says, "it's on stage, and it's making people laugh, it's entertainment, which is what I do" - it was as a teacher in the first episode that he really came into his own.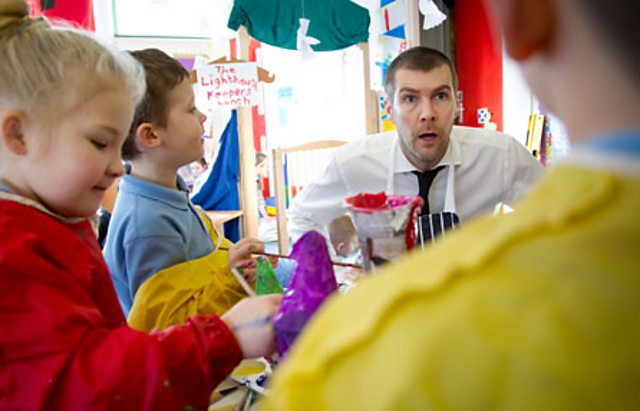 Rhod as a teacher in the first episode of Rhod Gilbert's Work Experience
Rhod spent time at Monnow Primary School in Bettws, Newport. He breached the school rules immediately by not wearing a tie, and discovered a whole new world where maths lessons are held in a forest and learning literacy involves addressing sounds to the tables and windows.
Despite struggling with this concept at first - "it was all happy clappy, modern funky teaching methods that were so different to when I was in school" - Rhod is soon overwhelmed by the inspirational attitude of the teachers, and describing the school as "one hell of a place".
The comedian said: "It was the most inspirational three days of my life by a mile. There's an element to teaching that I loved, which is imparting knowledge and information to kids, watching them learn and being hopefully a force for good in their lives. That is incredibly inspirational, moving, and the most wonderful privilege."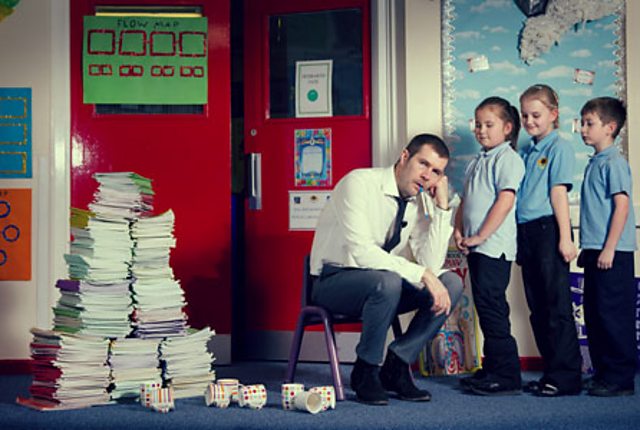 Rhod spent time at Monnow Primary School in Bettws, Newport for the programme
The second episode sees Rhod trying out as a zookeeper at the Welsh Mountain Zoo in Colwyn Bay, where he's put on feeding duties, pushing quails through the bars for a tiger and hiding fruit for a bears' treasure hunt.
He said: "I think I expected to be like David Attenborough, you know, snuggling up to gorillas, having life-changing conversations with a parrot, but there's not as much of that as you might expect. Ultimately, they are wild animals - you don't get in with chimps if you want to live."
Other episodes in the series see the comedian joining the police, in which he enjoys a taste of their training, and Rhod even transforms into woman as he tries a stint as a drag artist.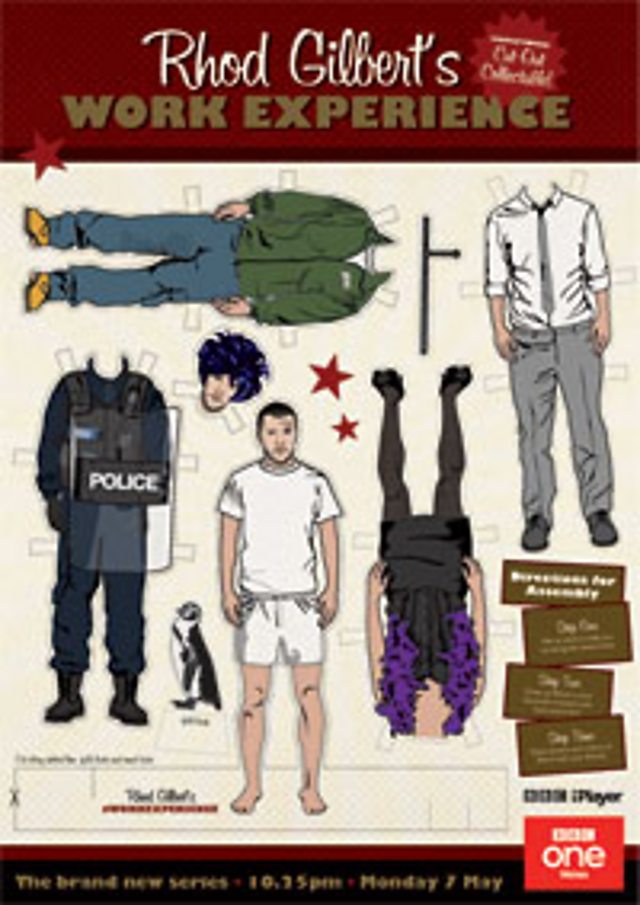 Download the Rhod Gilbert's Work Experience doll pdf (4.59MB)
Of his performance he says: "You couldn't say it was entertainment; the crowd was probably enjoying my humiliation more than anything. I was leading guys round by the tie and flirting with the audience. It only lasted two minutes, but it was the longest two minutes of my life!"
Get involved
You can stage your own performance - and maybe give Rhod a better experience - by downloading the Rhod doll to stiff paper, cutting him out, and dressing him up in the costumes from this series. And you can use the clothing template to make your own designs - maybe in the uniform of the jobs you'd like to see him do next.
Take a picture of Rhod in the costumes you've made and send it to us at wales.arts@bbc.co.uk and we'll feature the best ones in a photo gallery. The closing date for entries is 28 May 2012.
Don't forget to watch the series, which starts this Monday, 7 May, at 10.25pm on BBC One Wales.