Filming the new series of X-Ray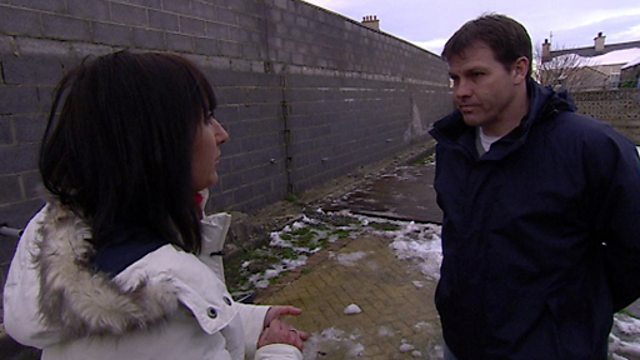 Problem wall in Holyhead
It's Friday 18 January. I'm on the phone to X-Ray's series producer Susie. The dilemma - do we stick to plans to travel to Liverpool, Denbigh, Llandudno, and Holyhead over the coming days?
I was in the newsroom, about to leave Merthyr in a 4x4 to report on the heavy snow that was causing major disruption in many parts of the country. X-Ray filming was planned for the next week - three stories and a trail.
The complex schedule had been a bit of a headache to co-ordinate although the forecast was uncertain, and it was not particularly bad. We decided to go ahead.
It was snowing on the first day of filming as we tried to navigate our way around Liverpool in freezing temperatures. We were searching for the Apple store - as one viewer had been having a battle with the company over her i-Phone.
I find severe cold excellent motivation to get pieces to camera right so that we can all get inside as quickly as possible! But with worsening weather conditions, Jamie our cameraman having to wipe the lens every few minutes and curious Apple staff staring out of the shop window, we were having a challenging morning.  
The following day on Anglesey, as the snow came down again, we met Nigel, a firefighter. Nigel and his family are having a complete nightmare, thanks to an enormous wall that's been built at the bottom of their garden. It was put up by developers building houses on the hill behind their house.
Nigel described it as a prison wall, and when I saw it I couldn't help but agree. It was four metres high, built of grey breeze blocks, where he used to have a garden fence and shrubs. But that's not the worst of it. Soon Nigel started to worry as big cracks were appearing and the wall was starting to lean. Then one night, while he, his wife and two young children were sleeping, an 80ft section of the wall came crashing down into the garden.
Nigel says if it had happened in the daytime and if his children had been out playing they could have been killed. Now all he wants is to have the wall made safe, but the developer has gone bust. So who should pay to fix it? Nigel says he didn't want the wall, he didn't build the wall - so why should he have to fork out thousands of pounds to remove it? And while he battles away he's terrified to let his family go out in the garden.
Nigel was shaking as he told me his story in the garden. I thought he was shivering with cold but he told me afterwards it was nerves. We can forget sometimes how daunting a TV camera can be, especially when people are talking about something that's been deeply affecting them.
But soon after the interview, we were packing up the kit as fast as we could. Our flight home from Holyhead had been cancelled. We had to drop the hire cars to Bangor, then get a lift with Jamie to Chester to hopefully catch the last direct train home. We missed it, so a quick change at Crewe, and back to Cardiff Central for a white-knuckle taxi-ride home in blizzard conditions. Job done.
X-Ray starts on Monday February 4 on BBC One Wales at 7.30pm.