The Dirty Youth interview
Watch out Wales because another big Welsh rock band is about to bust through. With shocking pink haired lead singer and youthful exuberance of the band, they're bouncing off the walls at the moment with each new brick being built around their future in rock 'n' roll.
The band are The Dirty Youth and thanks to a video shoot and session for BBC Radio Wales, they've just signed a major record deal and a powerful management company that look after bands like Pussy Cat Dolls - and they did all right, like!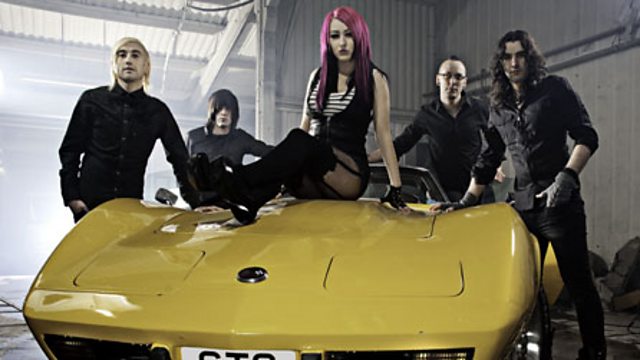 The Dirty Youth
I caught up with Matt after Download to find out how it all happened, and how they are currently keeping feet firmly on the floor.
How was the weekend at Download?
We had an amazing weekend at Download Festival, it was such an honour for us. The sun came out for us and the crowd were brilliant - to see so many people singing all the words made the gig really special for us.
Are you feeling an impact yet from the new management and the signing to Universal Records?
Since having everyone on board, we have played Download Festival have videos shoots lined up and a release date for the and the album that's just the start. We are real excited for what they have lined up next!
Rewind a bit - tell me all about how it happened, how you got the management company on board and the record signing.
We started The Dirty Youth 4 years ago put our heads down and always worked as hard as we could, played anywhere to no one most of the time. Someone once told me its a marathon not a race and when your ready it will happen. We sent out our promo pack along with the video from the live show we did for the Bethan Elfyn show to RMR Management they loves the sound, look and the fact that we can play live. We landed a great manager, fantastic Label and one of the biggest festivals in the world in the same week so I'm guessing we were finally ready for it.
What does the deal entail, and what's the plan for next few months with releases and festivals?
We're shooting a video any day now for the First single Fight which will be out on 8 August followed by the Album Red Light Fix on 19 September, then were gonna tour like crazy!
What do you think makes you different from the recent successful south Wales rock bands? I guess its getting more and more difficult to stand out.
We're not that worried about standing out, I think if your good enough you'll stand out. There's loads more room for more Welsh Bands!
Check the BBC Radio Wales session video that got them the lucky break.