Weatherman Walking: Episode two
Thanks to high pressure it was a dry weekend with plenty of sunshine, some cloud, frost and a few fog patches as well. The colder, brighter weather a welcome change after all the wet and windy weather we've had so far this winter!
Temperatures over the weekend fell as low as minus 6 Celsius inland but some windward coasts stayed a few degrees above freezing with a breeze off the sea. At Milford Haven, the lowest temperature was only 4 Celsius.
I know lots of you took advantage of the fine weather and I've had some beautiful photos including some gorgeous sunsets tweeted to me over the past few days.
How about this for a sunset shot?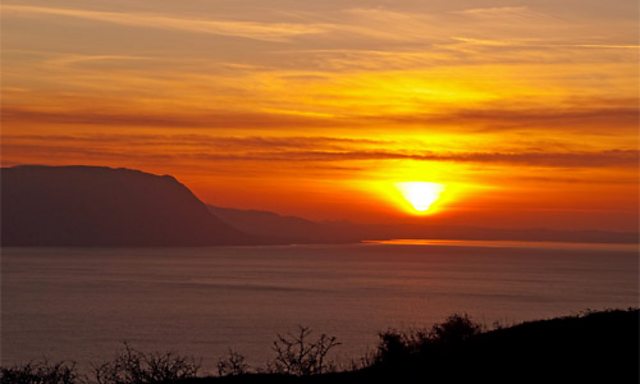 Sunset from the Great Orme with Penmaenmawr & Anglesey in the distance. Image by Glyn Roberts, Conwy.
Today is the last day of the fine, sunny weather. Tomorrow will be much cloudier and it will turn milder by Wednesday with south-westerly winds bringing some rain and drizzle. Top temperatures on Wednesday 10 to 12 Celsius.
On Thursday rain will clear and it will turn colder and brighter again. Windy too with wintry showers. The showers falling as sleet and hail. Some snow is likely too but not much. Most of it on higher ground and on the hills and mountains.
Don't forget, there is another episode of Weatherman Walking tonight on BBC One Wales at 7.30pm
Meanwhile Stargazing Live starts tonight at 8.30pm on BBC Two so you've time for a cuppa in between!
Conditions tonight will be ideal for looking at the night sky but it will be a different story tomorrow night and on Wednesday night with much more cloud expected.