Researching World War One ancestors and military items
We are now just a few days away from 4 August and commemorating the centenary of the start of World War One. The date has been etched in my mind for a long time and I've been so busy researching and preparing for this time that I find myself looking forward to next week, while at the same time reflecting on the stories of those involved. What did they think about on 4 August 1914? Could they have had any concept that 100 years later we would commemorate the 'Great War'?

A lot of my research over the past 18 months has been working towards reuniting military items with the families of their original owners. Most of the items have very little financial value but each one once belonged to someone and has a story that deserves to be told.

I've enjoyed many hours wandering around junk shops, car boot sales and antique stalls, rummaging for anything which has a name, a date or an address which would help me link the item to the original owner's family. I've come across three photographs recently, which I've been looking into.

The items vary considerably, but each one carries an impact. None more so than the photograph of the Leys School Prefects which, when I came across it at a stall in Jacob's Antique Market in Cardiff, made the hairs on my arms stand up.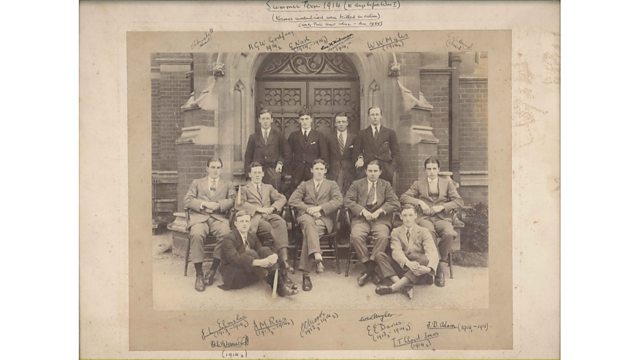 Leys School Prefects.
It's not just the lovely sepia quality of the image or the faces of the young men or the hand written words above which read 'Summer Term 1914' (10 days before World War One) which in itself is poignant enough. But the inscription continues with the chilling explanation that "Names underlined were killed in action - only two now alive in January 1985".

The photograph was accompanied by several other key documents and two more photographs - one of a young man in uniform and another of the same man in later life. The collection originally belonged to Eric Edgar Davies (middle row seated 2nd from right) who attended the Leys School in Cambridge.

Eric was born in Chile in 1895 and died there in 1988, only returning to the UK to attend school and fight during the war. In 1985, his memories of his time at the Leys school were published in the school magazine. These included a memory of Jack Elmslie (middle row seated on the far left) who was a real character and who died in 1915. "Jack had been a Greek scholar and he liked to recite Greek verse to the Germans in the opposite trenches, nearby. They protested and urged him to clamp down. He went on and a bomb did the rest".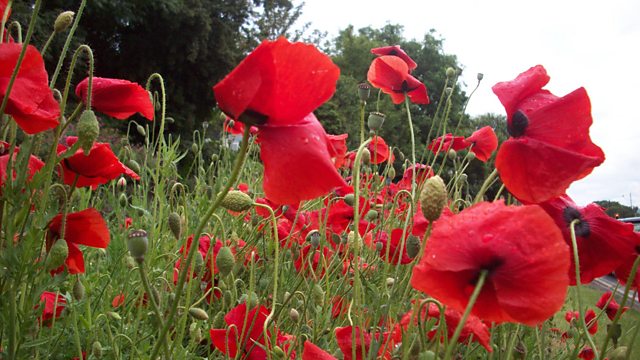 Poppies in Hereford City Centre, July 2014
Eric had no children but the school still exists and they now have a copy of the photograph on display. I've also traced Eric's nephew and passed on this information to him so that Eric and his school friends will not be forgotten.

So far I haven't had the same luck with Eli Strong or Nurse Dorothy's photographs. Each photograph cost just £5 and came with faded writing on the reverse.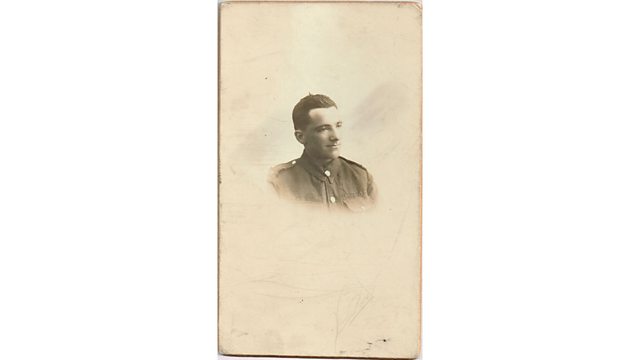 Image of Eli Strong.
The problem lies in identifying the correct Eli Strong. Could this be the Eli Strong who married Margaret Cannin in Merthyr Tydfil in 1914? Or is it Eli Strong who married Dora Hessey in Yorkshire in 1916? I can't help but wonder whether Eli survived the war and lived to a good age or whether he was killed in action or died of his wounds.
Like so many of these items I am desperate to know the whole story of the man in the photograph, even if I don't ever find his family. It seems to have become a mission of mine and despite the challenges there is a huge sense of pride in just attempting the task.

So, watch this space. I have four years to find Eli's family and I will persevere.

The same can be said for Nurse Dorothy.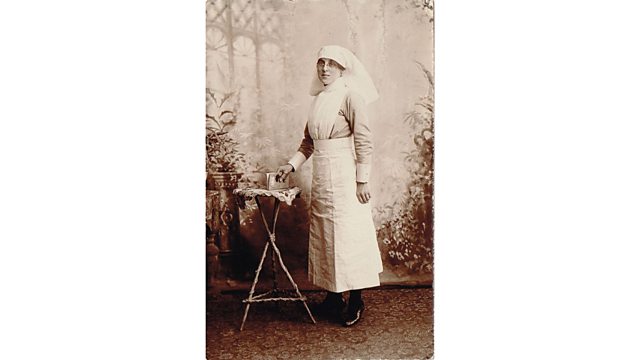 Image of Nurse Dorothy.
On the reverse of her postcard is says "with fondest love from Dorothy. To all my loved ones in Wales. Some face", by which I can only assume that Dorothy wasn't too happy with the stern unsmiling look on her face!
Rather stupidly I thought it would be easy to trace Dorothy, thinking that there couldn't be that many nurses from Wales called Dorothy. I quickly learned that
FindMyPast
has a database of nurses who served in WW1 but sadly it requires a surname. I contacted Sue Light from
Scarlet Finders
only to be told that incredibly there were more than 70,000 nurses in the UK and that my 'Dorothy' was not actually dressed in official Voluntary Aid Detachment uniform.
I don't want to give up on Dorothy. Do you recognise her? Perhaps you have a Dorothy in your family tree who served as a nurse during WW1. If so, please get in touch.
And then just yesterday I was handed a book, not just any book but 'The Scouts' Book of Heroes' which was published in 1919 with a foreword by Baden-Powell.
"Pylons and shrines interest us in the present, but after all marble is cold and flowers fade. We want something that will continue after us, something also that will help to make their sacrifice worthwhile".
Rex Carey from Blackwood has kept this book safe. He values it dearly but would like others to know about it and share the information. It belonged to his late wife's step-grandfather Frank Watkins.
I went through the book carefully making notes and scanning pages and now have a new mission - to trace the families of those scouts who became WW1 heroes and share with them their incredible stories, including those who paid the ultimate sacrifice and were 'Called to Higher Service'.
Obviously there remains a lot of research to do and I will continue to do it over the next four years. If you can help then please get in touch or if you have an item from WW1 then please let me know and I might be able to help you trace its original family.
On Monday 4 and Thursday 7 August I'll be talking about researching WW1 ancestors and military items with
Eleri Sion live on BBC Radio Wales
.