Well, I'm on snow patrol today along with my colleague Sue Charles.
We're currently watching a deep area of low pressure out over the Atlantic. This will move towards Britain tomorrow pushing a front northwards bringing a mixture of rain, sleet and snow.
Met Office Weather warning.
So another dose of wintry weather but no where near as bad as before Christmas - just a temporary thing.
Most of Wales can expect a brief spell of snow tomorrow for a time but not everywhere and probably very little will fall in Cardiff, Newport and Swansea.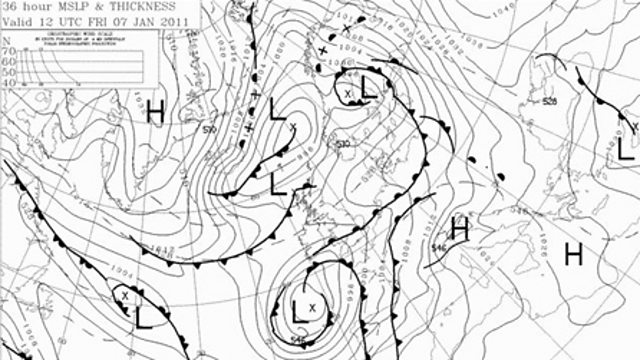 Latest Met Office weather chart for Friday, 7 January 2011.
Accumulations of 2 to 5cm (1 to 2 inches) are likely in many areas, 10cm (4 inches) on higher ground; so expect some delays if you are travelling. The snow however will be temporary, only lasting for a few hours before it turns to rain as it thaws.
Friday night will turn less cold with some heavy rain in places. Saturday will start cloudy and damp but during the day it will turn much drier and brighter with some sunshine.

On Sunday I wouldn't rule out the odd shower otherwise it should be dry and bright. Temperatures 4 to 7 Celsius with a light to moderate west to north-westerly breeze.

Next week, the weather pattern is set to change as the jet stream will move further north over the Atlantic which means it will turn milder, wetter and windier at times!

So, many of us can expect some snow for a time tomorrow but be quick if you want to build a snowman because rain is on the way!
And for those of you braving the sea at this time of year, you might be interested in Gull's weekend surf report.
Derek