How Green Was My Valley takes the Oscar
On the evening of 26 February 1942 the cream of Hollywood society – all the actors and directors, the technicians and movie moguls of the film industry, as well as many members of the press and general public - turned up at the Biltmore Hotel in Los Angeles to witness and take part in that year's Academy Awards ceremony.
America had been at war for just three short months and the memory of Japan's sudden attack on Pearl Harbour the previous December was still fresh in people's minds. So the glitz and the glamour that always surrounded the Oscar ceremonies was particularly welcome in February 1942. Anything to take people's minds off the horror of warfare and the imminence of sudden death!
Hot favourite to take that year's coveted award for Best Picture was Orson Wells' Citizen Kane, but it had competition from what have now become Hollywood classics like Sergeant York and The Maltese Falcon.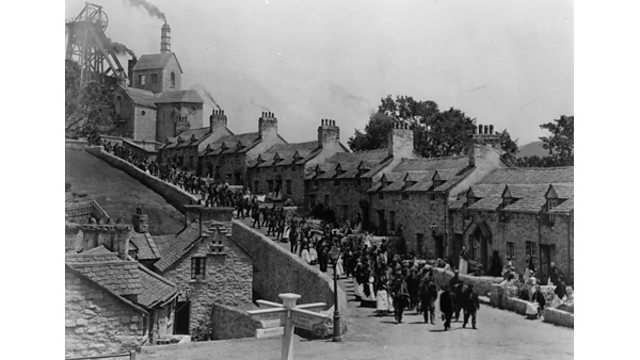 A scene from How Green Was My Valley.
As it turned out, the winner was none of those. John Ford's How Green Was My Valley, a romantic and overly sentimental film about life in a Welsh coal mining community, swept the board. It claimed the Oscar for Best Picture, Best Director, Best Supporting Actor and two others for cinematography and art direction.
How Green Was My Valley was based on a 1939 novel of the same name by Richard Llewellyn and stared Hollywood 'greats' such as Walter Pidgeon, Maureen O'Hara and Roddy McDowell.
These days we look at the film and cringe at the set piece shots of miners coming home from the pit, faces suitably blackened, happily singing Welsh hymns. In 1943 it was exactly what cinema audiences wanted, somehow seeming to symbolise the suffering and the hardships of the British people who had been fighting a lone war against Adolf Hitler for over two years.
The false Welsh accents of the cast - Welsh accents being fiendishly difficult to achieve and certainly beyond most of those who took part - reflect the American, Irish and Canadian nature of the film's stars. Pidgeon came, not from the USA as most people supposed but from Canada while Maureen O'Hara was Irish.
The childhood star Roddy McDowell was actually English but he was more or less American by adoption - that, after all, was where the film opportunities for any young actor really lay.
The only genuine Welshman in the cast was Rhys Williams. He had a small part, Dai Bando, a man who befriends the young Huw Morgan (Roddy McDowell) and teaches him how to fight. As Dai Bando, Williams was also involved in a memorable scene where he administered a sound thrashing to the bullying school teacher Mr Jones.
How Green Was My Valley was John Ford's third success as a director. Just the previous year he had won his second Oscar with The Grapes of Wrath but while that earlier film dealt effectively and memorably with the deprivation and poverty of the Great Depression, Ford certainly missed a trick with his Welsh film.
There is little real social or political comment in How Green Was My Valley and almost nothing about the destruction of the environment that mining caused to the Welsh valleys. Inaccuracies slip, all too often into the picture - a coal mine, for example, being set on the top of a mountain.
The loss of a long-established way of life in these communities is also largely ignored in favour of an overt sentimentality. That sentimentality also managed to fix, in the minds of many, the stereotype of the Welsh working man or woman whose only interests are the chapel and work.
Ford's interest in or fixation on sentimentality was to re-surface 10 years later when he filmed his Irish version of small-town life, The Quiet Man, again starring Maureen O'Hara but this time partnered by John Wayne. Ford's partnership with Wayne, forged in countless epic westerns, managed to sustain his Irish picture and give it a degree of credibility that How Green Was My Valley sadly lacks.
Ford had wanted to shoot How Green Was My Valley in Wales. The war stopped that and the film company, Twentieth Century Fox, was forced to create their own Welsh town in California. The replica town was built on a 3,000 acre site at Fox Ranch outside Los Angeles.
How Green Was My Valley was not a great film and it is all too easy to deride it as a poor representation of Welsh life.
But in 1941, when the film was made, and 1942, when it won the Oscar, it suddenly brought Wales and the Welsh people to the notice of American people. Many of them had never heard of the country. This film, sentimental and stereotyping as it was, at the very least brought Wales to the forefront of their imaginations. And for that it deserves to be remembered.