Lady Charlotte Guest: translator of the Mabinogion tales
Pioneering translator, industrialist, linguist, collector, and mother of nine, Saturday 19 May marks the 200th anniversary of the birth of Lady Charlotte Guest.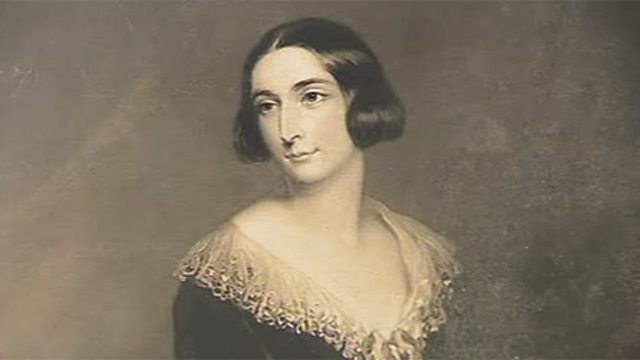 Born on 19 May 1812, she was christened Lady Charlotte Elizabeth Bertie and grew up in Lincolnshire. Her father Albemarle Bertie, the ninth Earl of Lindsey, died when Charlotte was just six years old, and three years later her mother married a man whom Charlotte disliked.
Although Charlotte had two brothers she had quite a lonely childhood. She was passionate about literature and language, and taught herself Arabic, Hebrew and Persian. From a very early age Charlotte was also fascinated by medieval history and legends.
A lifelong diarist
When Charlotte was 10 years old she began to keep a diary, a practice which she doggedly continued until she was 79, even though she was nearly blind by that time.
Her journals were published after her death in two large, illustrated volumes by her third son, Montague Guest.
Marriage and Merthyr Tydfil
Charlotte left Lincolnshire for London when she was 21. Here she met widower and wealthy ironmaster John Josiah Guest (later Sir John Guest).
The pair were married within three months of their first meeting and settled in Dowlais, Merthyr Tydfil. John Guest was 48 years old, and they seemed to belong to two very different worlds.
She was the daughter of an earl and he was a "man with a trade" - even though his enterprise would become one of the largest ironworks in the world.
The Welsh Academy Encyclopaedia of Wales captures the global importance of John Guest stating that: "His 5,000-strong workforce probably meant that he had more employees than any other individual on earth."
Powerless women
Charlotte lived in a time when women were expected solely to devote their life to the role of wife and mother. Women had no vote, and no right to own their possessions. Generally powerless, they were not expected to hold any aspirations outside of the home.
Charlotte, however, immersed herself in the business of the iron works, as well as practically pursuing methods to improve the education and living standards of the workers and their families.
Although London society remained dismayed that Charlotte would leave the cultured life of the capital for industrialised south Wales, Charlotte embraced living in Merthyr. She had a happy life with John Guest and the couple had nine children - not unusual for the time.
In 1838 Charlotte became a baroness, and in 1846 the Guests bought the Canford estate in Dorset, where they built Canford Manor, a grand, gothic mansion. It was designed by the famous architect Sir Charles Barry, who is probably best known for his role in the rebuilding of the Palace of Westminster.
Cymreigyddion y Fenni
Charlotte lived in a time of Romantic revival, when there was a renewed interest in medieval life and Celtic history, and the Guests were founder members of the Society of Welsh Scholars of Abergavenny (Cymreigyddion y Fenni).
She naturally combined her life-long interest in medieval literature with her passion for Wales.
Charlotte had learned Welsh, and combined her love of language with Celtic legends by translating the Mabinogion tales.
The first volume was published in 1838, and by 1845 the tales had appeared in seven parts. She also wrote a Boys' Mabinogion which comprised the earliest Welsh tales of King Arthur, and translated (and often censored) a number of medieval songs and poems.
Charlotte's translations of the Mabinogion tales remained the standard for nearly a century. They were influential enough for Tennyson to base his Geraint and Enid, in The Idylls of the King - the most popular poetic work of the era - on her writings.
Sir John Guest died in 1852, and Charlotte took over the running of the business. She had a clear understanding of the operation of the iron works but it was deeply unconventional for a Victorian woman to hold such power. Ultimately it led to clashes with workers and other foundry owners.
Collector and campaigner
In 1855 Charlotte fell in love with and married her son Ivor's tutor, Cambridge academic and MP Charles Schreiber. She stopped running the iron works, and instead travelled widely and focused her efforts on amassing a world-class ceramics collection.
When she died the collection was bequeathed to the Victoria and Albert Museum. She also donated fans, board games and playing cards that she had collected to the British Museum.
Charles Schreiber died in 1884, when Charlotte was 72 years old. She dedicated her remaining time to cataloguing her collections and putting them on public view.
In 1891 the London Fan Makers awarded Charlotte the freedom of their company. She was, along with Baroness Coutts, one of only two freewomen of Victorian England.
Charlotte remained active and campaigned for diverse causes including Turkish refugees and shelters for London hansom cab drivers. She died on 15 January 1895 aged 83.
During the regeneration of Dowlais in the 1980s, a public house was named the Lady Charlotte in her honour. The Guest Scholarship fund started by Lady Charlotte Guest for the education of the steelworkers, and boosted by money saved by workers, at the Guest Keen Ironwork only closed in spring 2012.