Tommy Cooper, a great Welsh comedian
It's often said that Welsh humour doesn't travel. People sometimes comment that while the Welsh might find something - a joke, a story or a sketch - hilariously funny, as a general rule nobody else does.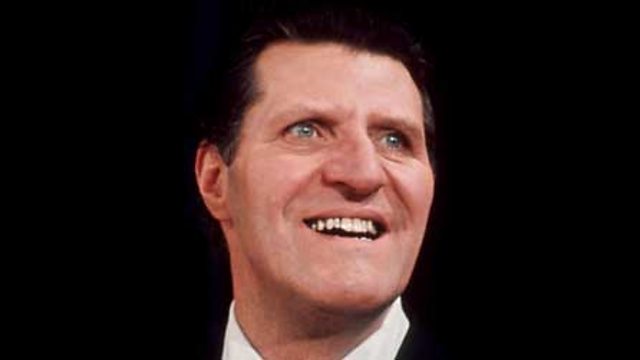 Tommy Cooper was born in Caerphilly
Quite apart from the fact that statement just isn't true, it also hides the fact that one of the greatest and best-loved of all post-war comedians was Welsh - it was just that very few of the people who watched him night after night on TV or in the theatre, ever realised it, at least not until after he died. The man in question was the incredible Tommy Cooper.
Tommy was born at 19 Llwyn On Street, Trecenydd in Caerphilly on 19 March 1921. His father was a Welshman, also called Thomas (Tom as he was known), working as a recruiting sergeant for the army. His mother, Gertrude, was English, coming from Crediton in Devon.
The Coopers did not own the house in Llwyn On Street and were merely lodging there. Apparently, in those pre-maternity hospital days, Tommy was born at home and the owner of the house acted as the midwife for the birth.
He was a premature baby and was underweight and scrawny - amazing, considering that, when he grew to adulthood, Tommy Cooper stood six feet four in his stocking feet! Indeed, for a long while the baby was not expected to survive and was only kept alive by a mixture of brandy and condensed milk. It may have started a lifelong and, ultimately, fatal habit as Tommy Cooper battled against the effects of alcohol all his life.
When Tommy was just three the family moved from Caerphilly to Exeter. They didn't like the pollution of the Welsh valleys; it was not good for young Tommy's health and, anyway, his father had been offered a job in the Devon city. They never moved back to Wales, although Tommy kept in contact with members of his family who remained in Caerphilly.
The story of Tommy Cooper's success is too well known to repeat here. But after finding his trademark fez (he apparently grabbed it off a passing waiter while performing in a NAAFI show in Egypt during World War Two) he went on to become one of the country's best loved comedians. Indeed, he had only to appear on stage and stand there for people to fall about laughing. He had that sort of personality and looks.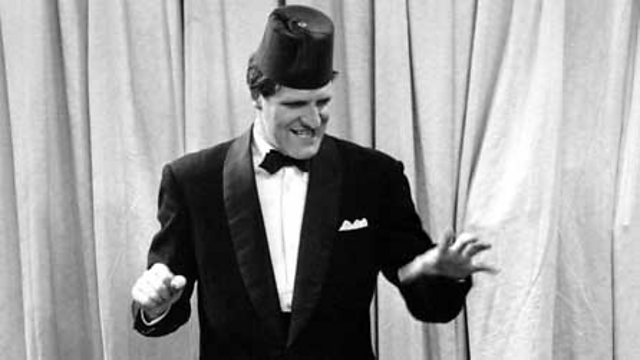 Cooper was a skilled magician and a member of the Magic Circle
And when his disastrous magic tricks invariably went wrong, the house would erupt. It was an act of course. Tommy was actually a very clever magician, a member of the Magic Circle and someone who had been fascinated by magic tricks ever since he was given his first conjuring set by an aunt when he was just eight years old.
The stories about Tommy Cooper's "tightness" with money are legendary. He would, it seems, lean across to taxi drivers, say "Have a drink on me" and slip something into their top pockets. When the men looked they found, not a £5 note but a tea bag. Whether or not such stories are true, they remain part of the Tommy Cooper legend.
Tommy died on 15 April 1984, performing live on television in a show called Live From Her Majesty's - not at the London Palladium, as is often reported. Of course, when he collapsed viewers at home and those in the audience thought it was part of the act.
A statue to the great Tommy Cooper was erected in Caerphilly, the town of his birth, in February 2008. Sculpted by James Done, the statue was unveiled by fellow Welshman Sir Anthony Hopkins, a self-confessed Cooper fan. It now stands in the centre of the town, in the shadow of the giant Caerphilly Castle, a more than suitable tribute to the man who is, arguably, the town's greatest son.
There is a footnote. In 2009, on Red Nose Day, when comedians from all over the country - professional and amateur alike - try to raise money for charity, a suitably large and bulbous red nose was placed on the statue. It went missing, stolen by someone who wanted a free memento of the day and of the man. Tommy Cooper would probably have understood.