There are lots of small festivals in Wales, many great little events existing because of people's love of the genres they're working with, but most don't achieve the recognition of something like Green Man or Wakestock.
I took a call last week from Richard James of the Aberjazz jazz and blues festival (25-29 August, Fishguard). He explained to me how Aberjazz has no external sponsorship or funding, and exists simply because of a passion on the part of the organisers to get great acts to Fishguard each year.
"Aberjazz is a community group made up of a core of six people and a full committee of about 12; all of us are volunteers," he said.
"We all love jazz and blues music, but most of all we love our special coastal county of Pembrokeshire and we all do our best to plan and organise a festival that combines our pride of place with fabulous music.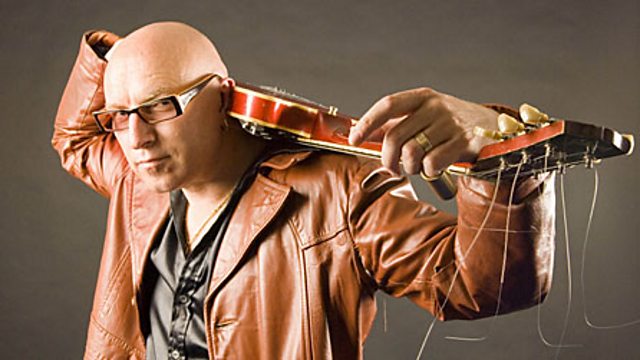 Eddie Martin, headlining the blues side of Aberjazz 2011
"We have no major sponsor and we have no grants from a government agency. We put together our festival with money gathered from advertising in our festival programme, ticket sales and bucketing, bucketing, bucketing. All year round we try to put on small events and busking sessions just to add to our budget and with the help of local clubs and pubs who help pay towards our performers we have succeeded in putting on seven festivals so far.
"Each year we go through nerves and minor panic as we hope to balance our books, but we are all still driven by the desire to create a premier event in Wales. We try to bring the best of jazz and blues to our local populace, who would never normally get the opportunity to see such great musicians live, whilst providing a special venue for all jazz and blues lovers to come to enjoy.
"The members of our little team are Paul, an IT professional; Alice, a doctor's receptionist; Hazel, a local authority officer; Liz, a social worker; Chrissy, who runs a B&B and me, Richard, a project manager. Each of us tend to live our music through the festival, each with his or her job to do to try and make it happen. We all feel that we provide musicians with an opportunity to perform for their audience and we all believe that what we do is for the good of our community (smaller and larger)."
While I have seen a lot of Welsh festivals come and go over the years, whether through incompetence or misfortune, events like Aberjazz, run by people with an obvious passion and amazing work ethic, enrich the cultural life of the country massively. People like Richard should be applauded for endeavouring to bring something different to music fans in Wales.
Jazz acts playing in 2011:
Kit Downes sextet
The Dave Jones Trio
James Morton's Porkchop
Adam Palma
Wonderbrass
Jason Yarde
Organic
Little Rumba
Moodswing
Freewheelers
Tudor And The Rhythm Kings
Wibble
Blues acts playing in 2011:
Eddie Martin
Virgil and the Accelerators
The Grey Goose Band
Lowri Evans
Pat Grover's Blues Hawks
Simon Stone Duo
Red Eyed Fly
Smokin Hoggs
Hideaway Trio
West Coast Blues Band
Mark Pontin Group
Call Me Albert
Karl Griffiths
Are you going to Aberjazz? What do you think of the festival? If you want to have your say, on this or any other BBC blog, you will need to sign in to your BBC iD account. If you don't have a BBC iD account, you can register here - it'll allow you to contribute to a range of BBC sites and services using a single login.
Need some assistance? Read about BBC iD, or get some help with registering.