Radical adaptation of Macbeth weaves four languages in fusion of dance and theatre
A new production of Shakespeare's Scottish play aims to get under the skin of Macbeth and Lady Macbeth's toxic relationship and bring their unusual dynamic into sharper focus.
The adaptation by Cardiff-based dance-theatre company De Oscuro is directed by Judith Roberts and stars Eddie Ladd as Lady Macbeth and Gerald Tyler as the king.
Mac//Beth will run at the Wales Millennium Centre from November 1-6 before transferring to the Royal Opera House's Linbury Studio Theatre from 12-13 November. It will then tour to Pontio at Beaumaris Centre (20 November), Aberystwyth Arts Centre (26 November) and Emlyn Williams Studio, Theatr Clwyd (3-4 December).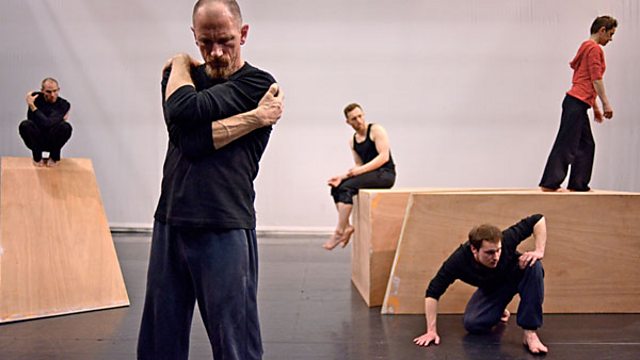 Gerald Tyler and the company of De Oscuro's Mac//Beth in rehearsal. Photo: Huw Walters
The production sees Shakespeare's text pared right back so that the audience never leaves the company of the couple and the three witches, and in Judith's own words is intense in the way it plays with theatrical language.
She told me: "I wanted to explore the relationship between Macbeth and Lady Macbeth in a way that a traditional production just can't and really try to understand the journey they go on. There's something about them as a couple which means they go further together than they ever would go alone.
"Lady Macbeth disappears in the original play after featuring quite heavily early on. I wanted to join up the private moments the couple share and really observe their dynamic.
"At the beginning of the story they are happy and have everything they could possibly want but it's not enough for them.
"In terms of the cast we just have them and the three witches who have the power to manipulate their form and turn into various key characters like Banquo and Macduff.
"The story is not told purely through dance but sees the actors interpret and explore the dramatic moment.
"Rather than begin with shapes I chose to begin the choreography with the text so every gesture is inspired by an emotional moment and the desires of that character in that moment."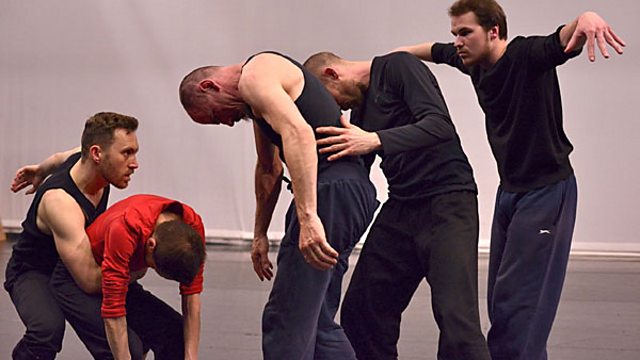 The company of De Oscuro's Mac//Beth in rehearsal. Photo: Huw Walters
In order to make it possible to tell the story, the production also utilises snippets of film which see the witches appear and disappear out of nowhere in their various guises.
The play is also fascinating in the way it plays with language - Lady Macbeth is a Welsh speaker but her husband isn't and the text sees acclaimed poet Mererid Hopwood's new Welsh-language translation interwoven with English, Polish and Hebrew.
Macbeth is able to understand her when she speaks Welsh, in part due to her physical expression.
The three witches all hail from different periods of time and different parts of the world and when under duress return to their native tongue, so when Macduff finds Duncan's body his horror is expressed in his own language.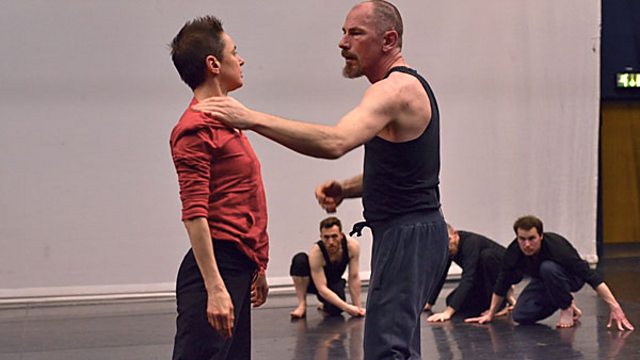 Eddie Ladd, Gerald Tyler and the company of De Oscuro in rehearsal. Photo: Huw Walters
Judith felt no need to include subtitles because of the emphasis placed on physical gesture.
She told me: "When a language is spoken that isn't English it is framed by enough English so the audience can understand what is being said.
"It has been very liberating working this way and filling in the air around the original scenes, so we learn a bit more about this fascinating relationship which is fiery and physical and very sexually charged."
The production also features a specially-created score by the Irish pianist and composer Conor Linehan which will be played live on stage by the Elysian Quartet at the shows in Cardiff and London.
Judith added: "It's a vibrant, exhilarating 90-minute show which runs straight through without an interval and is very beautiful visually. The actors are extremely passionate and create an energy in the theatre that is palpable."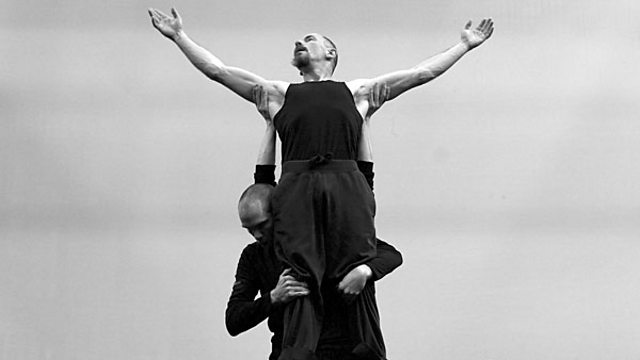 Gerald Tyler in rehearsal. Photo: Huw Walters
The show also stars Gwyn Emberton, Matthew Harries and Sean Palmer as the three witches.
Judith set up De Oscuro in 2010 to step outside the existing paradigm which separates English and Welsh. She has found that Welsh and English can be integrated on stage and what emerges is a rich, resonating tapestry.
There will be a post-show Q&A session at the Dance House on Monday 4 November.
For information on tickets visit the Wales Millennium Centre website.