Festival No 6 2013 - part two
At some point during the night the storm hit. The winds were so MBVian (this is my attempt to get a new adjective coined; it means "unnecessarily overwhelming to the point of nausea") that the curtains in my garret room are flapping, despite the fact that my double glazed windows are locked shut.
Either that or this room is haunted by a very flatulent poltergeist and bringing a paperback copy of The Shining with me was a Very Bad Idea.
Being an altruistic sort, my first thoughts go out to whichever poor sods are being exposed to these hooligan elements on the festival campsite.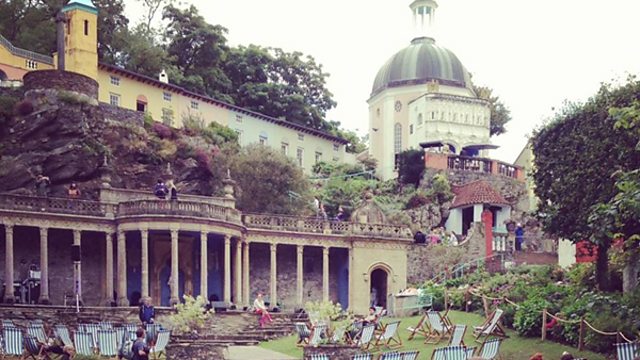 Festival-goers in Portmeirion (photo: Clare Wilson)
UK festivals are a strange lottery: you pay a sizeable amount to get in; you're not always going to be able to get to see the artists you most want; and ranks of vituperative isobars may decide to come along with their bovver boot cloud friends and blow your super-thin, nylon shelter to kingdom come. Or Porthmadog, as the wind is blowing in that direction.
And a tin of warm beer will cost you FOUR POUNDS THIRTY. This boggling fact collaborates with the death metal cataract outside, keeping me awake well into the big end of the small hours.
I sort of wake up groggy and with the doors missing from my brain. Drawing back the curtains reveals a sky like Noel Gallagher's eyebrows. The tide that should be out is still in, the waters choppier than Franz Ferdinand's first album. More contemporary reference points available on request.
"Let's go home," I say to myself. I've fought my way through enough mud-afflicted, rain-swept festivals over the last few years. And I've had no more than seven or eight hours combined sleep over the last three nights.
The prospect of staying at a festival that's already left me feeling a little nonplussed with its superannuated boutique-i-ness, to see Manic Street Preachers – a band I couldn't be more ambivalent about if they were led by Nick Clegg and came in a brown envelope – is not an attractive one.
Still, after an odd breakfast of cold seafood at a cafe on the front in Borth-Y-Gest, I'm vacillating. Either that or it's the DTs. I finally decide to go home.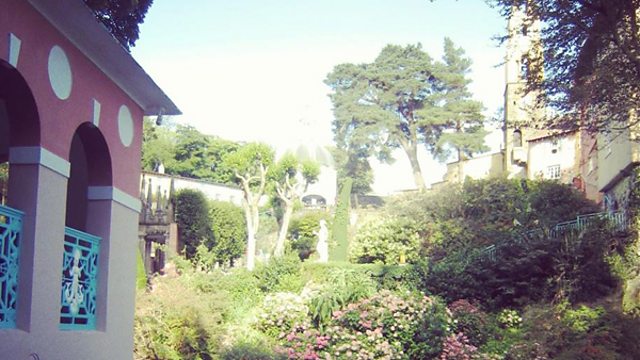 A ray of sunshine (photo: Clare Wilson)
My BBC colleagues are more stoical. They have to go back to the site to record Manic Street Preachers.
"Stick a Bryan Adams record on and recite one of George Monbiot's columns over the top in a haemorrhoidal voice. No one'll notice the difference," is my blithe suggestion.
I queued to buy Generation Terrorists in Liverpool on the morning it came out. I liked the idea of an 'intelligent' rock band. I loved the Manics' polemic and their letters were definitely the best thing in the NME at the time.
I've never been more disappointed with an album. Generation Terrorists was awful. You may be waiting for me to say "Motorcycle Emptiness-aside", but I'm not going to. Great as that song is, the recorded version is as dynamic as moss drowning in a dank puddle. The fact that the moss wears eyeliner and a feather boa makes not a blind bit of difference to its sonic zoom.
They were supposed to represent glamour, intelligence, poetry and escapism, but if you grew up in north Wales – far removed from the Valleys' seemingly genetic obsession with AC/DC, Motley Crue and Guns N' Roses – it was all a bit, you know, uncool and silly.
We had Joe Bloggs parallels, hooded tops and acid house. There was nothing silly about our iconography, or obsessions, at all.
I remember watching Manic Street Preachers early on at the Tivoli in Buckley. We loved bands getting deposited on the stage by a tide of hype, only for them to discover that they were playing in front of 15 very cynical locals, with their arms crossed and a murderous look in their eyes.
"That one's not really playing anything," said my mate, the personification of disdain, pointing at Richey.
"Yeah, but he writes the words," pointed out another.
"Words? Who gives a monkeys about the words, our kid? It's about the vibe, man. In the area!"
Look, I was 19.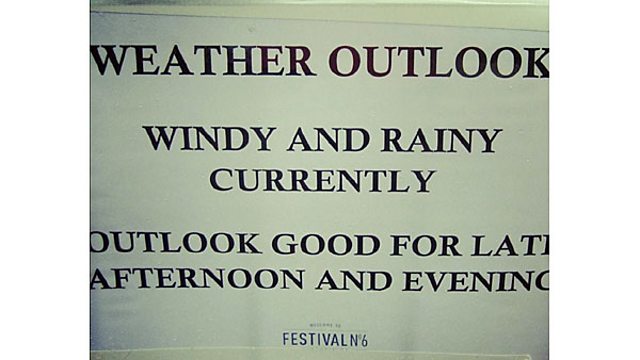 Weather outlook (photo: Clare Wilson)
A good portion of a lifetime later, I'm in the car driving back from Porthmadog. I'm feeling a bit guilty I've deserted my colleagues at Festival No. 6. Producer Ed has texted me to tell me that fences have blown over and that some of the stages are shut. I'm glad I'm safe in my car. I have a CD comp I've made for my daughter on the stereo. I'm dry. I'll be home in an hour and a half...
But then what am I going to do?
A realisation about the general emptiness of my non-working life coincides with a sliver of clear blue parting the clouds. At that very moment, this CD I'd made months ago cues up If You Tolerate This. Fate is a much better DJ than I've ever managed to be. Despite my disinterest in the Manics, I adore this song.
I pull into a lay-by and have a think.
What am I doing, driving home? I could see Chic. Islet are playing too. And Colorama. And maybe I'll catch a bit of the Manics out of a sense of Duty To Welsh Music. Yes, sometimes thoughts this deluded and pompous do cross my brain.
The last time I saw Manic Street Preachers was their Reading set in 1994. It was their first major appearance without Richey Edwards, who was in hospital. He disappeared the following February.
Despite my diffidence towards their music, little has moved me – and not just in the world of Welsh music – more than the dignity and courage the band showed after losing a friend and a bandmate so publicly. On a personal level, the questions about male mental health and suicide raised by his disappearance resonated within me for a long, long time afterwards.
Around the same time I had received treatment and counselling for mental health problems (anxiety and depression). The void of care, understanding and attention that I encountered from the health service was terrifying. I hope the situation is significantly better for young men now. If I had any courage or conviction I'd look into it. If I'm honest, I'm still running scared of the whole subject.
I arrive back at our bed and breakfast a little sheepish. Bethan Elfyn punishes me by corralling me into recording video links for footage she has been filming of the festival for the BBC.
Bethan and her husband drop me off back on site and it's clear that there has been a bit of rain. I do love a bit of mud, though and this is the finest boutique mud, remember.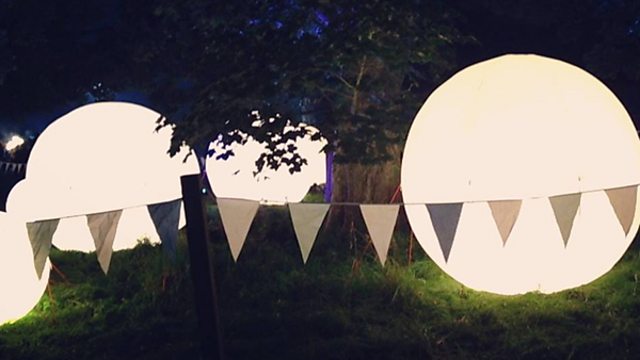 The festival after dark (photo: Clare Wilson)
I remortgage my house for the pennies to get myself a can of FOUR POUNDS THIRTY PENCE beer and go looking for a band.
Somehow the sun is out. Renowned musicologist, raconteur and record producer Dyl Mei and C2's Gareth Iwan Jones are at the Y Nyth tent watching Sen Segur. Carwyn Y Bwgan insists on giving me red wine.
Sen Segur are so young, they probably weren't born the last time Channel 4 repeated The Prisoner. Their continuation of the Welsh psychedelic tradition is similarly fresh-faced.
In honesty, fine as they are, they don't seem to have progressed much since I last saw them a year ago at Green Man Festival. Their set then was a major step forward. Here, the psych part of their sound feels too gentle and predictable when compared to Hookworms, say, or Wolf People.
I really like Sen Segur. Any criticism is offered out of affection. They're too good to maroon themselves in their own back yards.
Colorama have probably forgotten what their own back yards look like. When Carwyn and co. aren't touring their own music, Wales' russet-haired music man is doing sessions – or acting as a gun for hire – for the likes of Edwyn Collins.
Colorama's groove has real bite from the off. Their opener Do The Pump draws a significant crowd of head-shakers and foot-tappers into the tent. More tender moments from their recent releases – Good Music and Llyfr Lliwio – enchant the hardcore festival goers who have been rewarded for not deserting the site with sunshine and spangling music.
The crowd thins a little towards the end. Some bloke called Johnny Marr is playing in a big tent just over the way. Colorama don't have his reputation but – the two Smiths songs he encores with aside – they do have songs that'd beat Johnny's solo offerings, if this were Top Trumps and music could be so easily reduced.
I watch Marr do There Is A Light That Never Goes Out and it's so finely, and respectfully done, there is no possibility of me making a 'Marr marrs his reputation' joke. He can't sing like Morrissey, of course, but his larynx is more than serviceable. When he plays those liquid guitar lines that I spent hours upon hours trying to fathom in my bedroom back in Nannerch, it is a Truly Great Festival Moment.
This is exactly what the organisers are after. It's clear they think in these terms: capital letters in the Prisoner/Portmeirion font.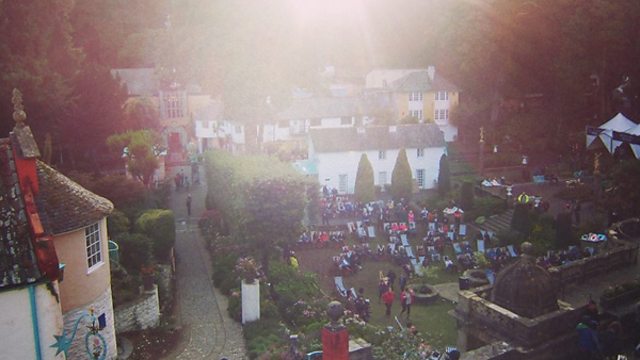 Portmeirion (photo: Clare Wilson)
Then it's Chic. In north Wales. Back in north Wales. A couple of years ago, two north Walean DJs – the estimable Phat Phil Cooper and Ian Cottrell – stumbled across the hitherto uncelebrated fact that Nile Rodgers, and an embryonic version of Chic, spent a summer in residence in Colwyn Bay, honing their music in the local bars and clubs of NORTH WALES.
That is an astonishing story that someone needs to tell in depth, and sometime soon.
As a few thousand people go happy doolally to Le Freak, Good Times, Let's Dance and the long, long welter of dancefloor smashes that have been birthed into the world by Nile Rodgers' fingertips, I wonder how the Manic Street Preachers must be feeling about following this.
The me of 9.17pm on Sunday at 2013's Festival No. 6 is convinced that the Manics' sludgy tub thumping has the potential to evaporate all grace from the known universe after all this slink, fun and glamour.
I wish James luck as he waits to go one sidestage. I mean it because I think he's going to need it.
They begin with Motorcycle Emptiness. Far from it being the rather insipid, stadium-rock-in-a-shoebox of the album version, it is mammoth and transcendent. James sings with a bite and soul I haven't heard come from a Welsh larynx since Mr Richard Parfitt. I can't offer higher praise to a rock singer.
My antipathy towards the band isn't eroded slowly as the set progresses, it's neutron-bombed out of existence within the first few notes of Emptiness. I'm as awed by this turnaround as you probably aren't, here at the punchline of the whole piece, nearly 2,000 words in.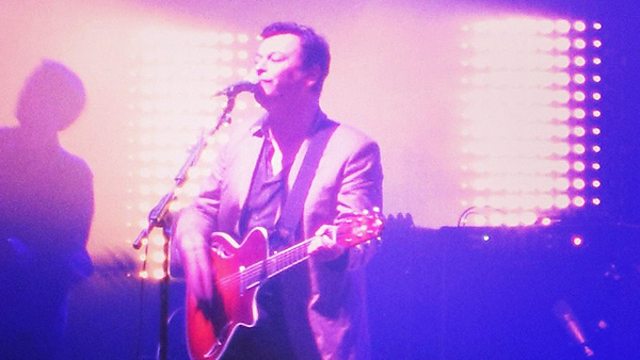 James Dean Bradfield of Manic Street Preachers (photo: Clare Wilson)
I start babbling at the people around me: "but they're really good" and they look at me like I'm on magic mushrooms and have just come to the realisation that sugar is a bit sweet and water a touch damp.
That damn single – Show Me The Wonder – that has been irritating me on 6 Music, as if the Manics' label had something dirty on that station's playlister, sounds soulful and inordinately uplifting. No, more than that – it sounds a bit like The Byrds' I'll Feel A Whole Lot Better which is, again, out of the rarely reached for top drawer in my cabinet of compliments.
I can't explain this volte face. I've clearly been wrong. So wrong. Like a fairy tale emperor Richard Nixon. Of Welsh music.
When they play Tolerate I turn to producer Ed and tell him it's one of the greatest things I've ever heard. I spoil his enjoyment of the next song by wittering on about genuine blue-eyed soul, and how the Manics are a brilliant, dumb, hook-toting rock band... like Cheap Trick or The Ramones... and how it's a brilliant subterfuge to hotwire the weight and intelligence of their lyrics into our brain with minimal resistance.
"Yes Adam, you're dead right," says Ed, taking a step back.
I've had a couple of those cans of FOUR POUNDS THIRTY beer by now – but unless there's something that might justify the price in them, it's not the beer talking; it's the revelation.
I feel like such a twit. But it's glorious.
The double-headed ending of Motown Junk and Design For Life is One Of The Best Festival Moments Of My Life. You can delete the word 'Festival' from that statement, if you like.
I'm still babbling on an hour later in the drizzle outside the real ale tent. My friend Simon 'Gedge' Jones has appeared out of nowhere.
"Why didn't you tell me The Manics were so good?"
"I did. We all did. You just didn't listen."
We talk about Murray the Hump, 60ft Dolls and Topper and watch James Dean Bradfield and Richard Hawley have a quiet, and respectfully uninterrupted, pint in front of us. Then Gedge disappears back through the mizzle to his tent.
Sometime later we're waiting for a taxi on the Sunday night in a rank that challenges eternity itself: "The gardeners are going to cry when they turn up on Monday morning."
They're not the only ones. But like them, I'll probably be back next year too.