The BBC National Orchestra of Wales' 2013/2014 Cardiff season is now well underway. We have enjoyed a wide variety of music, from film favourites to a blistering Shostakovich with principal conductor Thomas Søndergård, from mad brass music to an eye-watering amount of recorded music.
We have put down soundtracks for Atlantis, Doctor Who and for some other exciting projects. Our BBC Hoddinott Hall series Americana, broadcasting both here and in the United States, is halfway through and Chris and Eugene in the library inform me that they have all the music right up to Christmas ready to be taken home and looked at. Joy.
It seems crazy to be considering Christmas when Halloween hasn't even happened yet, but as the shops already have their Christmas decorations up, perhaps it is acceptable. And if it is acceptable to talk about Christmas, perhaps it is okay to broach the subject of the new year and what new ventures are happening with the orchestra then.
This week just gone saw the launch of our Swansea 2014 Season (tickets are available now if you go for a season subscription). This season we will be leaving our home from home, the Brangwyn Hall, while it undergoes some rather necessary maintenance work and relocating to Swansea's Grand Theatre.
I would like to point out that my primary concerns right now are a) what curry house will I now frequent and b) whether there is a nice ice cream parlour near the theatre. Priorities, you know. Any suggestions and recommendations from our lovely, loyal Swansea audience would be gratefully accepted.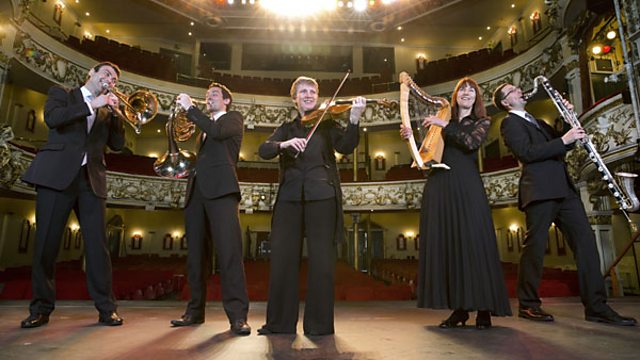 Members of the orchestra on stage at the Swansea Grand Theatre. Photo: Huw John
I think one of the nicest aspects of the new Swansea season is its emphasis on alumni of the BBC Radio 3 New Generation Artists roster. For the most part our audiences will have had the opportunity to hear these artists as young soloists just starting out on their careers when they were NGAs.
I'm so excited to hear Lawrence Power perform Rózsa's Viola Concerto in the opening concert of the season. He was the first violist to be invited to join the New Generation Artists' Scheme, and we have been privileged to work with him on quite a number of occasions, both in concert and in recordings.
Thomas Søndergård returns to Swansea in February with a gorgeous Bartók/Barber/Mozart programme, and one of my favourite soloists, Alban Gerhardt. Alban usually joins the orchestra, as a tutti player, in the symphonic second half of the programme. He has spoken very openly about his respect for orchestral musicians and it is always a real pleasure to work with him.
We will also be joined through the season by tenor Andrew Kennedy, flautist Emily Beynon, soprano Ailish Tynan and violinist Jennifer Pike.
The musical community is not just made up of those on stage in the fancy clothes, and those who work backstage getting everything running smoothly. The audience is a vital part of the community, indeed perhaps it may be argued that the audience is the life blood of musical life.
Without the support of an audience, an orchestra, a soloist, a conductor, a chorus, is nothing. It is your support, in part, that has helped these artists to develop their solo careers and we, the orchestra, look forward to your continued support as we move to the Grand Theatre for this season.
BBC National Orchestra of Wales' season at Swansea's Grand Theatre starts on 31 January 2014 – with subscriptions to all six concerts available now by calling 0800 052 1812.
Tickets go on general sale on Monday 4 November and are available by calling 0800 052 1812, or the Grand Theatre Box Office on 01792 475715.