Ralph Hancock - "Dear tempestuous genius"
Hancock had an adventurous and dynamic life, one that saw him serve in the army during the First World War and, over a period of six short years, change career from marine and insurance broker to garden designer. During the dark days of the Second World War he even dabbled in the building of
air-raid and gas shelters
.
Yet it was as a garden designer that he found fame and fortune, creating a rock and water garden for Princess Victoria, the daughter of the late King Edward V11, in 1927. Hancock was proud of that design, thereafter promoting himself as "Landscape Gardener to HRH the Princess Victoria of England."
When he moved to America to further his career, Ralph Hancock designed an exhibition garden at Erie Station in New York and, in 1933, won several awards at the Massachusetts Horticultural Show. His crowning achievement in America, however, has to be the '
Gardens of Nations
', a series of roof gardens on the eleventh floor of the Rockefeller Centre in New York. Built between 1933 and 1935, this hugely ambitious project was designed to reflect the cultural style of gardens from places as diverse as Holland, Japan and Britain. It was a monumental undertaking, over 3,000 tons of earth, 500 tons of brick, 100 tons of natural stone and 2,000 trees and shrubs being hauled up the side of the skyscrapers by block and tackle.
Hancock's next project saw him return to Britain, to create a roof garden at
Derry and Toms Department Store
in Kensington. When the gardens opened in 1938 they contained over 500 varieties of trees and shrubs, all bedded in just 18 inches of soil - as well as a waterfall and a stream. Even though Derry and Toms have now closed, the gardens are still open to the public while ducks and pink flamingos continue to make their homes on this rooftop garden in the middle of London.
"Ralph was a very creative man," says Angela Buck, Hancock's granddaughter. "He was never very good at keeping records or plans, the creation of his gardens was all that mattered to him. I suppose he must have been difficult to live with at times. His wife called him 'Dear tempestuous genius.' But that's what you get when you live with a creative mind like that."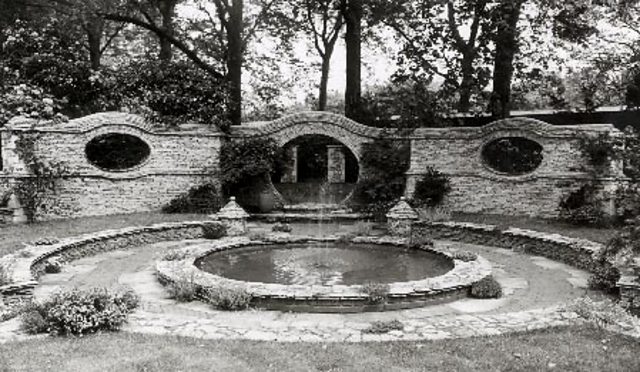 Chelsea garden design created by Ralph Hancock (Photo: Royal Horticultural Society)

Despite losing a son during the war, Hancock continued to work and design gardens after 1945. At the end of the 1940s he was commissioned to build the gardens at
Twyn yr Hydd
at Margam in south Wales. They were probably the last gardens he worked on before his death in 1950 and are now part of Neath Port Talbot College.
"It is perhaps fitting that this last garden is in Wales," says
Bob Priddle
, Lecturer in Horticulture at the College, "the land of his birth. They are now used by horticultural students at the College - something I'm sure Hancock would have approved of."
The life and work of Ralph Hancock is featured in
Past Master
and will be broadcast on Sunday 14 March, 2pm, BBC Radio Wales. To find out more about garden design visit
BBC Gardening
.
If you want to add a comment to the Wales History blog (or any BBC blog) you will need to
sign in
to your BBC iD account. If you don't have an account, you can
register
here to set up a BBC iD account.
Read
about BBC iD.