A couple of blogs ago I wrote about David Cynon Bevan from Grand Forks, British Columbia who had discovered the headstones of some early Welsh immigrants.
Cat Whiteaway chats to David Bevan and Sue Adrian from the Boundary Historical Society
When I appeared on the Jamie & Louise programme on BBC Radio Wales, I interviewed David Bevan and Sue Adrian from the Boundary Historical Society. They were able to tell me more about the graves of these fascinating Welsh pioneers. More to the point, they are willing and able to help anyone else who contacts them with a question about the last resting place of their long lost Welsh ancestors.
Caring for graves and headstones
Clearly caring for graves and ensuring that headstones are looked after is not just the preserve of the Canadians. Within the UK there are several ways in which you can get involved to help ensure that these valuable and beautiful memorials are not lost forever.
Caring for God's Acre
There are conservation charities like Caring for God's Acre which was set up specifically to care for churchyards and burial grounds. Their objective is to preserve heritage and conserve wildlife while involving local communities.
National Federation of Cemetery Friends
The National Federation of Cemetery Friends  was created in 1986 by volunteers concerned about the decline in care of Victorian cemeteries. In some cases local groups formed specifically to influence public opinion against a threat to a particular cemetery. Later they started researching the heritage and "promoting" the site with guided walks. In other cases the friends formed to either preserve the wildlife and fauna or to make the cemetery more widely appreciated by taking walks. They also publish guide books and give talks.
Friends of Cathays Cemetery
Discovering that there are affiliated groups all over the country I was keen to contact John Farnhill from the Friends of Cathays Cemetery that formed in 2006.
Cathays Cemetery, situated in the heart of Cardiff, is one of the largest Victorian cemeteries in the UK, covering some 110 acres, and is owned and managed by Cardiff City Council. The Friends of Cathays Cemetery is made up of members from all walks of life and interests. All are committed to protecting and developing Cathays Cemetery for the future.
The Friends of Cathays Cemetery hard at work
This Sunday 23 September 2012 is a big day for the Friends. There is a rare opportunity to see inside one of the partially restored Grade II listed chapels between 11am and 2pm, followed at 2pm by a conducted tour around the new part of cemetery which opened in 1901. The tour offers a fascinating insight into some of Cardiff's past residents and their respective social history.
Among those buried there is Joseph Henry Fish who died in 1930. Joseph and his wife were missionaries to the lepers who lived on Robben Island, South Africa.
Another grave which was re-discovered by the Friends, having become overgrown from neglect, was that of Stoker John Cleal who died of wounds received at Zeebrugge in 1918, aged 23 years. Poignantly he had postponed his wedding to volunteer for the mission. It is thanks to the hard work of the Friends that a rededication service was held in April 2008.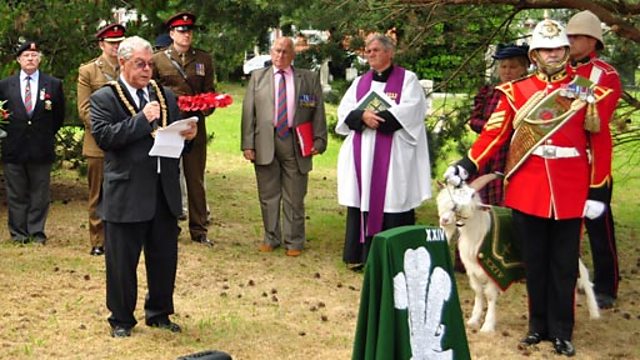 Lord Mayor of Cardiff photograph by Ben Anscombe
Recently the Friends also identified the unmarked grave of a Rorke's Drift survivor (not one of the VCs unfortunately), and arranged for a memorial to be erected and unveiled.
The Friends are all volunteers who meet up once a month for a few hours and an annual membership fee of just £5. I for one, think they are doing a great job; they even correct posthumous errors and uncover those little discrepancies that often creep into family history after death.
William Llewellyn Rhys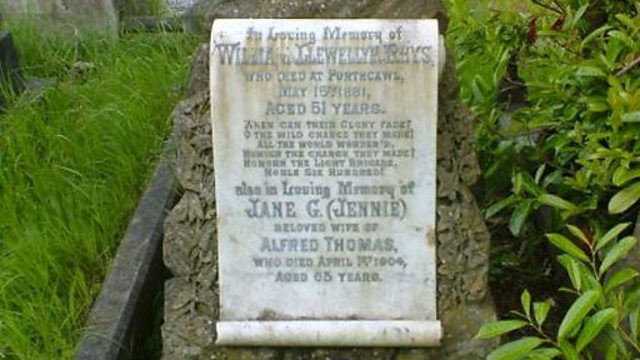 The headstone for William Llewellyn Rhys
For a long time it was thought that William Llewellyn Rhys was a survivor from the Charge of the Light Brigade at the battle of Balaclava during the Crimean War. This was a natural assumption based on the lengthy and expensive inscription on his headstone of Alfred Lord Tennyson's poem, which reads:
"When can their glory fade?
Oh the wild charge they made!
All the world wonder'd
Honour the charge they made!
Honour the Light Brigade,
Noble six hundred!"
However, the Friends have found no evidence to support this assumption since Rhys' name does not appear on the list of survivors!
I urge everyone who can to get involved in their local churchyard or cemetery and help preserve history.