The weather is in much better shape today with sunshine and lighter winds across the country but don't be fooled, it's very much the calm before the storm...
Trouble is brewing over the Atlantic. The jet stream, with a core speed around 170mph, is steering a deepening area of low pressure towards Scotland bringing a dose of wet and windy weather tonight.
There will be plenty of heavy rain and strong to gale force winds as the jet stream moves right over us on Thursday.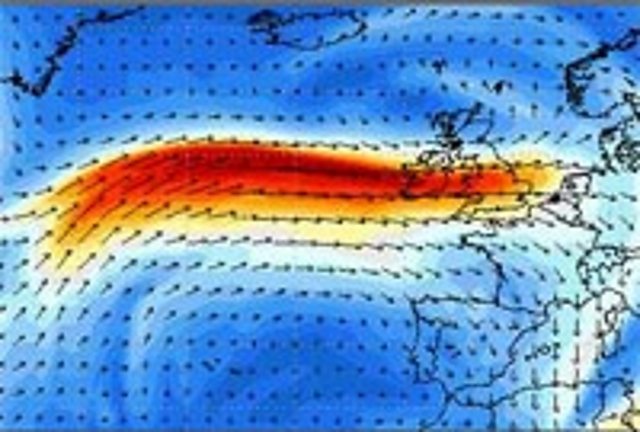 Jet stream on Thursday 11 November 2010. Image by Met Check
Tomorrow will start wet and windy but the rain will clear mid to late morning leaving a drier and brighter afternoon with scattered blustery showers and then a word of warning.
Thursday evening the westerly wind is set to strengthen with gales and severe gales in some areas. 70 to 80mph gusts are possible on exposed coasts and hills, and even inland gusts 50 to 60 mph are likely.
Strong enough bring down a few trees, especially those that are still in leaf.
The Met Office will continue to monitor developments, and have issued a weather watch.
So enjoy the sunshine if you can today and then batten down the hatches!
And don't forget - Doctor Who will switch on the Cardiff Christmas lights tonight at 7.40pm at King Edward VII Avenue. The celebrations start from 6.30pm and it will be dry :)
Derek