Cardiff Before Cardiff exhibition
A new photography exhibition born out of a chance discovery of intriguing archive documentary photos from the 1980s opens this week at the Wales Millennium Centre in Cardiff.
Cardiff-based photographer Jon Pountney is the man behind the Cardiff Before Cardiff exhibition, and the much longer-running project that inspired it.
While renovating Warwick Hall in Gabalfa, Cardiff in late 2010, and turning it into what is now Cardiff Music Studios, Jon discovered a large batch of prints and negatives.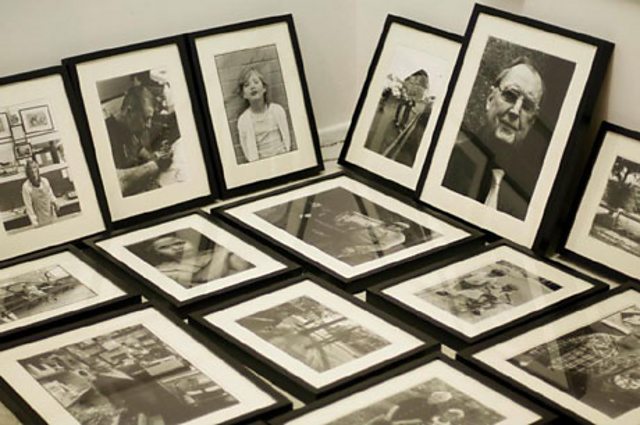 A selection of the framed prints ready for the exhibition. Images courtesy of Jon Pountney
Jon recently explained the history of the project to me: "At first I found a couple of odd photos lying around and I didn't really know what they were, and had no idea why they were there.
"I put them aside but then started finding more and more and realised after a while I'd collected a large pile. Then I found the negatives. It was quite shocking how much there was, hundreds of prints and perhaps thousands of negatives.
"Straight away I realised they were of Cardiff. I recognised a few of the places - the first few that I looked at I could tell straight away where they were. And I just thought that they were so good, it's exactly the type of photography that I like to look at."
Jon's discovery was the work of photographer Keith S Robertson. His striking body of documentary photography taken in the early 1980s gave a snapshot of life in the capital city, largely in the Adamsdown, Splott and Butetown areas of the city.
In order to discover more information about the pictures, the anonymous people in them and the photographer behind the lens himself, Jon began to share them online.
He added: "First of all I put them on Tumblr, a blog site, and within a few days they were picked up by Ed Walker at Media Wales. So within three or four weeks it was a double page spread in the South Wales Echo. It snowballed from there - I was receiving emails every day."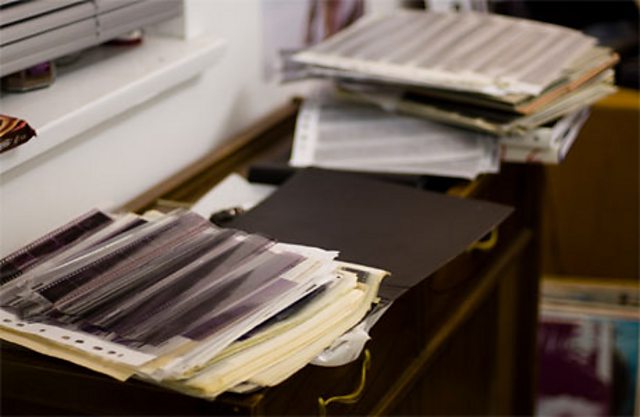 Negatives in Jon's studio in preparation for the exhibition, which opens on 5 April
Jon has now made contact with many people in the photographs. His discovery of the photos has inspired him to get out and take photographs in the same communities 30 years on - including taking photos of some of the original subjects.
Jon also tracked down Keith S Robertson. Now in his eighties, Robertson had previously used Warwick Hall as his studio. According to Jon he had fallen out with the people who ran the building and was told that the locks had been changed and that his possessions had been thrown out - including his photographs and camera equipment. He never attempted to gain re-entry to the building and gave up on the thought of seeing the photos again.
Jon added: "A lot of my friends have said 'you were born to find these pictures'. They could have gone in a skip or sat there for another five years if we hadn't renovated the building. It would have been a crying shame for them to be lost. I don't think this kind of discovery happens every day - it must be a fairly unique thing to find. I feel really lucky."
There have been a number of similar documentary photography projects in th UK, such as Paul Trevor's photographs of 1970's Liverpool and Robert Haines' photos of Heolgerrig near Merthyr in the 1970s, which resulted in the book Once Upon a Time in Wales.
But as Pountney stresses, this is a pretty unique case: "In those cases the photographers had kept hold of the original pictures, they hadn't lost their pictures. I think this is a unique case where the pictures have been found by another photographer, and in seeing the pictures it just made me want to go out and take pictures, to do what Keith was doing.
"I've always wanted to take photography like that but it's not the easiest thing to do; people always want to know what you're up to, and when people see someone with a camera these days they're automatically suspicious of them! That's the thing about Keith's pictures, everybody looks so friendly in them."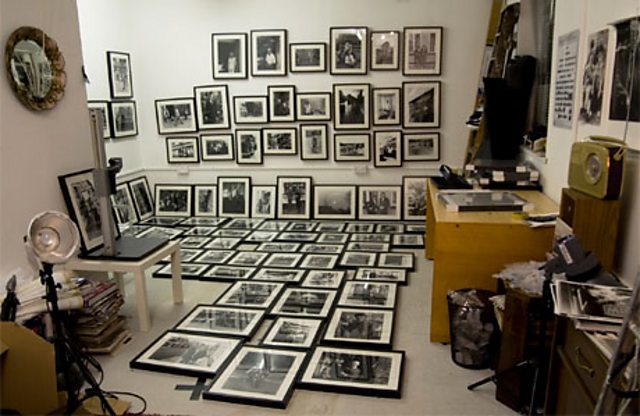 Getting ready for the exhibition: over 100 prints showing the work of both photographers will be on show at the Wales Millennium Centre in Cardiff
Jon's connection with the people in the photographs came with the realisation that a number of the smiling faces in the pictures are sadly no longer alive.
He added: "That's been the saddest aspect of it for me. You expect a lot of the older people to have died, you take that for granted, but a surprising number of the really young kids have passed away.
"These photos are popping up and reminding people of them, which is quite nice in a way. Keith's pictures really get that person's personality, so it's obviously sad but a lot of people are really happy that they've seen the pictures.
"In particular there's a picture of a little girl on a bike, Denise Truman, and a lot people have said how nice the picture is and that they really miss her. It's really sad when it's someone who is so young, and has passed away perhaps years ago. It's a part of the project that I hadn't expected."
The free exhibition, Cardiff Before Cardiff - Keith S Robertson and Jon Pountney, runs at the Wales Millennium Centre from Thursday 5 April to Sunday 27 May 2012.
Visit the Cardiff Before Cardiff site to browse more photographs and join in the discussion on the project's Facebook page.